Sustainability Fee 2018-2019 Annual Report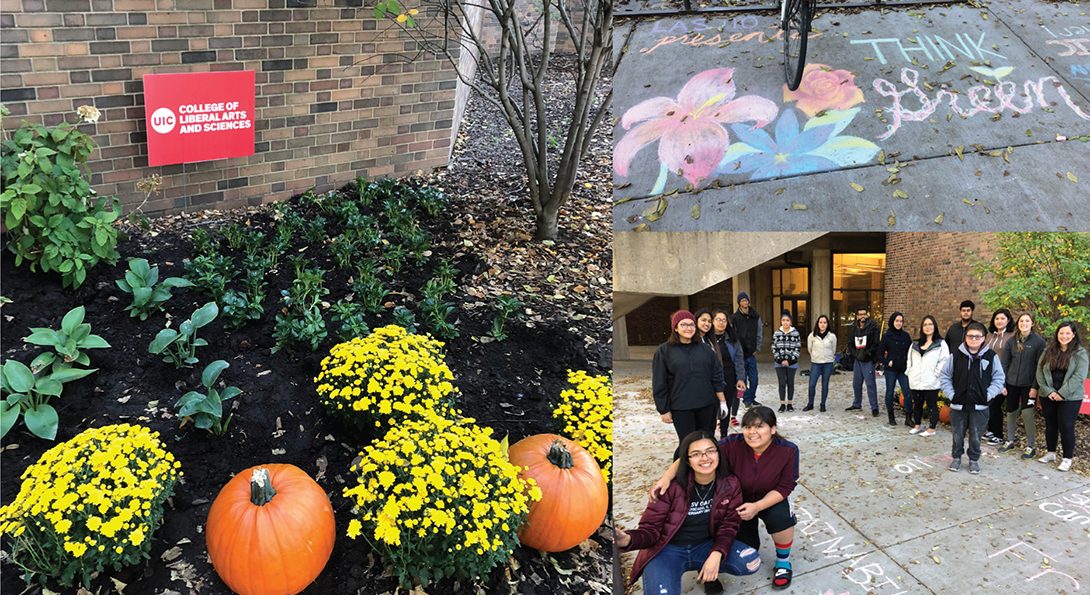 History of the Sustainability Fee
In 2011, the Board of Trustees approved the UIC Sustainability Fee as an initiative to improve the quality of campus operations, reduce UIC's environmental impact, and generate awareness about environmental and sustainable issues by creating opportunities for students' involvement.
Paid for by all undergraduate, graduate, and professional students, the Sustainability Fee in 2018-2019 was a $3 per semester fee.  The Sustainability Fee funds small, short-term projects, helps to subsidize larger, long-term projects on campus, and funds student travel to sustainability-related conferences.
Committee Members, 2018-2019
Sustainability Fee Advisory Board Members

Office of Sustainability Staff
UIC Climate Commitments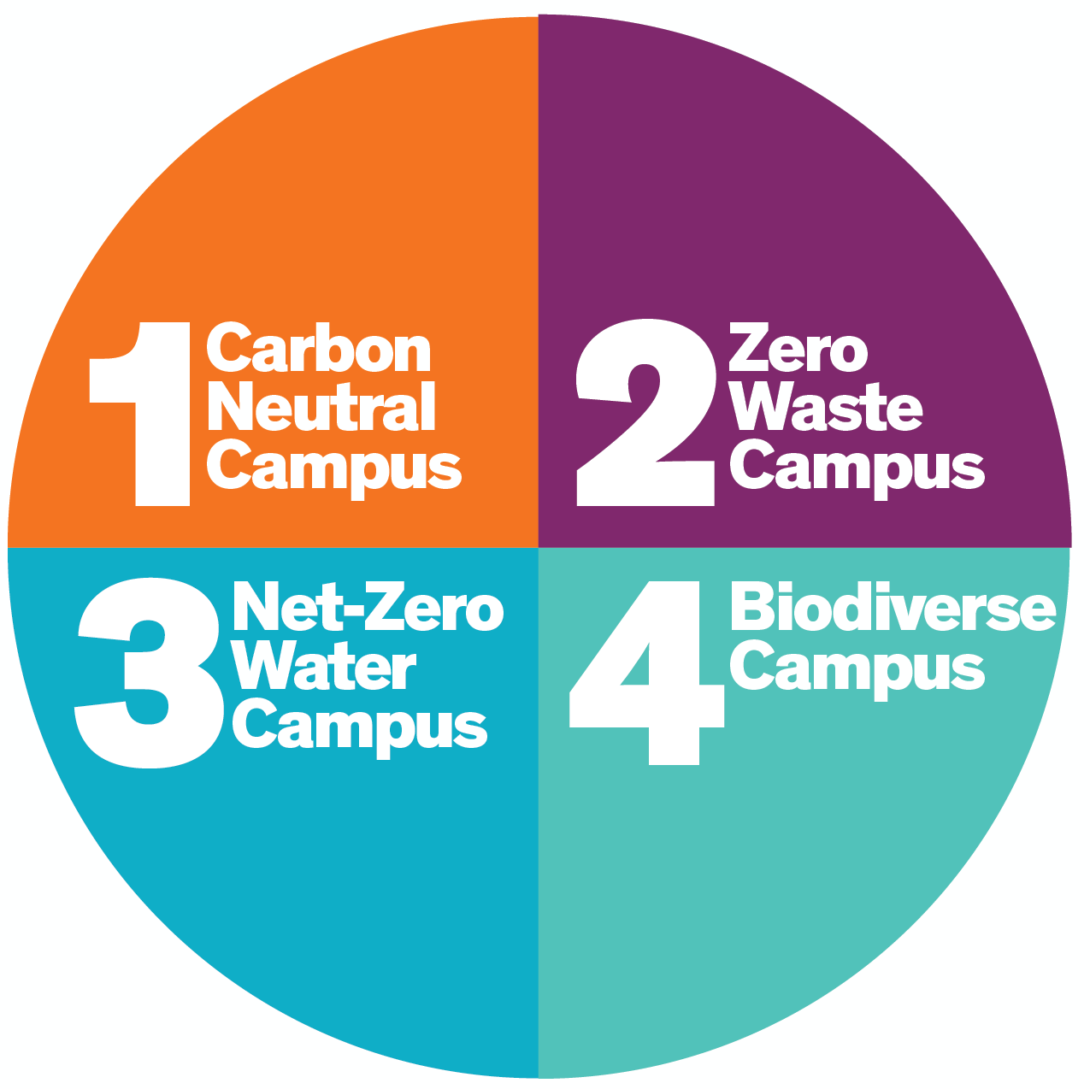 In April 2016, Chancellor Michael Amiridis, in conjunction with the Office of Sustainability, announced the UIC Climate Commitments. These commitments are the first step in the Climate Action Implementation Plan and are as follows:
 Carbon Neutral Campus
 ZeroWaste Campus
 Net Zero Water Campus
 Biodiverse Campus
The Sustainability Fee Advisory Board is committed to implementation of the Climate Commitments; starting in the Fall 2016 semester all approved Sustainability Fee projects must align with one or more of the four commitments.
Funded Projects
2018-2019
The UIC Heritage Garden is a year-round internship program. Student interns work to connect horticulture with environmental sustainability, cultural diversity, and social justice within gardens located around campus.
Advisors
Rosa Cabrera, Latino Cultural Center
Locations
8 garden locations throughout east side of campus
Budget
$48,000
Fall 2018
Development of a series of sustainable and green infrastructure changes outside of BSB to create an outdoor learning space, increase biodiversity and reduce stormwater.
Advisor
Justin Wier
Location
Adjacent BSB
Budget
$15,000
Fall 2018
The introduction of the Symposiums on Energy, Environment & Sustainability (SEES), where UIC student-researchers will have the opportunity to present on environment and sustainability.
Student Group
SISE Student Organization
Advisors
Elizabeth Kocs
Location
UIC
Budget
$5,000
Spring 2019
In conjunction with the Department of Museums and Exhibition Studies, 12 hands-on events will be held in the Greenhouse, covering such topics as plant biology, climate change, and propagation
Student
June Ahn
Location
Plant Research Laboratory (UIC Greenhouse)
Budget
$6,000
Interiorscape
Spring 2019
Introduction of native plants to Student Recreation Facility gathering areas and main entrance. The planter will allow for a more aesthetic piece to the main entrance but will, more importantly, be a biodiverse solution – providing live plants to UIC's urban campus, creating a natural barrier between visitors and windows.
Advisor
Jessica Adkisson, Campus Recreation
Location
Student Recreation Facility
Budget
$4,290
Reflux Condenser
Spring 2019
The introduction of water sensors in UIC labs to detect water leaks and limit water usage during water intensive experiments. Reflux condensers are used in the science labs as a way to isolate certain chemicals out of liquids. In order to do that, temperature control is necessary and achieved by sending cold water through a coil in a reflux condenser. This process can last hours to days, with water running constantly while the experiment is happening. Technology exists that drastically limits the need for water in these experiments.
Student
James Byron
Advisor
Joanna Moliski, Office of Sustainability
Location
UIC Labs on east campus
Budget
$2,000
Green Infrastructure Monitoring
Spring 2019
The introduction of underground monitors outside Student Center West to monitor stormwater capture on a newly renovated landscaped area (Arthington Mall) with green infrastructures like permeable pavers and rain gardens to reduce stormwater. This data will be visualized using a suite of metrics and graphing techniques and will display in real time the performance of the green infrastructure to the UIC community and greater public.
Student
Nick Haas
Advisor
Sybil Derrible, Civil and Materials Engineering
Budget
$4,900
Hydroponic System
Spring 2019
Introduction of hydroponic system into the Plant Research Laboratory on the east side of campus. The versatility of this
systems make them easy to build anywhere. Hydroponic systems run using a set amount of water rather than large quantities and can introduce new plants and fishes to the campus.
Student
Alan Pardo
Advisor
Matthew Frazel, Biologocal Sciences
Location
UIC Green House
Budget
$10,000
Project Smile
Spring 2019
The introduction of new recycling stations in the College of Dentistry. These stations include shape and color oriented containers to help students decide how to properly dispose of trash and recyclables.  This project will promote both awareness and habit change to students and patients of the college that do not contemplate where their waste will end up.
Student
Maame Antwi
Advisor
Toni Rouka, Restorative Dentistry
Location
College of Dentistry
Budget
$5,000