Environmental Justice in Chicago
by Safa Hameed, Biomedical Engineering, Spring 2022
Environmental responsibility is often associated with recycling, saving the trees, practicing green behaviors and maintaining a sustainable lifestyle. Though the sustainability community is gradually growing with the opening of zero-waste stores, use of metal straws, and thrift shopping to reduce carbon footprints, this is not where environmental responsibility stops. Standing up for communities disproportionately affected by climate change as well as by the actions of industries that exacerbate the climate crisis is crucial. Many communities in Chicago have fallen victim to industrialization of residential areas Chicago over the years are continuing to face its unfair consequences in terms of serious health risks.
The intersectionality between environmental and social justice is profound yet overlooked. Along with the drastic impacts to our physical environment, entire communities are being adversely affected. The repercussions of such impacts can be seen all over Chicago. Little Village, a well-defined community area of mostly Latino families on the west side of Chicago, has been dubbed "Asthma Capital of Chicago." With more than 17,000 people per square mile, Little Village has the least amount of green space per capita in Chicago2. Home to the oldest and dirtiest coal-fired power plants, the vibrant community of Little Village suffered severely. Toxic emissions from the "cloud factories" blanketed the clear skies over this neighborhood as coal dust covered the ground. A study done by the Harvard School of Public Health attributed 41 premature deaths, 550 emergency visits, and 2,800 asthma attacks in a year to the harmful release from the power plants. The Little Village Environmental Justice Organization mustered support from residents and ensured that their voices were heard front and center1. With strategic alliances and tactics, LVEJO began a long battle with the goal of eliminating the enormous risk that threatened the lives of Little Village residents, and they succeeded. The power plants were shut down in 2012 and the Chicago Clean Power Coalition gained momentum1. Though the risk was eliminated, the residents are left with health issues that may affect future generations.
This challenge faced by Little Village is just one of many faced by Chicagoans. This year, environmental justice and climate change concerns were raised as the US Army Corps engineers plans to expand the South Chicago Lakeshore dump for polluted sediments ("South Chicago Lakeshore Dump Raises Environmental Justice and Climate Crisis Concerns"). Several questions were raised about the operation of the facility, located in a low-income minority area. The "polluted sediment" here must be contained due to its high levels of dangerous chemicals like PCDs, mercury, and other heavy metals. The draft version of the US Army Corps Engineers' proposal plans to store this polluted material in a 25ft high 45-acre site owned by the Chicago Park District (CPD). The facility sits on the edge of a Black and Latino working-class community, which is already home to several polluting industries and eight closed landfills. Additionally, the US Army Corps is not taking precautions to protect groundwater, considering the high levels of toxicity of the dredged material. This act can have a detrimental impact on the health of residents of the area. However, this vital aspect seems to be neglected when considering expansion of the dump site.
Now more than ever, environmental injustice needs awareness. Minority and low-income communities are unfairly burdened. Sociodemographic factors are considered here because research shows that "the same environmental exposure is more likely to harm health or result in greater harm when it occurs in populations with certain socio demographic indicators of vulnerability"4. The Natural Resources of Defense Council provides impactful evidence of this disparity through a mapping analysis. This analysis uses data compiled by the Environmental Protection Agency and research techniques to illustrate the cumulative burden of environmental exposures and population vulnerability in Chicago. The analysis calls for desperately needed reforms to address environmental hazards located immediately next to parks and residential neighborhoods. The map, with a "cumulative impacts score" legend, draws attention to susceptibilities in Little Village, Pilsen, McKinley/Brighton Park, and several other Southwest Chicago communities. A mayonnaise factory in Little Village sits across the street from an elementary school with an inadequate tree-lined "green buffer" for the diesel fumes released into the air. These areas are made up largely of people of color and low-income communities. Environmental factors such as proximity to treatment storage disposal facilities, wastewater discharge indicators, diesel particulate matter, air toxics respiratory hazard index, lead paint indicator, and many more put the residents of these areas, especially children under the age of five and seniors, at risk of health complications.
As the world focuses on addressing climate crises like increasing forest fires, hurricanes, and melting glaciers, the adverse effects of environmental exposures and residential areas becoming industrialized are being neglected. People living in these areas of Chicago have suffered, and continue to suffer, serious consequences that they should not have to. Most of the air pollution posing health risks in these areas are legal under federal laws. Environmental permits simply help limit this pollution rather than eradicating it. As a city, Chicago has made significant progress in protecting public health through implementing the Clean Air Act, performing air quality checks, collaborating with organizations like Chicago Environmental Justice Network (CEJN) and incredible support from residents advocating for their homes3. Yet, there is a long way to go to ensure that communities of people of color as well as low-income communities do not become targets of unwanted environmental hazards that can dangerously affect their health.
Recognizing the serious environmental injustice Chicagoans have faced over the years, it is important to consider that there are innumerable communities in the US and around the world that are unfairly facing the negative impacts of climate change and industrialization. Raising awareness of not just environmental issues, but environmental injustice issues and voicing stories of those suffering is imperative as we continue progress towards a sustainable future for all.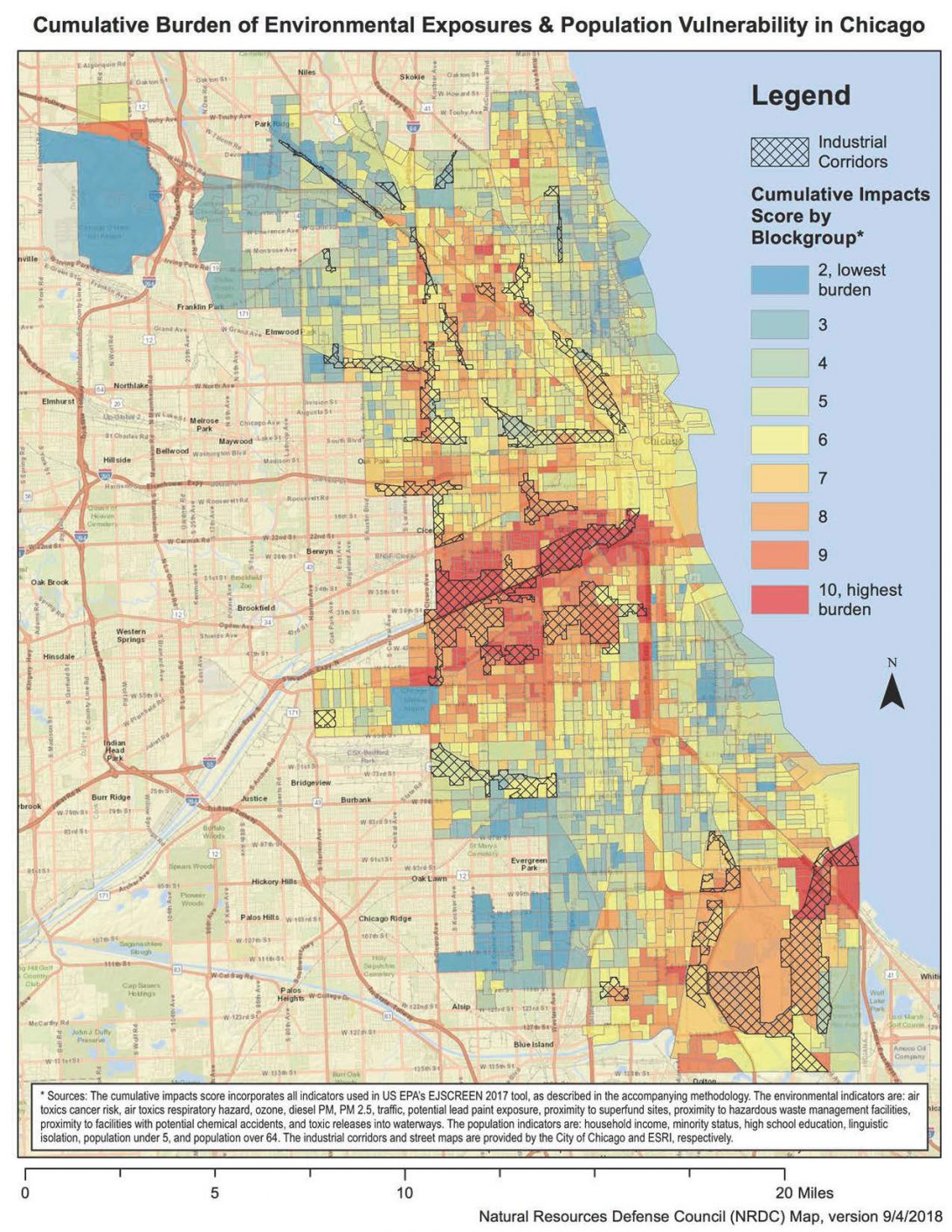 BIBLIOGRAPHY
"Coal Plant Shutdown." LVEJO, http://www.lvejo.org/our-community/statistics/
"Community Statistics." LVEJO, http://www.lvejo.org/our-community/statistics/
"Environmental Issues in Chicago's Little Village & Pilsen Neighborhoods." EPA, https://www.epa.gov/il/environmental-issues-chicagos-little-village-pilsen-neighborhoods
"New Map Shows Chicago Needs Environmental Justice Reforms." NRDC, 25 October 2018, https://www.nrdc.org/experts/meleah-geertsma/new-map-shows-chicago-needs-environmental-justice-reforms
"South Chicago Lakeshore Dump Raises Environmental Justice and Climate Crisis Concerns." Chicago Reporter, https://www.chicagoreporter.com/south-chicago-lakeshore-dump-raises-environmental-justice-and-climate-crisis-concerns/#:~:text=The%20plan%20has%20raised%20environmental,ban%20was%20enacted%20in%201985