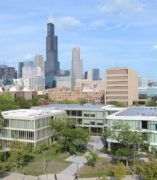 Lisa Sanzenbacher, M.S.
Assistant Director
Pronouns: She/Her/Hers
Contact
Building & Room:
150B PSB
Address:
1140 S. Paulina Street
Office Phone:
Email:
About
Lisa helps write the sustainability building standards for the university. She also spearheaded the green labs initiative on campus and maintains certification for the university's Tree Campus USA status.
Lisa is the Office of Sustainability liaison to the Chancellor's Committee on Sustainability and Energy's Grounds subcommittee and is in charge of editing and updating UIC's sustainable grounds plans: Tree Care Plan, Campus Pollinator Habitat Plan, and the Green Stormwater Infrastructure Plan.
Selected Publications
Pournajafi-Nazarloo H, Partoo L, Yee J, Stevenson J, Sanzenbacher L, Kenkel W, Mohsenpour SR, Hashimoto K, Carter CS. (2011). "Effects of social isolation on mRNA expression for corticotrophin-releasing hormone receptors in prairie voles." Psychoneuroendocrinology. 36(6):780-9.
Grippo AJ, Pournajafi-Nazarloo H, Sanzenbacher L, Trahanas DM, McNeal N, Clarke DA, Porges SW, Carter SC. (2012) Peripheral oxytocin administration buffers autonomic but not behavioral responses to environmental stressors in isolated prairie voles. Stress. 15(2):149-61.
Education
M.S. Environmental Management and Sustainability, Illinois Institute of Technology
B.S. Biological Sciences (Psychology), University of Illinois at Chicago
Licensures and Certifications
Professional Memberships
Illinois Green Alliance
US Green Building Council
Selected Presentations
Bottom-Up Approach to Energy Efficiency in Labs. (2016) Internatinal Institute for Sustainable Laboratories Annual Conference, Kanas City, MO. Lisa Sanzenbacher and Jonathan Castillo, University of Illinois at Chicago.
The University of Illinois at Chicago's Climate Action Plan calls for energy savings campus-wide alongside other measures that should be taken to make the school more sustainable. The Office of Sustainability promotes and works towards a more eco-friendly school through various projects. One such project is the Ultra-Low Temperature Freezer Initiative at UIC which is focused on reducing energy usage in labs, more specifically through researching potential energy saving measures that can be taken in relation to lab freezers. This not only includes gathering information on freezers and how they're used by lab staff, but also includes educating lab users on why it matters. One of this project's main goals is educational outreach, and through this, the message can be spread on why sustainability and energy reduction matters. In a state with an uncertain budget, it is imperative to find energy saving techniques that don't require a capital investment.
How Signage Effects Recycling. (2016) Association for the Advancement of Sustainability in Higher Education Annual Conference &Expo, Baltimore, MD. Lisa Sanzenbacher and Kimberly Silva, University of Illinois at Chicago.
It is well known that recycling can be confusing, especially when deciding which materials are accepted into a recycling program at point of disposal (aka the bin). This can lead to contamination of various recycling streams. The University of Illinois at Chicago (UIC) sought to create a research study that will help to better gauge the University's recycling behavior via recycling signage on campus. By measuring this behavior, we were able to determine how to better capture recyclables by creating more efficient signage. Our hope was that that more effective signs will decrease contamination and increase our recycling rates. However, we learned that there is much more to effective communication of a recycling program that extends beyond the signs. This case study highlights the results of this study, including behavior analysis of a survey, recycling weight data, and waste audit data.