What is the CAIP? (2018)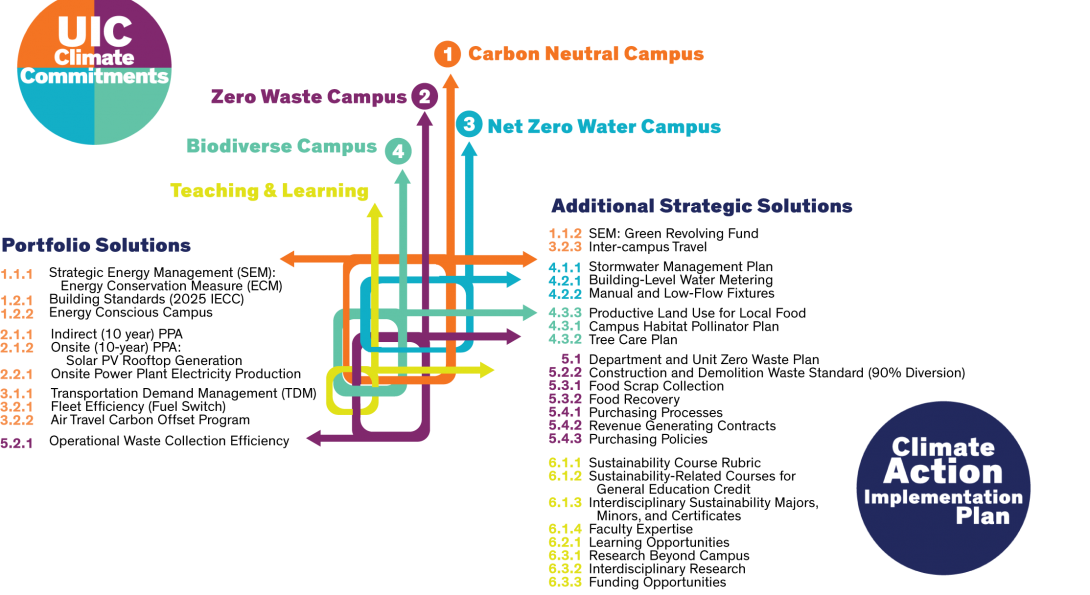 The main objective of the Climate Action Implementation Plan (CAIP) is to help UIC accelerate through the phases of implementing tangible solutions. The CAIP derives from initial strategies of the 2009 UIC Climate Action Plan (CAP) as well as the Short-Term Action Items and Aspirational Goals of the 2016 UIC Climate Commitments. Both ultimately led to the development of a refined cost-effective portfolio of solutions to be implemented by 2028; as well as a variety of additional strategic solutions to be supported, developed, invested in, implemented, or reevaluated on a 5-year incremental basis through 2050.
Due to the dynamic administrative, financial, legislative, and technological landscape it is difficult to provide certainty in the proposed solutions beyond the ten-year framework. Nonetheless, a visionary approach is represented.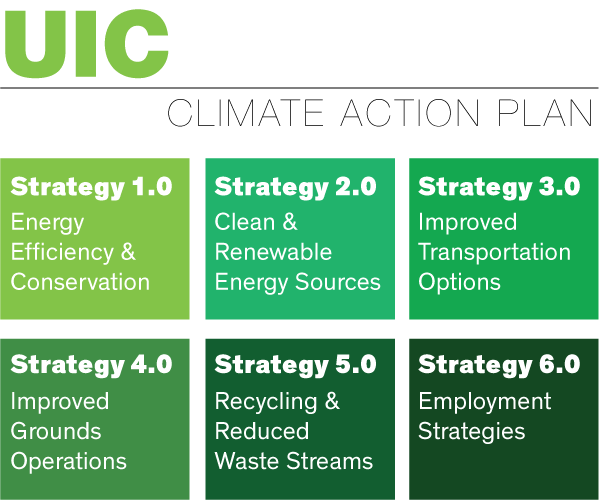 The broader field of sustainability is experiencing a paradigm shift from quantifying potential for GHG emissions reduction, to capturing the monetary savings associated with green initiatives. With this in mind, the Office of Sustainability (OS) sought out Fovea LLC for their expertise working with higher education institutions. The OS collaborated with Fovea to provide facilitation, data visualization, and scenario planning for UIC.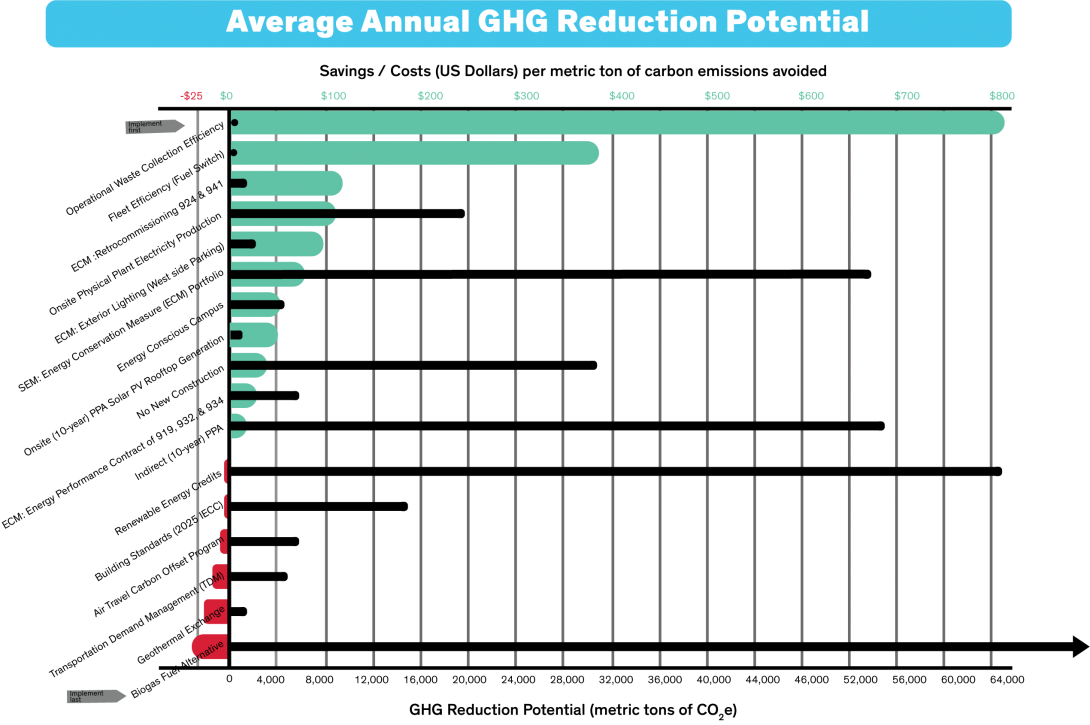 In order to understand the financial implications of a potential solution, one should have a granular understanding of the financial aspects that comprise it. The (Fovea) CAP Tool financial model considers impacts on (1) capital expenditures (CAPEX), (2) operational expenditures (OPEX), (3) purchased commodities, and (4) carbon pricing to find solutions that will work in a variety of possible futures. The next step was to model potential solutions for UIC using available data in accordance with assumptions built in the CAP Tool. The corresponding graph displays many of the solutions evaluated.
Solutions for UIC were subsequently prioritized based on their impact on
Energy Purchases ($),
Operating Expenses (OPEX) and Capital Expenditures (CAPEX),
Total Cash Flow ($),
Average GHG Abatement (MTCO2e per year),
Percentage of Average Forecasted Emissions (%), and
Levelized Cost of GHG Abatement ($ per MTCO2e).
In addition, factors for consideration included availability of external grants and funding mechanisms, alignment with UIC's Strategic Priorities, and other previously mentioned UIC strategic plans. Each CAIP Portfolio Solution can be attributed to either an Aspirational Goal or Short-Term Action Item from the UIC Climate Commitments.
The Additional Strategic Solutions proposed in this plan cannot be quantified through the Fovea CAP Tool model (given its focused specialization in GHG reduction impacts) or are still in varying stages of development. However, the additional strategic solutions are still vital investments in that the refined portfolio of solutions (to date) excludes other significant areas of planning, such as waste, water, biodiversity, and student success. Utilizing historic and forecasted financial data, along with costs for achieving these goals, solutions can be assessed for reaching all of UIC's Climate Commitments. However, utilizing historic and forecasted financial data along with costs for achieving the goals in these areas, solutions can be assessed for reaching all of UIC's Climate Commitments (namely): Zero Waste Campus, Net Zero Water Campus, and Biodiverse Campus.