STRATEGY 6.0 Education and Research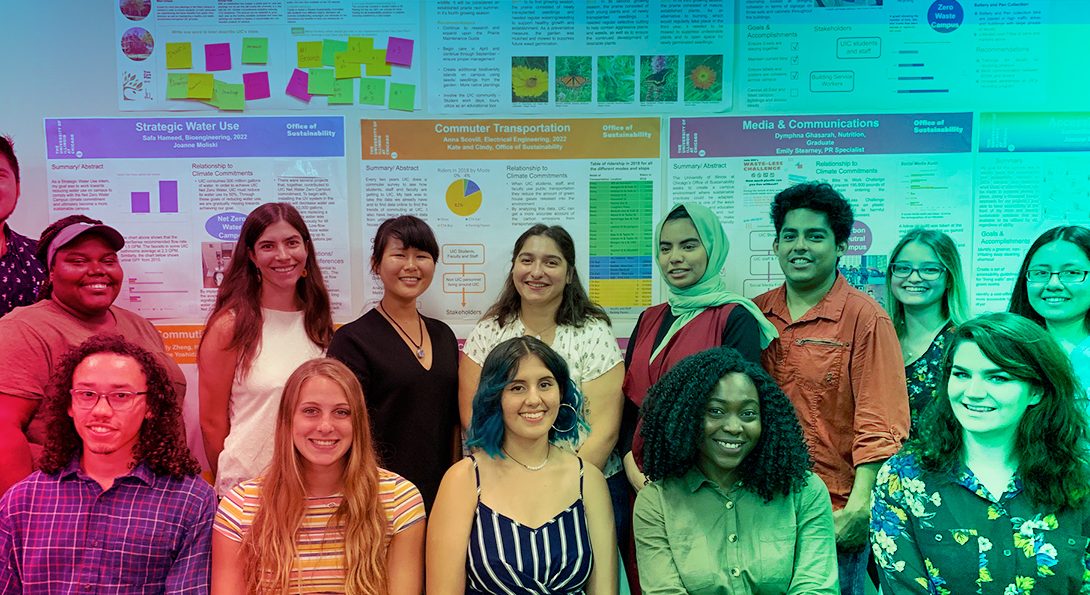 The Education and Research strategy will help UIC integrate sustainability in teaching, learning, and research as part of the recommendations of the UIC Climate Commitments and of the report To Green and Beyond: Excellence in Sustainability.  UIC's Climate Commitments—which mainly address campus operations—must extend to the core mission in education and research, UIC's strategic priorities of student experience and success, and Chicago and community engagement by embedding sustainability content into curricular and co-curricular programs. A successful outcome requires the engagement of UIC's academic community in creating meaningful learning and research opportunities in sustainability for faculty, staff, students, and the broader community.
This strategy calls for UIC to develop a sustainability-related curriculum by creating a sustainability course rubric, embed sustainability into existing courses for general education credit, incentivize the development of interdisciplinary sustainability majors, minors, and certificates, and create ways for colleges to hire faculty with sustainability expertise. This strategy will also enhance sustainability-related co-curricular activities by creating learning opportunities such as educational signage around campus. This strategy urges UIC to catalyze sustainability-related research by providing seed funds to practice research beyond the campus, establish administrative pathways for igniting interdisciplinary research, and creating funding opportunities sustainability-related research topics.
Provost Quote
We can be confident—we are teaching the leaders of tomorrow.

UIC Leadership Retreat, August 2017

|
6.1 DEVELOP SUSTAINABILITY-RELATED CURRICULUM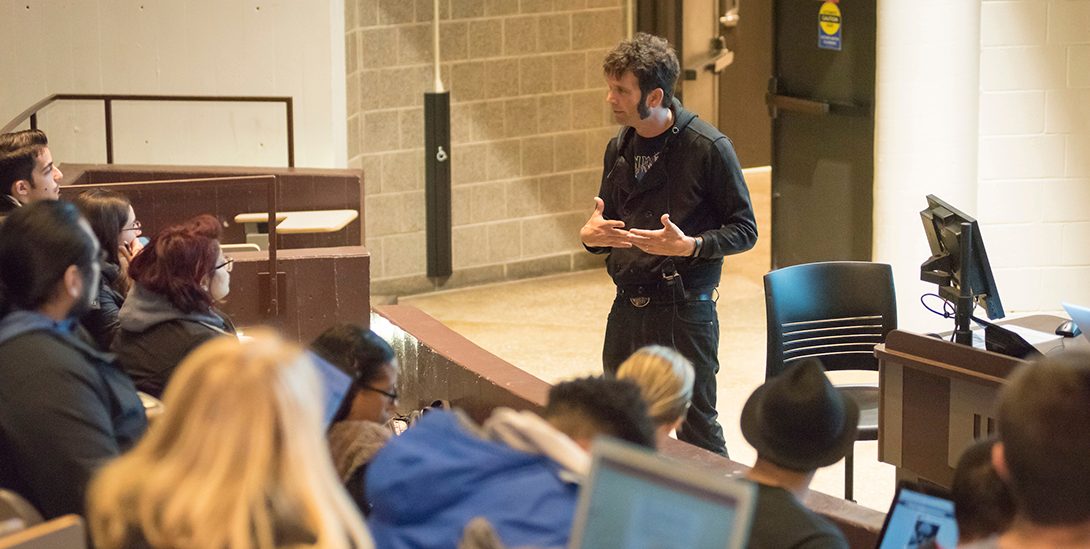 There is a substantial interest by UIC faculty to teach sustainability-related courses in their discipline if provided instructional support (FY2017 survey). Sustainability is integrated into UIC's curriculum through faculty-initiated course development. Coordinated and formal approaches for developing curricular content and guiding sequences of courses geared toward delivering the philosophy, knowledge, skills, and tools that prepare students for sustainability-focused careers have been very limited and tend to remain within disciplinary boundaries. The Teaching Sustainability Initiative is one initiative helping faculty integrate sustainability into their research and courses.
The College of Urban Planning and Public Affairs (CUPPA) offers an undergraduate minor in Sustainable Cities. This minor offers two introductory courses related to sustainability: US 130 and 230; furthermore, US 390 (Sustainability Internship Program) is an elective course for the Sustainability Cities minor and Urban Studies major.
There are ongoing discussions regarding interdisciplinary master's degree programs. The College of Liberal Arts and Sciences (LAS) is working towards a 4 1 professional master's degree in sustainability for majors in Biological Science, Earth and Environmental Science, Physics, Chemistry, Urban Studies, Anthropology, and Civil Engineering. Earth and Environmental Sciences and Business Administration have also proposed a combined undergraduate degree in Environmental Management.
6.1.1 Sustainability Course Rubric
GOAL
Develop a sustainability course rubric.
There are at least 70 courses that could be defined as sustainability-related or -focused (2017 survey). In order to assist students in identifying sustainability-related courses more readily, the CCSE Education and Research Subcommittee is tasked with developing a sustainability course rubric, facilitated by the assistance of a 0.50 FTE Graduate Assistant. This rubric would centralize and better advertise offerings and potential degrees. It would be required that departments utilize the rubric, and subsequently, existing courses would be cross-listed. A Graduate Assistant is necessary as the CCSE does not have a budget for support staff. This position would report to the Office of Sustainability or the Institute for Environmental Science and Policy (IESP).
6.1.2 Sustainability-Related Courses for General Education Credit
GOAL
Increase the number of sustainability-related courses for general education credit.
Courses that are already under consideration, or could qualify for General Education Credit (that are currently offered at UIC) include courses in the Honors College and Urban Studies. The syllabi of existing General Education courses should be reviewed for further opportunities to infuse sustainability into existing courses, with an initial focus on courses that meet the General Education requirements of Analyzing the Natural World and U.S. and Society; which are more likely to have courses that fit this unique opportunity. The CCSE Education and Research Subcommittee is tasked to communicate with faculty that pertain to discuss opportunities to add-in a sustainability component.
The Education and Research Subcommittee developed a set of learning objectives and outcomes. This should be presented to the Committee of Associate and Assistant Deans, Education Policy Committees in the Colleges, Gen Ed Council, and targeted departments (e.g. Anthropology, Public Health, Sociology, Engineering) along with why faculty might want to integrate sustainability into their courses.
Programs and courses created by faculty are generally developed within departments or colleges. Utilizing the aforementioned rubric as a framework for defining sustainability-related courses, the OS and the Education and Research Subcommittee will draft a presentation for each faculty member on the subcommittee to present within their own department, other departments, and to any college or campus committee on which they serve.
Additionally, the UIC Center for the Advancement of Teaching-Learning Communities (TLC) has posted workshops related to integrating sustainability across curriculum. Including faculty who teach sustainability-focused courses as Master Teaching Scholar in the TLC program, could subsequently provide guidance to other faculties interested in integrating sustainability across their curriculum. TLC is tasked with developing a best practices toolkit for adding sustainability material to courses.
LEARNING OBJECTIVES AND OUTCOMES FOR SUSTAINABILITY
Response Objectives
System dynamics
Human systems and natural systems are linked. Changes in any part of a system have multiple consequences that reach far beyond change.
Tradeoffs
Solving almost all problems related to sustainability involves tradeoffs. There are rarely perfect solutions with no costs, and there are often winners and losers.
Cascading effects and unintended consequences
There are positive and negative, intended and unintended cascading effects of human policies, decisions and actions, all of which have implications for sustainability.
Complex systemic problems
More often than not problems in sustainability are classifies as "wicked", as opposed to "tame". Tame problems lend themselves to "elegant" solutions (e.g. acid rain), but solutions to wicked problems are "clumsy", requiring frequent revisiting and revision (e.g. climate change).
Interdisciplinary
There is no single disciplinary perspective for addressing sustainability; sustainability is truly an interdisciplinary field of study.
Outcomes
Upon completion of the program or course students should have:
An understanding in critical knowledge, along with approaches and tools at the interface of sustainability and leadership.
Proficiency in applying solution-based knowledge, along with tools for institutional development and change for sustainability.
The ability to participate in institutional change and development toward sustainability.
Proficiency in building and communicating cases for sustainability including opportunities and challenges.
An understanding of the emerging global sustainability context and proficiency in life-long learning in this rapidly evolving arena.
6.1.3 Interdisciplinary Sustainability Majors, Minors, and Certificates
GOAL
Increase number of students graduating from interdisciplinary sustainability majors, minors, and certificates.
Program development is driven by tuition distribution and the desire to develop programs to increase enrollments. Tuition generally goes to the college from which the course originated and the college may reallocate funds to departments based on internal formulas. Incentives for development of interdisciplinary courses, programs, and certificates should be established through the Associate Chancellor for Budget and Resource Planning and the Office of the Provost.
The UIC Extended Campus offers a platform for the development of revenue generating programs, whether standard in-person classroom, online, or blended formats. Opportunities to offer sustainability focused courses, certificates, and other educational program are currently being explored.
6.1.4 Faculty Expertise
GOAL
Incentivize future faculty cluster hires to include academic areas of Energy and Sustainability, Environmental Economics, Environmental Sociology, Environmental Justice, Corporate Social Responsibility, and Urban Infrature and Sustainability.
An approach to recruiting faculty in areas where there are gaps in expertise—that results in missed opportunities to engage in sustainability research and respond to national and regional priorities—should be developed by the Colleges and Departments with the support of the Office of the Provost.
The academic areas of Energy & Sustainability, Environmental Economics, Environmental Sociology, Environmental Justice, Corporate Social Responsibility, and Urban Infrastructure Sustainability, should be targeted for the next cluster of faculty hiring. The Office of the Chancellor and the Office of the Provost are delegated in providing funds for to incentivize cluster hires.
6.2 ENHANCE SUSTAINABILITY-RELATED COCURRICULAR ACTIVITY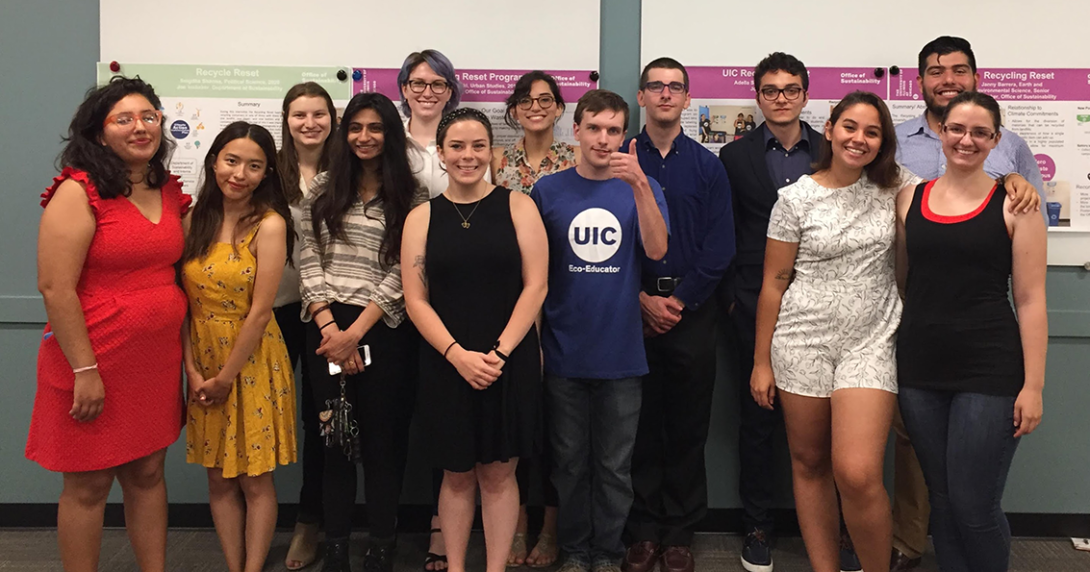 A selection of sustainability-oriented co-curricular programs, informal educational opportunities, and related activities have grown in the last decade at UIC, clearly indicating a marked shift for our faculty, staff, and student body. The Sustainability Internship Program and the Heritage Garden Internship currently receive funding form the Sustainability Fee, however, institutional support should be part of the conversation.
There are several notable, ongoing successes of sustainability-related co-curricular programs at UIC.
6.2.1 Learning Opportunities
GOAL
Utilize every sustainable infrastructure project as an opportunity to create the campus as a learning lab.
Every green infrastructure project is an opportunity to utilize the campus as a learning laboratory. Therefore, education signage should be included for every capital project, which the VCAS is responsible for. Aspirational ideas that evolve through faculty, staff, and student innovation to broaden this concept should be integrated into the campus vision as described in the Master Plan. This would further integrate campus infrastructure as a learning and research tool. The OS will be responsible for bringing these ideas to the Master Plan Working Group.
6.3 CATALYZE SUSTAINABILITY-RELATED RESEARCH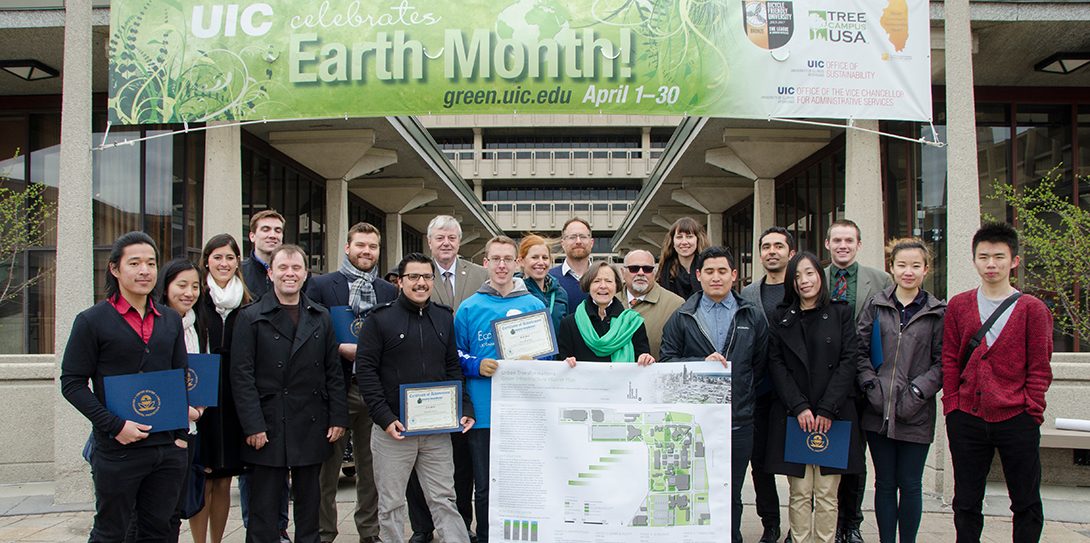 Many faculty are engaged in sustainability-related research through various academic and research programs. Research that furthers specific sustainability goals – including disciplinary, interdisciplinary, collaborative, and translational projects, as well as community-based participatory research – must be facilitated and supported across campus.
6.3.1 Research Beyond Campus
GOAL
Provide seed funds for community-based participatory research to help neighboring communities address issues of sustainability.
In order to advance broader community and off-campus research, relevant colleges as well as the Office of the Vice Chancellor for Research should provide seed funds for community-based participatory research to help neighboring communities address issues of sustainability.
Off-campus research partnerships must be facilitated, with industry and foundations, to develop innovative projects that are designed to improve efficiencies in energy and resource usage consistent with sustainability goals. The campus needs a more nimble process to elevate and bring research discoveries to market. Those responsible include UIC Advancement, Office of Technology Management, UIC Innovation Center, and the Center for Clinical and Translational Science.
6.3.2 Interdisciplinary Research
GOAL
Establish administrative pathways for catalyzing interdisciplinary research. Implement tenure and promotion and recognition of interdisciplinary publications. (The OVCR and Office of the Provost).
Provide seed funds to facilitate collaborative partnerships across disciplines to secure extramural funds for large complex projects (OVCR).
The OVCR has convened researchers around the topic of water as well as urban sustainability. However, in order to create a cohesive vision and a stronger collaboration among individual researchers, staff support is needed to stay on task and assist with grant writing and submissions. Staffing may be done by an advanced graduate student, post-doc or staff with strong grant writing and management background. Research Development Services in the OVCR should provide this support.
6.3.3 Funding Opportunities
GOAL
Increase funding in sustainability-related research.
The OVCR is tasked with developing a process to track and optimize funding opportunities in sustainability-related research topics including governmental sources but also specific research foundation opportunities.