STRATEGY 5.0 Sustainable Materials and Reduced Waste Streams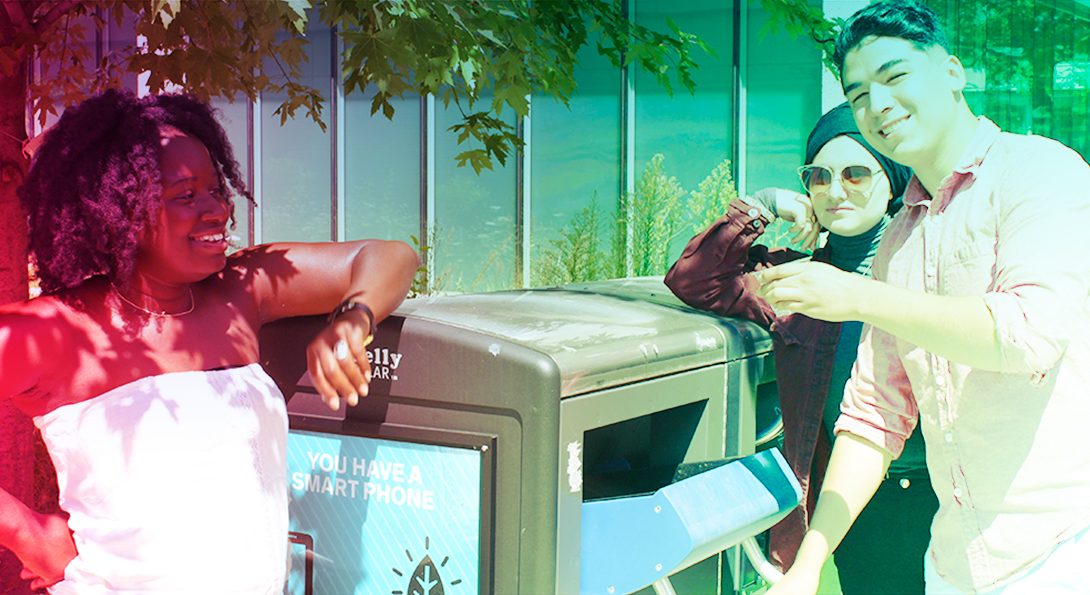 This strategy calls for UIC to require departments and units to compose and implement their own zero waste plan as well as optimize university-level operations through operational waste collection efficiency and requiring at least 90% of construction and demolition waste to be recycled. This strategy will reduce food waste through a comprehensive food scrap collection and food recovery program. This strategy will also require UIC to practice sustainable procurement through a sustainable purchasing process, enforcing the sustainability aspects of the revenue generating contracts, and implementing a sustainable paper policy and a bottled water policy. This will help UIC achieve it's commitment to be a Zero Waste Campus and can help UIC save 200 MTCO2e annually.
UIC's Zero Waste Campus goal is a commitment to operating an efficient campus that is continually working towards reducing waste by emphasizing waste prevention as opposed to end-of-pipe waste management. It is a whole systems approach that aims for a massive change in the way materials flow through society, resulting in no waste.
A key principle to the success of this strategy is that everyone has a role to play. We especially look to the custodial staff which is being empowered to be ambassadors for zero waste efforts.
These solutions on this page have been updated from what is mentioned in the original plan (2018).
5.1 IMPLEMENT UNIT-LEVEL WASTE REDUCTION
The 2020 Materials Management Plan produced under the direction of the Zero Waste subcommittee of the Chancellor's Committee on Sustainability and Energy, and the Illinois Sustainable Technology Center, documented current waste management practices and user experiences, and audited waste generation and its characteristics.  With this process, there is a comprehensive roadmap to build from the 47% recycling rate of FY2019 and prime the conditions for a zero waste campus by 2050.
5.1.1 Department and Unit Zero Waste Plan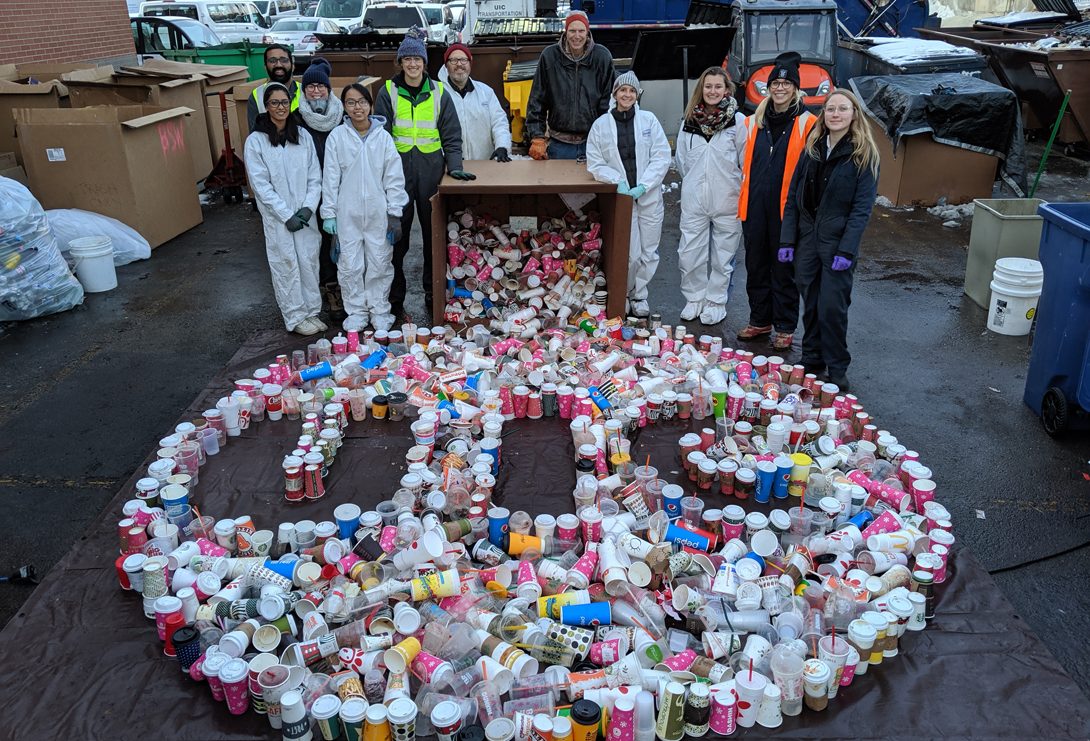 GOAL
Develop department and unit Zero Waste Plans from large waste-producing departments.
The Zero Waste Task Force (ZWTF) consists of large waste generating units working to develop plans specific to their operations to achieve reduction of landfill-bound material.​​ Zero Waste Plans include a timeline for development and implementation, including plans for engagement, surveys, and strategies for improvement in collection operations, recycling performance, and cost efficiency.
After reviewing the Materials Management Plan, the ZWTF agreed that a key new program is a post-consumer compost collection. There is a pilot project in three UIC dining halls and two office buildings.
5.2 OPTIMIZE UNIVERSITY-LEVEL OPERATIONS
UIC must practice sustainable procurement through our purchasing process, enforcing sustainability components of the revenue generating contracts, and implementing our recycling policy addressing paper and bottled water reduction. An important bell weather in FY2021 occurred when Aramark assumed management of the Hospital Kitchen and accepted all the sustainability language developed by Food and Dietary Services before them.
A next goal will be focusing on the contracts for dining services across campus.
5.2.1 Operational Waste Collection Efficiency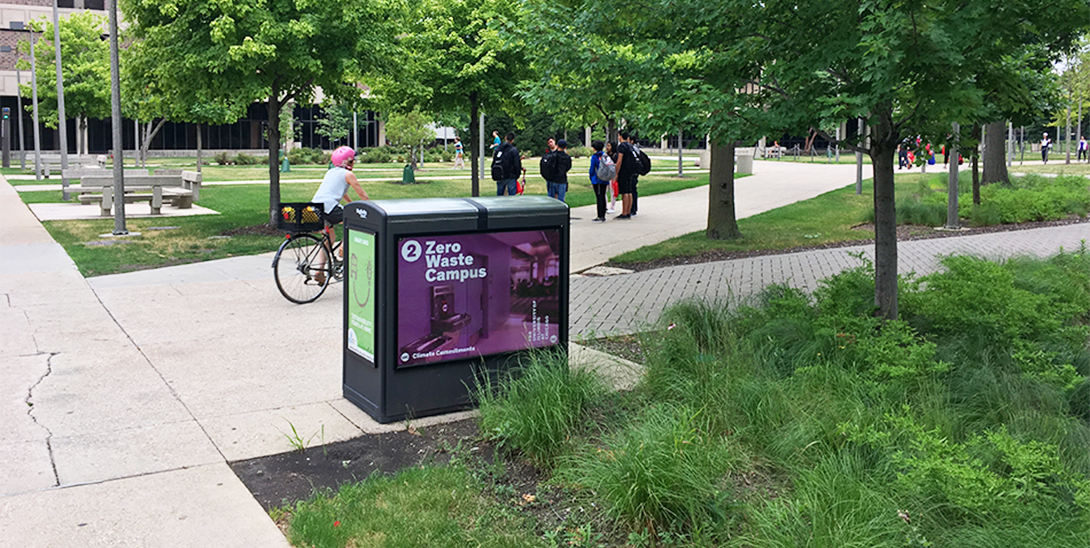 GOAL
Increase landfill waste diversion rate to 50% by 2020 and 90% by 2050.
Through a grant from the Sustainability Fund, PSPM is purchasing Enevo sonar sensors for an online reporting for drivers on refuse, paper, and cardboard recycling trucks. This enables Transportation Services to monitor the capacity of refuse and cardboard dumpsters to avoid pick-ups when the container is less than 75% filled.
5.2.2 Construction and Demolition Waste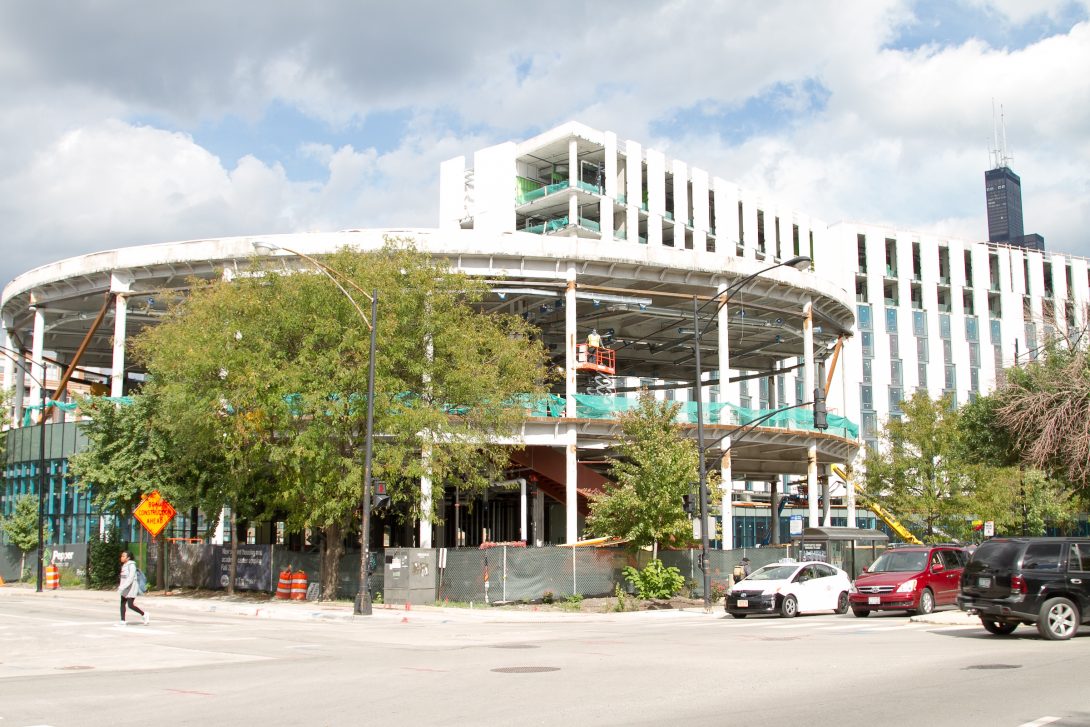 GOAL
Recycle and/or salvage 90% (75% minimum) of non-hazardous Construction & Demolition debris by weight for every construction project.
Waste from construction and demolition (C&D) of building projects is another category of non-hazardous waste that UIC generates. This solution requires all C&D generating projects to reach a 90% waste diversion goal, with no less than 75% of the waste diverted.
5.3 REDUCE FOOD WASTE
In the hierarchy of food waste reduction, food recovery is a preferred approach since it conserves all the resources that went into growing, processing, transporting, preparing, and cooking food, as well as handling the waste. The first objective is recovering (non-contaminated) prepared food for donation, which also helps address the problem of food insecurity in neighboring communities. The second objective is to divert the food scraps from landfill into a composting program to preserve the nutrients and recycle the material back into usable products like fertilizer.
5.3.1 Food Scrap Collection
GOAL
Continue kitchen compost and expand compost collections in pilot program in other buildings on campus.
The Sustainability program coordinates a food scrap collection effort in Dining Services' kitchens at Student Center East, Student Center West, and in the UI Hospital for kitchen scraps for "back-of-the-house" composting, diverting about 50 tons of organic waste annually.
The audits at other buildings on campus found there are also high volumes of food scraps from vendors other than the dining services. ZWTF has agreed on expanding composting to more locations, and to include collections in departments and residence halls.
5.3.2 Food Recovery & Security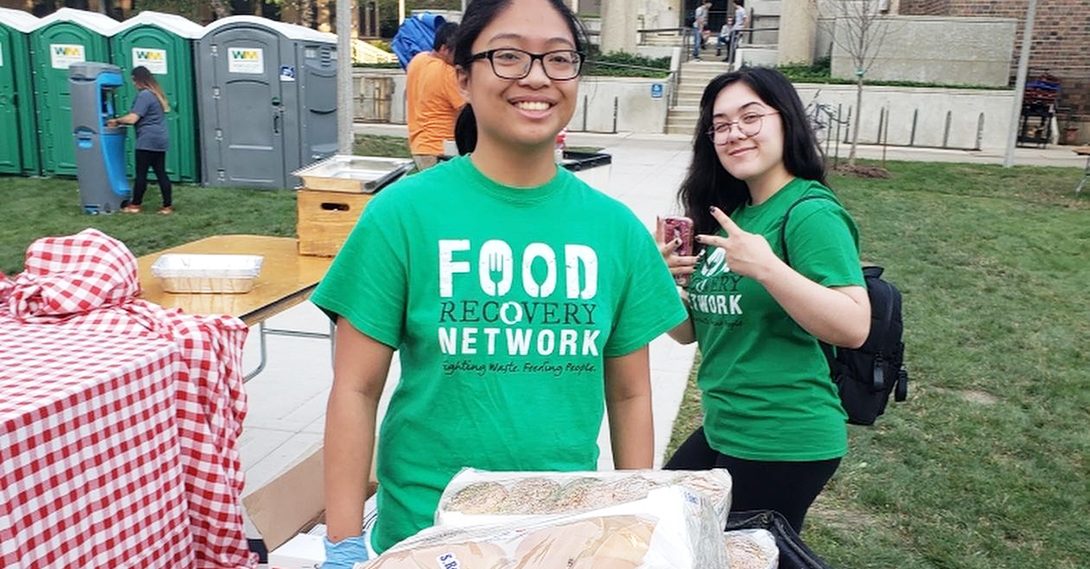 GOAL
Increase amount of food recovered by weight.
Recovery
The Food Recovery Network (FRN) is a student-led group which partners with sustainability, Dining Services, and UI Health kitchen staff to package leftover food. When the pandemic sent students to remote learning, and most staff to remote work, together with FRN and our interns, we saw the need in the community around UIC to continue recovering prepared food. In the fall of 2020, FRN at UIC was recognized by their national network for the largest collection of any school in the country: 5.12 tons, all of which was delivered to the second largest homeless shelter in Chicago, the Franciscan House.
Security
In order to support food security for at-risk members of the UIC community, campus entities have created several food security programs that function interdepartmentally. This ensures that each program can preserve its core function in the event of environmental or social impact.  Promoting food security strengthens the adaptability of both the neighborhood and campus communities.
The UIC Wellness center operates and manages the UIC Pop-Up Pantry to help combat food insecurity in the UIC community.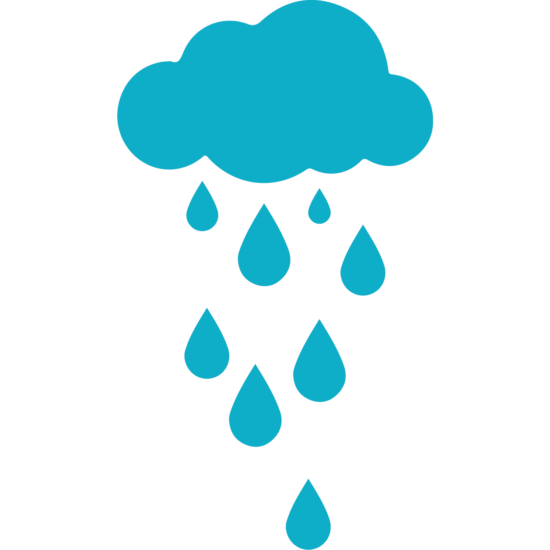 Climate Resilience Connection
Populations that have food security are less vulnerable to adverse environmental impacts caused by climate change and entails the economic, social, and physical access to safe and nutritious food. Being food secure means that dietary needs are met and are accessible, thus supporting healthy lifestyles.  To create a resilience and healthy UIC community, UIC must reduce food insecurity among students as well as community members through the work of the Food Recovery Network.
Climate Resilience 7.3 HEALTH AND WELLNESS
5.4 PRACTICE SUSTAINABLE PROCUREMENT
UIC's Climate Commitment to be a Zero Waste Campus can be assisted through good supply chain management. Integrating environmentally and financially viable practices throughout the supply chain – from design, material selection, manufacturing, packaging, transportation, consumption, to disposal – can lower the environmental footprint of a purchased material or product. While incorporating best practices, optimizing operations can also achieve greater cost savings at a relatively low effort.
5.4.1 Purchasing Process
GOAL
Develop a program in Purchasing that advances sustainability.
Purchases are currently made in a variety of ways – with P-Cards, iBuy, RFPs, existing contracts through various purchasing consortiums, etc. – which provides complex oversight and control. A checklist for purchasing that describes the "why" and "how" of sustainable purchasing and identifies product certifications as well as existing industry standards has been developed as the Sustainable Purchasing Guide, but not yet disseminated.
Other actions to be taken by the Office of Purchasing include adding language to the vendor entry document (Vendor Information Form) related to sustainability, adding sustainability language to templates for contracts, and developing a communication plan.
5.4.2 Revenue Generating Contracts
GOAL
Leverage Revenue Generating Contracts for Dining Services to advance sustainable procurement.
Revenue generating contracts are agreements under which UIC receives compensation or revenue sharing from a vendor who provides services to the campus community while operating on university property. A key UIC revenue generating contract is for Dining Services. UIC's current contract is in place through FY 2023. It is incumbent upon those responsible for the contract to enforce those requirements. These include procurement of 20% of produce from growers or processors within 250 miles of campus, annual accounting and reporting of procurement, use of recyclable (pre-consumer) materials, staff training for recycling, elimination of Polystyrene plastics (#6 PS), use of plant-based or biodegradable service ware, particularly where composting is provided, and requirements for food scrap collection. The Office of Vice Chancellor for Student Affairs (OVCSA) is responsible in enforcing this contract.
Dining Services and food service vendors should implement programs that utilize compostable (or recyclable) materials and expand composting. A good example is the dining halls which had gone all disposable during the global pandemic of 2020, but now has switched to the Ozzi system of durable plastic reusable lunch boxes, flatware, and a cup for each student with a dining contract. This is greatly reducing the volume of single use plastic.
5.4.3 Purchasing Policies: Sustainable Paper and Water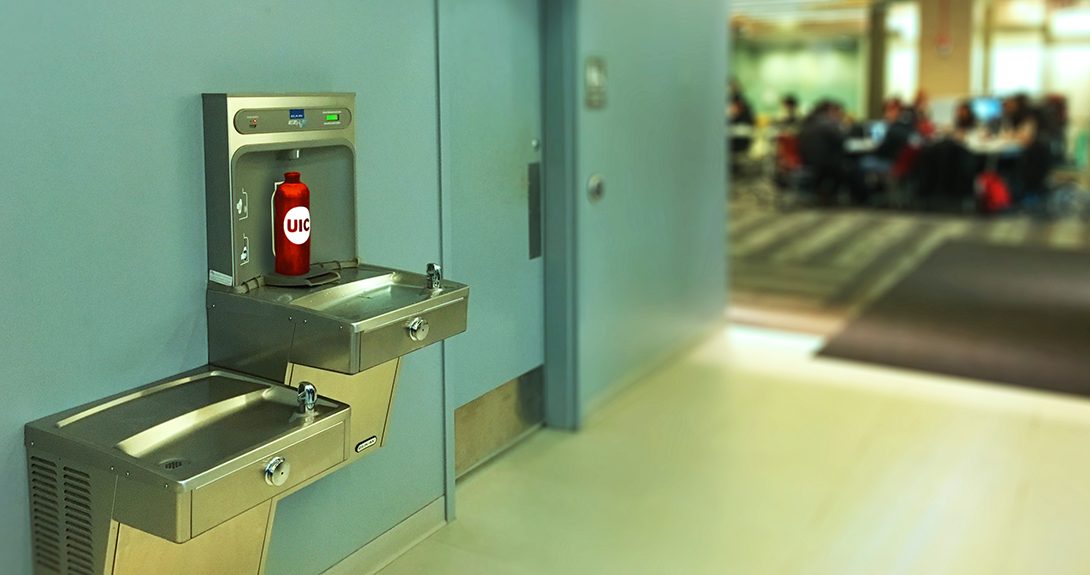 GOAL
Establish a Sustainable Paper Policy and a Bottled Water Policy
These purchasing policies are either cost neutral or cost beneficial. This policy would reduce desktop printers, consolidate to multifunctional printers, and print less, while requiring a percentage of recycled content in paper. Printing less would not only reduce the costs associated with printing, but also collection costs of paper (which is our costliest recycled material at $550.00 per ton).
This policy would forbid purchases of bottled water by all departments, unless justified due to lack of access to safe water. An increasing number of filtered water bottle filling stations are installed on campus, allowing such a policy to reduce wasteful spending, waste created from plastic bottles, and emissions from transporting the bottled water from the producer.
All departments and units will be responsible for the implementation of this solution.