STRATEGY 4.0 NATURAL RESOURCES AND ECOSYSTEM SERVICES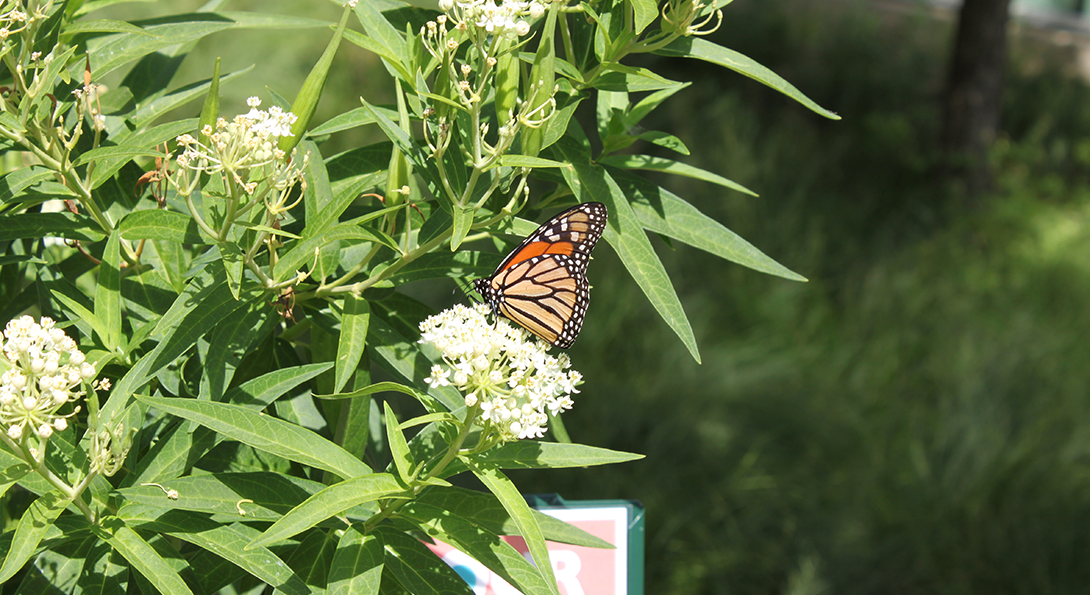 These portfolio solutions will help UIC achieve it's commitment to be a Net-Zero Water Campus as well as a Biodiverse Campus as well as make the campus resilient to detrimental climate change effects.
Goals for Strategy 4.0: Natural Resources and Ecosystem Services
4.1.1 Green Stormwater Infrastructure Implementation Plan (7.4.4 Flood Resistant Buildings)

Increase natural campus flood mitigation strategies through bioswales and landscape alteration.

4.2.1 Building-Level Water Metering

Update each UIC building with a water meter

4.2.2 Manual and Low-Flow Fixtures

Replace all automatic and/or high-flow flushers to manual and low-flow fixtures

4.3.1 Campus Habitat Pollinator Plan (7.3.2 Pollinator Habitats)

Increase pollinator habitat program to encompass greater percentages of campus land

4.3.2 Tree Care Plan (7.3.1 Tree Canopy)

Acquire funding for increasing inventory and maintaining the trees across all campus units
4.1 RETAIN AND REDUCE STORMWATER
Global climate change has significantly greater impacts on the natural environment than simply warming the atmosphere. A warmer climate can hold more moisture, increasing the likelihood of heavier and more frequent rainfall events. Changes in precipitation patterns will be one of the most prominent indicators of a warming climate. 
The Chicagoland region is putting the fresh water source, Lake Michigan and the Great Lakes, at risk due to nonpoint source pollution such as stormwater runoff into the lakes, rivers, and streams. The Chicagoland region is under "extremely high" stress level for flooding which can cause millions of dollars of damage to property and presents a significant liability issue, especially when heavy rains overflow the system, forcing the city to open the overflow points along the river, and in extreme cases, opening the locks and releasing the stormwater that is mixed with sewage back into Lake Michigan – close to where UIC obtains its drinking water.
Sustainable stormwater management is aimed at retaining water on site for use, evaporation or percolation, and separation from wastewater. Sustainable water management entails using less water in plumbing and washing and thus reducing water waste into the sewer system. The goal is to measure and then reduce runoff to the City's Combined Sewer Overflow (CSO) system from surfaces owned by UIC. This can be achieved through best practices in green infrastructure techniques such as bioswales, green roofs, greenways, native landscaping with soil amendments, rain gardens, rainwater capture, and/or the removal of paving and structures.
Goal: Increase natural campus flood mitigation strategies through bioswales and landscape alteration

Because of the difficulty associated with analyzing precipitation patterns, it is imperative that steps be taken to mitigate flood damage to existing infrastructure. It is imperative that all city entities implement resiliency when developing risk mitigation and impact strategies.  Most buildings on campus do not have flood sewers. This is of great concern as several buildings house critical equipment in their basements. Flood impact risk increases as heavier rainfall events become more frequent. Additional flood proof measures may be needed to address concerns where relocation is not possible. In planning for climate change and shifting weather conditions, UIC is working to evaluate potential risks and develop comprehensive solutions to lessen dependence on external factors. Furthermore, there are significant operational costs allocated to clearing pedestrian pathways after a large storm. Managing stormwater on- site will better equip UIC to more efficiently spend its operations budget. 

Urban Transformations 2.0: A Green Stormwater Infrastructure Implementation Plan for the University of Illinois at Chicago (UT 2.0) develops and demonstrates an incremental, scalable, and adaptive approach to implementing green infrastructure in a highly urbanized context to combat urban flooding due to climate change. Transforming UIC's campus with green infrastructure will help mitigate flooding and will model how cities can manage water in a more sustainable way. Through sustainable stormwater management precautions, UIC has positioned itself as a steward in identifying and developing resilient and transferable flood-reduction initiatives.

Through an agreement with the Metropolitan Water Reclamation District of Chicago (MWRD) and the City, UIC could leverage its intellectual and financial capital to plan, design, implement, and monitor the plan. Currently, approximately 60% of campus and community commercial buildings have some form of flood insurance. It is important to note that green infrastructure projects that reduce stormwater on campus will also reduce water damage risk, caused primarily by surface water runoff during torrential rain events, and also aide with biodiversity issues outlined in section 4.3.
4.2 REDUCE WATER USE
UIC receives 37.83 inches of rainfall per year on its 244-acre campus, an equivalent of 251 million gallons of stormwater falling on a mix of landscaping, roofs, sidewalks, parking lots, and streets. UIC consumed on average 660,000,000 gallons of water annually between FY 2012 and FY 2016 (CAIP portal). Past studies show that the power plants use the majority of water on campus (Figure 14). Hightemperature hot water and steam are used for heating while chilled water is used for cooling. Anytime there is a major leak or break in these closed-looped systems it creates a spike in water usage for that year, which is disproportionate to the average use (Figure 13). A significant component of water use efficiency is prevention and management of piping for central heating and cooling systems. Key strategies to reduce water use include building-level water metering (Solution 4.2.1), and retrofitting restroom fixtures—particularly automatic flushers and/or toilet basins with manual low-flow fixtures (Solution 4.2.2)
Goal: Update each UIC building with a water meter

Similar to energy, UIC cannot monitor our water usage if is not accurately measured. UIC tracks water use based on the City's water bills. Meter readings are conducted every two months, and often times are simple estimates. However, trends can be identified when the campus averages water use over the past several years.

The price of water and sewer service has tripled since 2008, to $3.88 per 1000 gallons and $29.04 per 1000 cubic feet – respectively. However, it should be noted that Utilities does receive an evaporation credit for the cooling towers in the power plants. UIC pays approximately $4.50 million for water and sewer charges annually.

If UIC were to reduce water use by 52%, there would be an approximate annual savings of $2.34 million (NPV). In addition, the City has imposed a sewer and water tax at $0.59 per 1000 gallons, with plans for the rate to increase to $2.51 per 1000 gallons in FY 2020 or FY 2021.

Understanding water use at UIC requires good metering at the building level, and by use (such as for irrigation). Compared to energy metering efforts, water metering at UIC is considered at least 10 years out-of-date. Utilities currently deploys engineers to read the meters on a monthly basis, however, the information extracted from specific-use metering remains limited.

In order to monitor savings from water efficiency retrofits, remote building-level-read metering needs to be updated and used in the buildings with the greatest water consumption. Using data from FY 2016, a model to estimate usage calculated UIC's current water share distribution (Figure 14). However, in this model it is likely that research and clinical use are underestimated since some usage is unaccounted.

Goal: Replace all automatic and/or high-flow flushers to manual and low-flow fixtures

Utilizing the Water Management Inc. model that generated water share distribution retrofitting urinals and toilets to meet today's water efficiency standards would save an excess of $600,000 per year in water expenses. Based on the Taft Hall case study, it is expected to have a financial payback in less than one year.

OS's Sustainability Internship Program (SIP) and an Industrial Engineering Design Team researched restroom water usage at UIC. The results of these studies suggest a quick payback—less than 1 year— for retrofitting regularly used restrooms currently equipped with automatic and/or high-flow flushers (to manual and low-flow fixtures).
CASE STUDY: MANUAL AND LOW-FLOW FIXTURES IN TAFT HALL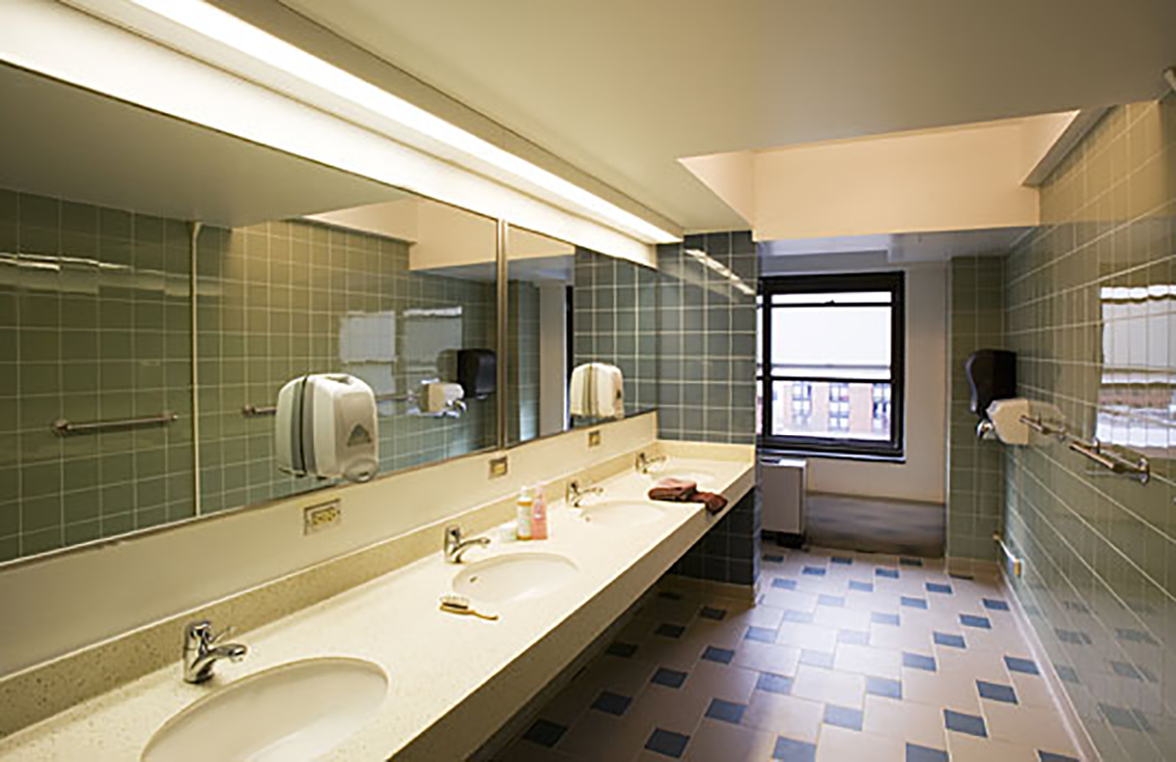 OS's Sustainability Internship Program (SIP) and an Industrial Engineering Design Team researched restroom water use at UIC. The results of this study suggest a quick payback for regularly used restrooms that are equipped with automatic flushers.
The steps the Team took to arrive at a final recommendation included: audit of women's and men's bathrooms in one building, distribution of campus-wide survey, calculation of a cost analysis, and the use of the Analytical Hierarchy Process to select amongst alternatives. Toilets inside Taft Hall bathrooms have automatic flushers and the models used are five years old or older. Each time an occupant opens the door, uses the toilet, and closes the door, an automatic flush occurs. This totals to an average of three flushes per occupant. If each toilet were to be flushed once per user, 562,272 gallons of water consumption could be avoided but could go as high as 843,408 gallons at 3 flushes per occupant. Upgrading Taft Hall toilets to the recommended model would cost between $2,000.00-2,800.00 dependent on whether bowls need to be replaced as well.
After a systematic analysis of alternatives based on weighted preferences for dollars saved, water consumed, required maintenance, and environmental impact, the Team concluded that installation of the Sloan ROYAL 111 manual flushers would be the best choice. Even under the worst case scenario, it was predicted water usage by the toilets would be reduced 72% from this implementation, with a payback shorter than a year, and greatly reduce maintenance costs.
4.3 ENHANCE BIODIVERSITY
UIC covers over 240 acres and some of the largest green spaces in proximity to the Chicago Loop (after the Chicago Park District's Millennium Park and Grant Park). Preserving this open space for aesthetics and student activities can be accomplished while providing ecosystem services such as landscapes that enhance pollination and are critical to maintaining an active food supply. Integrating biodiversity into campus operations will also aide in stormwater reduction (section 4.1.1) through native plantings.
 UIC has set institutional goals beneficial to pollinators such as increasing native prairie, and woodland plants (Solution 4.3.1) and has goals that recognize the environmental, economic, and human health and well-being benefits of trees (Solution 4.3.2). UIC can also enhance the soil through biodiversity improvements since the right soil plays an important role in stormwater reduction and carbon sequestration. Facilities Management is engaged in partnerships to implement an integrated pest management plan and to diversify plants in support of pollinators; and therefore will be a key partner in providing an enhanced habitat for pollinators. A biodiverse campus is a resilient campus as it is better equipped to deal with catastrophes due to climate change and sudden weather events.
UIC is proud to help the City of Chicago live up to the motto, "urbs in horto", city in a garden. Let's be proud that UIC is a university in a city in a garden, "universitas in urbs in horto".
Goal: Increase pollinator habitat program to encompass greater percentages of campus land

Pollinator populations have been on the decline throughout the United States. There is no single cause for this, yet significant drivers include disease, agricultural practices, pesticides, and urbanization. The OS takes pride in the fact that Bee City USA granted UIC Bee Campus USA status; the first university in Illinois to gain this recognition.

The decline of pollinators affects not only natural ecosystems in place but also the production of crops and other plants that can remove air pollutants. The purpose of the Campus Habitat Pollinator Plan is to create a set of recommendations and practices that allow pollinators to thrive at UIC through planting recommendations, maintenance policies and educational tools.

The campus is prioritizing its role in climate change mitigation by increasing biodiversity and has a comprehensive list of native and diverse plant species. It is important that the campus landscaping remain resilient to infestation by insect, fungal, and viral pests, and to storm damage. This concern can be addressed by planting a variety of different species. A biodiverse plant inventory also allows for habitats for a wide range of urban animal life, including pollinators, which are essential for ecosystem function, since the majority of flowering plants rely on insect pollinators, particularly bees, for reproduction. The decline of both domesticated and wild pollinators poses potentially serious consequences to natural ecosystems, and also has the potential to affect human food production.

Similarly, all plants capture carbon dioxide and release oxygen through photosynthesis. For many types of vegetation, particularly long-lived trees, peat bogs, wetlands, and grasslands harboring native plants that sequester carbon in biomass beneath the ground, there is a net draw down of carbon from the atmosphere. Thus, landscaping practices have the potential to reduce the campus carbon footprint.

Goal: Acquire funding for increasing inventory and maintaining the trees across all campus units

The Tree Care Plan encourages a greater diversity and care within UIC's tree inventory. UIC is among a few universities that participate in the Tree Campus USA program. This program promotes effective tree management, campus community involvement, and nature connectivity among faculty, staff, and students through forestry efforts.

the UIC tree inventory will provide the campusUIC with specific, long-term solutions for tree care. A full inventory is essential in effectively allocating the Tree Care Plan expenditures, as it allows UIC to prioritize and strategize what is best for the campus. An up-to-date inventory presents a complete idea of what each tree requires to remain healthy and how to prepare efficiently for potential losses. the campus is prioritizing its role in climate change mitigation by increasing biodiversity and has a comprehensive list of diverse plant and tree species. Planting priority is given to those species of trees that will increase the UIC tree inventory, are a diverse set of species, have the ability to thrive and adapt in Chicago's climate and soil, and are able to mitigate harsh environmental conditions like flooding, pollution, and greenhouse gas emissions. A majority of UIC's current tree inventory consists of both mature trees and trees in poor condition that will be highly susceptible to climate change factors. It is the major goal of the current Tree Care Plan to ensure a dedicated funding source for the planting of new trees to replace any tree lost due to factors like weather and disease.

All trees inventoried follow a set list of strict Integrated Pest Management guidelines set forth to maintain the health standards of both tree and pollinator species. Pollinator population fortification supports a resilient and robust tree and plant care system (CAIP Strategy 4.3.1). Larger tree and plant diversity provides various benefits to social, cognitive, and community health. ln the case of resilience, large tree populations contribute to improved air quality by means of carbon sequestration and photosynthetic potential.  Preventative tree care strengthens trees to withstand disease and weather impacts that may be exacerbated by climate change. 

The presence of trees supports increased social interaction, passive temperature and lighting control capabilities, and physical and mental stimulation. Healthy and happy communities foster greater connectivity, thus strengthening social cohesion through a sense of fulfilment and purpose.

Each unit at UIC that is responsible for maintaining their grounds must also be responsible for the financial commitment to maintain their tree inventory and the subsequent health recommendations.