Executive Summary (2018)
Climate Action Planning and Implementation
The earth's abundant, yet finite, natural resources are supporting a rapidly growing population and increasingly complex society; yet there is an imbalance in the use of these resources that is inequitable within and between nations, and unsustainable for future generations. The University of Illinois at Chicago (UIC) is a unique hybrid of a diverse student body and high level of faculty research and service, in the third largest city in the United States. This makes UIC uniquely positioned to advance sustainability.
UIC has a formal climate action plan with specific greenhouse gas (GHG) emission reduction targets, and provide a variety of mitigation strategies. The key fundamental difference between the 2009 Climate Action Plan (CAP) and this Climate Action Implementation Plan (CAIP) is the transition from broader mitigation strategies to a refined model of Climate and Resource Planning. This results in a concrete set of solutions with specified time frames and delegated responsibilities.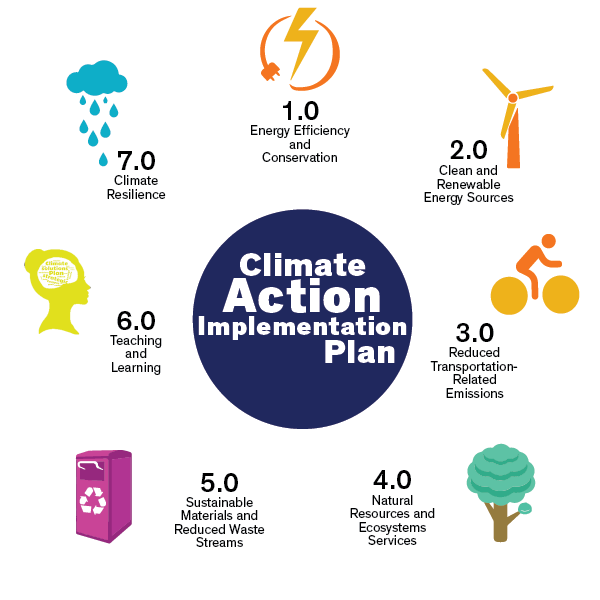 Strategy 1.0 – Energy Efficiency and Conservation, Strategy 2.0 – Clean and Renewable Resources, and Strategy 3.0 – Reduced Transportation-Related Emissions all derive from the first UIC Climate Commitment—Carbon Neutral Campus. All solutions embedded within these three strategies of the CAIP work to reduce UIC's GHG emissions in moving towards carbon neutrality by 2050.
Strategy 4.0 – Natural Resources and Ecosystem Services combine the third and fourth UIC Climate Commitments—Net-Zero Water Campus and Biodiverse Campus (respectively) to help UIC realize the goal of consuming no more water than what naturally falls on its surfaces, as well as building upon our biodiversity portfolio.
Strategy 5.0 – Sustainable Materials and Reduced Waste Streams provides achievable solutions to the second UIC Climate Commitment—Zero Waste Campus, as a means to help UIC reach it's 90% diversion rate goal of landfill-bound material through recycling and other waste-reducing techniques.
Strategy 6.0 – Teaching and Learning takes the recommendations from the UIC Climate Commitments for Teaching and Learning as well as "To Green and Beyond: Excellence Through Sustainability at UIC" that will help UIC incorporate sustainability concepts, themes, and foundational knowledge into the academic curriculum. This strategy also outlines solutions to facilitate research that furthers sustainability goals.
Strategy 7.0 – Climate Resilience incorporates actions that help UIC and the greater Chicago region to be better prepared for the likely impacts that will be experienced due to climate change. This strategy outlines UIC's ability and capacity to absorb external disturbances, maintain the core mission and the functions of UIC, and recover to previous or improved conditions by preparing, preventing, mitigating, responding and managing these external disturbances.
Sustainability modeled greenhouse gas (GHG) emissions projections based on current usage. By obtaining this data, Sustainability is better able to predict where UIC can best spend its time and resources to reducing these emissions. OS, along with a consulting service, Fovea LLC, created many portfolio solutions to reduce GHG emissions. Many of these portfolio solutions also are cost-effective and will save the university money. Additional information, including the historical background, quantifiable solution modules, key model assumptions of the strategic portfolio solutions, and references can be found in the CAIP appendix. If all of the portfolio solutions that are outlined in this CAIP are put into action, UIC can achieve carbon neutrality with using only a small percentage of offsets by 2050.
The Sustainability also developed additional strategic solutions to help UIC realize the goals of the UIC Climate Commitments that do not have a direct impact on GHG emissions. These goals cannot be modeled the same way as GHG-reducing solutions, but careful research and case study testimonials have help shape these solutions. Implementing these solutions, along with the portfolio solutions mentioned above, will make UIC a truly sustainable university in which to work, study, and conduct research.
Piloting, modeling, and scaling solutions represent huge research and educational opportunities for our students as they go forward into an increasingly complicated world. The implementation of this plan to advance sustainability efforts should be infused with a level of urgency and sense of commitment that is commensurate with the global threat posed by climate change, resource depletion, and the failure of our educational system to prepare members of our society to comprehend and confront these challenges.
The following is a brief outline of the seven major strategies and their respective set of solutions to implement these goals within the next fifteen years. Adaptation of these recommendations will support the campus Strategic Priority of becoming an Entrepreneurial University through innovation, diversified funding, and increased efficiency.
STRATEGY 1.0 ENERGY EFFICIENCY AND CONSERVATION
1.1 Implement Strategic Energy Management (SEM)
1.1.1 SEM: Energy Conservation Measure (ECM) Portfolio
A portfolio solution that will identify and implement quick payback energy savings projects such as steam trap replacements across buildings on the West side, energy retrofits for PHARM (924) and AOB (941), and Energy Performance Contracts (EPCs) for MBRB (919), BRL (932) and COMRB (934).
1.1.2 SEM: Green Revolving Fund
An additional strategic solution that will provide financing to implement energy efficiency measures and other sustainability-related projects which generate financial savings.
1.2 Reduce Energy Demand
1.2.1 Building Standards (2025 IECC)
A portfolio solution that will require UIC to exceed compliance of current building standards to meet the projected 2025 International Energy Conservation Code (IECC) standard for new buildings, which is 50% less energy intense than the 2015 standard.
1.2.2 Energy Conscious Campus
A portfolio solution that will target an annual 1.5% reduction in campus energy consumption by actively training and educating the UIC community to shift habits into a more energy conscious manner.
STRATEGY 2.0 CLEAN AND RENEWABLE ENERGY SOURCES
2.1 Procure Renewable Energy
2.1.1 Indirect (10-year) PPA
A portfolio solution that will procure renewable energy for UIC through an indirect Power Purchase Agreement (PPA)—a financial transaction between the developer (e.g. proprietor of a wind farm) and offtaker (e.g. UIC) with no physical renewable power being delivered.
2.1.2 Onsite (10-year) PPA Solar PV Rooftop Generation
A portfolio solution that requires the VCAS Solar Working Group to identify appropriate locations for a 1 MW (sized capacity) solar PV rooftop system and validate full-costs associated with deployment.
2.2 Utilize Thermal Alternatives
2.2.1 Onsite Power Plant Electricity Production
A portfolio solution that will utilize on-campus assets to generate electricity in a more economic and carbon-efficient manner.
STRATEGY 3.0 REDUCED TRANSPORTATION-RELATED EMISSIONS
3.1 Reduce Commuting-Related Emissions
3.1.1 Transportation Demand Management (TDM)
3.1.1.1 Transit Incentives for Faculty and Staff
A portfolio solution that will insert policies and practices to reduce use of single-occupancy vehicles for travel to campus by removing barriers to transit incentives.
3.1.1.2 Bicycle Program
Another additional strategic solution that will reduce the use of single occupancy vehicles by increasing the quantity of bicycle parking on campus.
3.2 Reduce University Business Travel-Related Emissions
3.2.1 Fleet Efficiency (Fuel Switch)
A portfolio solution that will increase the number of hybrid, electric, and CNG vehicles by 5% in 5 years (2023), 15% in 10 years (2028), and 20% in 15 years (2033).
3.2.2 Air Travel Carbon Offset Program
A portfolio solution that will allow campus units to offset their business and conference travel with programs that aim to mitigate the environmental impact of these transportation-related emissions.
3.2.3 Inter-Campus Travel
An additional strategic solution that will allow ACCC to select and maintain telecommunication systems and OBFS to advocate for Amtrak usage.
STRATEGY 4.0 NATURAL RESOURCES AND ECOSYSTEM SERVICES
4.1 Retain and Reuse Stormwater
4.1.1 Green Stormwater Infrastructure Implementation Plan
An additional strategic solution that will lay out a comprehensive analysis of UIC's current conditions so that stormwater interventions can be properly addressed using techniques like green infrastructure.
4.2 Reduce Water Use
4.2.1 Building-Level Water Metering
An additional strategic solution that will accurately measure UIC's water consumption to reduce water usage by 52% and will save $2.34 million.
4.2.2 Manual and Low-Flow Fixtures
An additional strategic solution that will retrofit regularly used restrooms that are currently equipped with automatic and/or high-flow fixtures to manual and low-flow fixtures.
4.3 Enhance Biodiversity
4.3.1 Campus Habitat Pollinator Plan
An additional strategic solution that will create a set of recommendations and grounds maintenance practices that allow pollinators to thrive at UIC.
4.3.2 Tree Care Plan
An additional strategic solution that will outline tree benefits, both health and environmental, and will require UIC to be responsible for the financial commitment to maintain a tree inventory and the subsequent health recommendations as outlined by professional arborists.
4.3.3 Productive Land Use for Local Food
An additional strategic solution that will build on activities within various units on campus that have successfully utilized their space for productive land use.
STRATEGY 5.0 SUSTAINABLE MATERIALS AND REDUCED WASTE STREAMS
5.1 Implement Unit-Level Waste Reduction
5.1.1 Department and Unit Zero Waste Plan
An additional strategic solution that requires each unit on campus to develop a plan specific to their operations, to optimize reduction of landfill-bound material.
5.2 Optimize University-Level Operations
5.2.1 Operational Waste Collection Efficiency
A portfolio solution that will simplify recycling and improve efficiency for the campus community by transitioning to a single-stream recycling system and by installing outdoor trash and recycling containers equipped with solar-powered compactors.
5.2.2 Construction and Demolition Waste
An additional strategic solution that will require the UIC Building Standards mandate a 90% diversion rate for C&D waste with complete tracking and documentation.
5.3 Reduce Food Waste
5.3.1 Food Scrap Collection
An additional strategic solution that will require Dining Services and other food service vendors to implement programs that utilize compostable materials and expand composting in their operations by 2020.
5.3.2 Food Recovery
An additional strategic solution that will address food insecurity in both the UIC and surrounding community by packaging, holding, and delivering hundreds of pounds of prepared but uneaten food daily.
5.4 Practice Sustainable Procurement
5.4.1 Purchasing Process
An additional strategic solution that will require the Office of Purchasing to utilize a sustainable purchasing checklist, disseminate sustainability-related language into contracts, and implement a communication plan.
5.4.2 Revenue Generating Contracts
An additional strategic solution that will hold responsible units to the current dining service contract and enforce the 20% local food provision, biodegradable service ware, recycling training, elimination of polystyrene plastics, and food scrap collection requirements.
5.4.3 Purchasing Policies
5.4.3.1 Sustainable Paper Policy
An additional strategic solution that will reduce desktop printers, consolidate to multifunctional printers, and print less, while requiring a percentage of recycled content in paper.
5.4.3.2 Bottled Water Policy
An additional strategic solution that will reduce departmental spending on bottled water by forbidding purchases of bottled water by all departments, unless clearly justified.
STRATEGY 6.0 TEACHING AND LEARNING
6.1 Develop Sustainability-Related Curriculum
6.1.1 Sustainability Course Rubric
An additional strategic solution that will develop a sustainability course rubric that will streamline the process for students interested in taking sustainability-focused courses.
6.1.2 Sustainability-Related Courses for General Education Credit
An additional strategic solution that will review the syllabi of General Education courses for opportunities to infuse sustainability into existing courses.
6.1.3 Interdisciplinary Sustainability Majors, Minors, and Certificates
An additional strategic solution that will require the dissemination of financial incentives for the development of interdisciplinary courses, programs, and certificates.
6.1.4 Faculty Expertise
An additional strategic solution that will encourage colleges and departments to recruit faculty in areas where there are gaps in sustainability expertise.
6.2 Enhance Sustainability-Related Co-Curricular Activity
6.2.1 Learning Opportunities
An additional strategic solution that will utilize educational signage around campus to highlight the environmental, social, and health benefits of various VCAS-directed sustainability projects as well as voicing aspirational ideas that evolve through faculty, staff, and student innovation to the Master Plan Working Group.
6.3 Catalyze Sustainability-Related Research
6.3.1 Research Beyond Campus
An additional strategic solution that will provide seed funds for community-based participatory research to advance broader community and off-campus research as well as create a more nimble process to elevate and bring research discoveries to market.
6.3.2 Interdisciplinary Research
An additional strategic solution that will establish administrative pathways for catalyzing interdisciplinary research with tenure, promotion, and recognition of interdisciplinary publications as well as to provide staff support to assist with grant writing and submittals.
6.3.3 Funding Opportunities
An additional strategic solution that will require the Office of the Vice Chancellor for Research (OVCR) to develop a process to track and optimize funding opportunities in sustainability-related research topics including governmental sources but also specific research foundation opportunities.