UIC Volunteers, OpenLands Plant 10 New Trees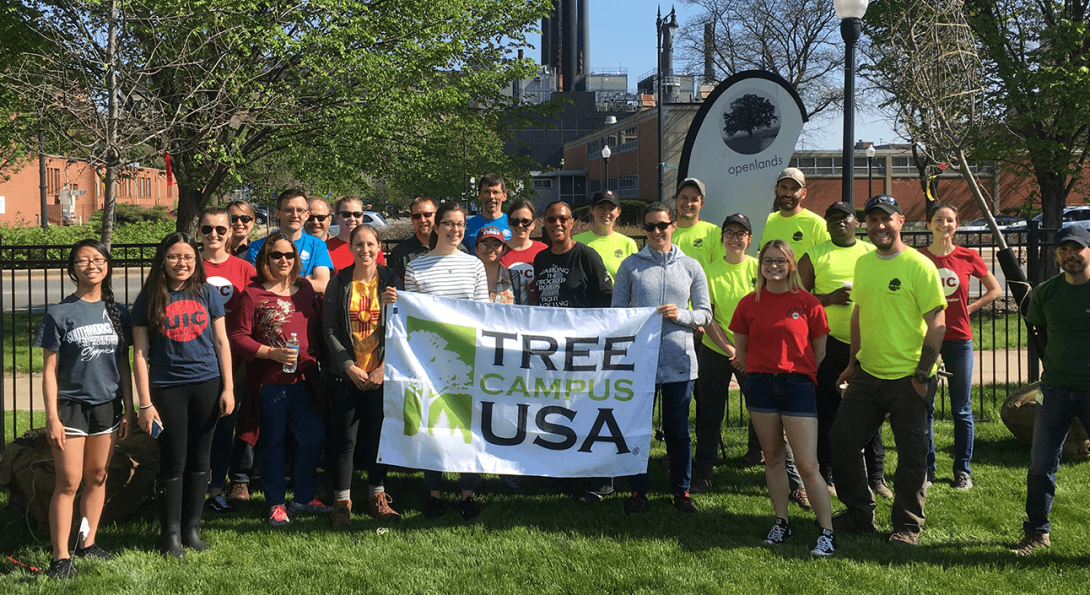 May 15, 2019 | Chicago, Illinois
Openlands, an organization devoted to environmental conservation in the greater Chicago region, was represented by a handful of tree care professionals who guided volunteers through the tree planting process, from digging holes to planting and mulching. Volunteers also used the National Tree Benefit Calculator to calculate the environmental benefits of the trees planted.
Trees help the UIC Climate Commitments, mental health
From sequestering carbon emissions to adding aesthetic value, trees play a huge role in daily operations at UIC. According to Roberta Mason-Gamer, chair of the tree care committee and professor in the Department of Biological Sciences, trees play many different roles. Trees help with controlling water on campus. They help to reduce standing water by extracting the water through its root system and releasing it through their leaves.
This advances UIC's commitment to be a Net Zero Water campus—one of four Climate Commitments endorsed by the Chancellor—by diverting stormwater back into the ecosystem, rather than allowing it to enter the sewer system to prevent sewer overflow, common in urban areas. Trees have many other roles on campus as well, according to Mason-Gamer. They provide shade and temperature control if the trees are planted around buildings, and also act as windbreaks.
We talk in terms of how much money we can get from trees, but people underestimate how much peace of mind we get from being around trees. It's been proven that people's mental health is better in greener spaces.
UIC follows the Tree Care Plan's recommendations to replace trees
Volunteers and Openlands tree care professionals planted (4) 3" Bur oak trees, (3) 2.5" Shingle oak trees, and (3) 6-7' Pagoda dogwood trees. The area north of the Westside Research Office Building on the west side of campus was once populated with hardy Ash trees, but in the last decade or so, 18 ash trees become infected and had to be removed due to illness caused by the Emerald Ash Borer, a beetle native to north-Eastern Asia.
Slowly but surely, UIC replaces trees that were lost.
Lisa Sanzenbacher, the Assistant Director for Sustainability Projects, said these trees were chosen based on the 5 priorities described in the UIC Tree Care Plan, which outlines action steps to preserve and expand UIC's campus forest.
Site Conditions – New plantings should take into consideration current infrastructure and soil conditions, in order to ensure adequate space and successful growth.
Genus & Species Diversity – It is a goal of the UIC Climate Commitments to increase genus and species diversity of the campus forest. Do not add trees that increases the campus forest genus of more than 10%, or 5% for any given species.

Native trees – It is important that native species be chosen as often as possible, in order to ensure survival in the particular UIC environment.

Environmental Impact – Considerations include how well a particialr tree does with CO2 sequestration, providing pollinator habitats, and reducing stormwater.

Aesthetics – The UIC Grounds Designs Standards outlined preferred tree species based on aesthetics.
OpenLands provides training and education to combat tree misinformation
The Arbor Day tree planting was made possible by the Openlands TreePlanters Grant, which provided the 10 news trees to UIC at no cost under the condition that Openlands tree care professionals be present to teach the volunteers how to plant trees. These grants donate new trees to communities throughout the city of Chicago and the near south suburbs.
Katie Fleming, a University of Illinois at Urbana Champaign alumn and a certified arborist, is the Forestry Crew Leader at Openlands. Fleming believes a community-based approach is the best solution to continuing the biodiversity of UIC's campus as well as the environment in general. She explained that Openlands professionals meet a lot of people who are misinformed about trees, and who don't understand the great benefits of a tree especially the ones in front of their own home.
Fleming believes that providing training and education and having more of a community-based role is one of the best ways to combat tree misinformation, as well as climate change in general. Fleming says that the sense of community that trees can help establish is one of the most rewarding parts of her job.
However, taking care of these trees is just as important as planting them, as many are vulnerable to stressful conditions such as urban soil intolerance, heavy car/traffic pollution, chemicals from salt used during winter, and even threats of invasive species. A tree planting event is a great example of how to establish a community around trees, which necessary to facilitate their ongoing care.
Students, volunteers are eager to plant trees on campus
A diverse range of volunteers, from maintenance staff to undergrads, showed up eager to plant a tree.
Sarah Wu, a first year undergraduate student currently studying Economics, said that she thought this would be fun and a good way to get more engaged with the community, be more environmentally conscious, and help out on campus.  She commented that she felt grateful for the trees on campus because it would look a lot less welcoming without them. As a student, Wu mostly enjoys the presence of trees.
Aesthetically, they look nice, and it's a good space for students to sit under. They also help with the environment and clean up the air pollution. Can't really go wrong with planting a tree!
We need everyone to help take care of our trees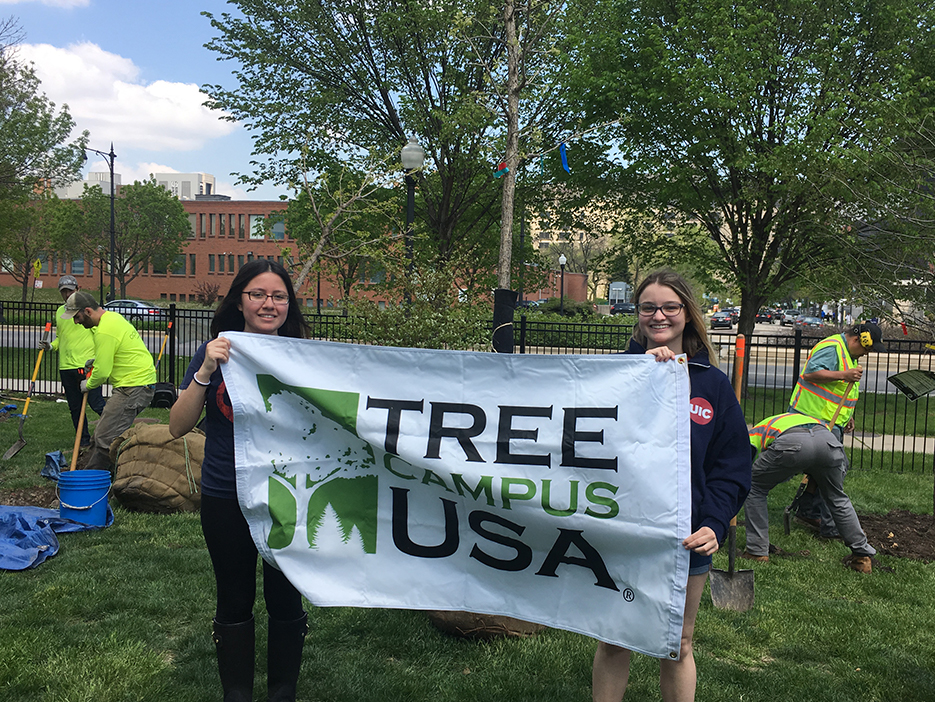 UIC is committed to sustaining the campus forest through multiple forestry efforts, including effective tree management, campus community involvement, and nature connectivity among faculty members and students.
Carly Rizor, the Superintendent of Grounds at UIC, says the community can take responsibility for the health of trees on campus by avoiding activities that harm or place stress on them, such as hanging hammocks.
Be mindful of how you use the outdoor space by understanding that trees are living things, but that they're also assets to the university.
We all need to do our part to take of our trees. There is little to no funding to plant trees on campus, so if a tree dies or gets damaged, UIC must rely on grants or donations to come through to replace our campus forest.
Modified on June 04, 2019