Arbor Day Tree Planting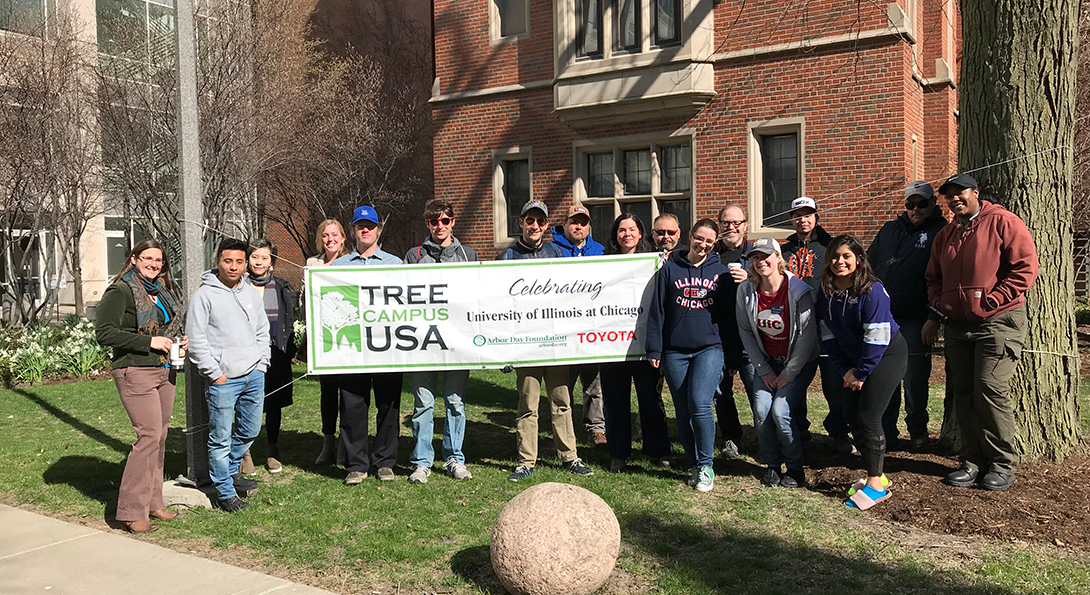 Check out the UIC News article "Making campus greener" May 8, 2018 as well as photos and videos of the event on Facebook.
April 27, 2018
CHICAGO, IL On crisp, cool and sunny morning, UIC celebrated #ArborDay with many UIC students, staff, faculty, and other tree enthusiasts planting 2 trees and listening to tree experts from UIC Grounds, Open Lands, The Morton Arboretum, and The Chicago Region Trees Initiative  teach us the benefits of trees. We even received tips and tricks about mulching, just like the tips at the Morton Arboretum.
First, Tree Campus USA intern Yuan Yuan ("Circle") decorated the inside of the College of Medicine Research Building with cool facts about trees and served our volunteers tree-based snacks like nuts and bananas and coffee. This was part of Circle's SIP project and, as she is a student of Public Health, related the health benefits for trees to people.
Then, I introduced everyone and talked about UIC's role in the Arbor Day Foundation's Tree Campus USA program, noting that we have been so since 2011 and each year we make sure to fulfill the 5 requirements: having a tree care committee, having a tree care plan, having dedicated tree-related expenditures, and having events that celebrate trees educating the UIC community.
Next, I mentioned why we were all here and how a UIC faculty member made this day possible. Because of a generous donation by Dr. Robert Sargis (Division of Endocrinology, Diabetes, and Metabolism, from the UIC Department of Medicine), was able to purchase two trees! Dr. Sargis's research relates to the impact of environmental pollutants on obesity and diabetes risk, and he is very concerned about the negative health impacts of urban environments. He believes very strongly that trees play an absolutely essential role in making cities habitable through innumerable ecosystem services, including filtering air, reducing heat island effects, sequestering CO2, and limiting storm water runoff. He knows that the more trees we have, the better off we'll be, which is supported by data suggesting that areas with more greenery have lower rates of some chronic diseases, including diabetes. He wishes to help make UIC a world-class university within a lush urban forest.
Cindy then related the day's activities to the UIC Climate Commitments. Trees help reduce atmospheric CO2 (Carbon Neutral Campus), help reduce stormwater runoff and require little irrigation since they are native trees (Net-Zero Water Campus), and these 2 unique trees will increase the tree diversity (Biodiverse Campus). The event was also was a Zero Waste event since we composted our snacks and recycled our cups and there were no plastic plates or forks! (Zero Waste Campus). We even taught folks a few things and tagged trees to help with the Teaching & Learning components of our Climate Commitments and Climate Action Implementation Plan.
Next, Superintendant of Grounds at UIC, Carly, mentioned why we planted the trees we did. In that courtyard, a storm in 2016 destroyed 4 very large Honeylocust trees, so there was physical space to plant more trees. We didn't want to replace them with more honeylocust, as we need to keep diversity to no more than 10%. Carly chose a bald cypress and a Kentucky coffeetree because not only will they do well and grow big in the courtyard, there aren't very many on campus, and they'll do well to attract wildlife an urban pollinators.
Jessica, The Morton Arboretum's "Treeologist" gave us some very interesting tidbits why trees matter so much: A 2105 research study in Toronto looked at people that lived on streets that had over 10 trees (controlling for a lot of different variables) and if you lived on a street with more trees, you felt about 7 years younger or $10,000 richer. Another study proved that urban street trees remove 700,000 MTCO2e each year of pollutants like particulate matter, ozone and carbon monoxide- an equivalent of 5,000 male blue whales… each year! It's astronomical what trees do for us. People need trees.
Melissa taught us the beginnings of the Chicago Region Trees Initiative. In 2010, the Morton Arboretum surveyed the trees in the 7 county Chicago region (3,021,440 acres) and discovered there are 157,000,000 trees (which equals a 21% canopy cover). 73% of those trees are less than 6" DBH, meaning there are lots of small trees in this region. Those trees provide $51.2 Billion in services form pollutant removal to oxygen production to stormwater reduction, among others! 30% of trees are invasive and there are just a few pre settlement trees left. The pre-settlement Oak trees only constitute 17% of 7 county inventory, most of which are large and mature. Melissa teaches that the CRTI works together with various companies and agencies to help our trees like the oak survive and thrive.
Next Al from Openlands encouraged us to get involved in tree care at home. Everyone can be a tree keeper! 27 years ago, a group of volunteers came together to help the Bureau of Forestry take care of trees. The Tree Keepers program trains 2,000 folks in this region how to take care of trees from planting to mulching to pruning. #NoVolcanoMulch! Treekeepers come from all walks of life – new grads to retirees, certified arborists, to master gardeners!
Modified on February 08, 2019