Zero Waste Event Planning Guide
This guide was produced by the Office of Sustainability and SIP student Ula Renetskis, with the help of Bright Beat and FamilyFarmed in order to aide event organizers that hold events on campus to help realize the university's commitment to Zero Waste.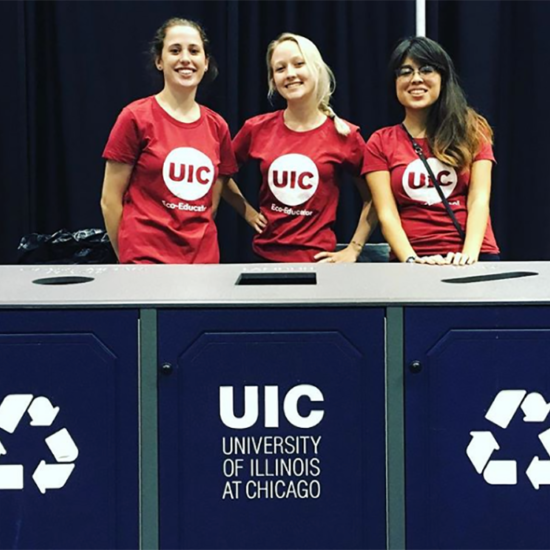 Easiest way to get your event zero waste? Use Eco-Educators!
E-mail us at sustainability@uic.edu or call us at (312) 413-9816 to request Eco-Educators at your next event. Make sure to tell us the date and time of the event, location, food to be served, and the caterer for the event.
E-mail us today!
About Zero Waste on Campus
UIC is committed to operating an efficient campus that is continually working towards eliminating waste. The UIC Climate Commitment of Zero Waste Campus refers to sustainable waste management system that emphasizes waste prevention as opposed to end-of-pipe waste management. It is a whole systems approach that aims for a massive change in the way materials flow through society, resulting in no waste.
UIC defines zero waste as a 90% diversion rate of landfill-bound material through techniques such as source reduction, materials reuse, recycling, and composting. Zero waste systems prevents pollution and avoid costs associated with landfill disposal. It also reduces carbon emissions by diverting discarded materials from methane-generating landfills and avoiding carbon emissions associated with extracting, processing, and transporting raw materials and waste.
By implementing a Zero Waste Campus approach, UIC will significantly decrease the university's impact on environment. There are two basic methods of recycling on campus: the efforts of individuals, and the efforts of the University and specialized workers to divert waste into recycling and compost. In 2009, the campus began to send our municipal solid waste (also known as trash) to a materials recovery facility (MRF). The MRF pulls out construction and demolition waste as well as glass, metal, plastic, cardboard, and yard waste. However, it is more economical for these materials to be separated and recycled before it reaches the MRF, as UIC receives revenue for those materials sent to directly to the recycling facility.
Recognizing your Zero Waste Efforts: It doesn't have to be that hard!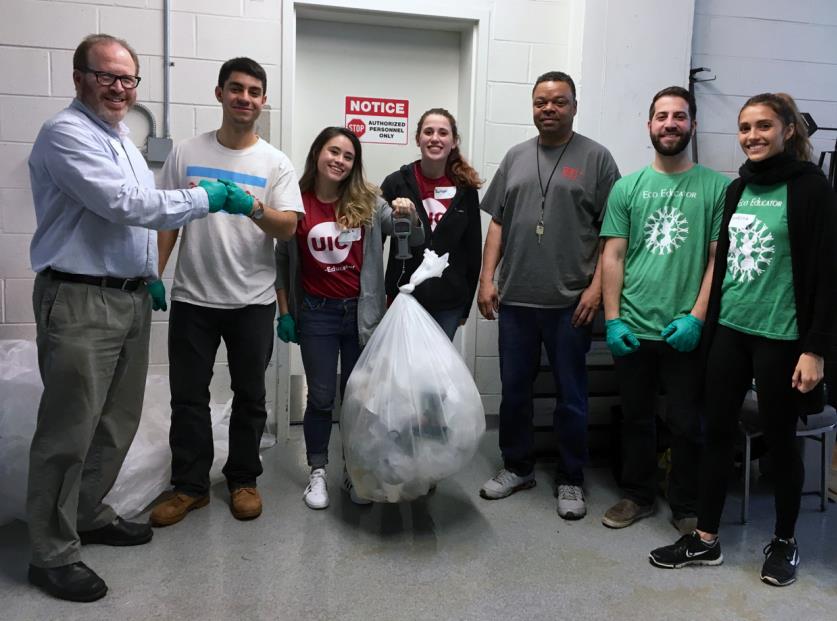 One of the most critical things in zero waste planning is assuring that 90% of your event's waste is diverted from landfill. This means use reusable, compostable, or recyclable material when needed, as well as participate in resource recovery for donating untouched, packaged items. Carefully differentiating between each material and recognizing the exact materials used may seem like a lot of work. However, this is an easy-to-follow, step-by-step process to guide you through your zero-waste event planning. Including a case study for an example, this guide contains list of operations to be done before, during, and after your event, and a list of sustainable resources. With careful, thought-out planning, zero waste is easy and sustainable!
As the event planner, not only are you helping us reach Zero Waste as an educational institution, but you are making the effort to decrease the earth's landfill pollution, replenish the earth's soil by giving it nutrients for growth through composting, creating new items to be produced from recyclable material, feeding the hungry from successful resource recovery, and reducing greenhouse gas emissions. Wow. And for that, UIC thanks you.
Planning Your Zero Waste Event: Before
Event Makeup
Determine the size of your event; amount of attendees per capita, businesses, exhibitors, and vendors of the event. This will hold the amount of estimated waste, eco-stations, and eco-educators.
Engaging Vendors in Zero Waste Actions
Let it be known that your event is going Zero Waste! Vendors are the source of the waste; beginning with them will make the rest of the process that much easier.
Vendors and Exhibitors
Ensure all vendors have reusable, certified compostable, or recyclable (recyclable material means #1-5) service ware.  Determine whether you'd like to provide the service ware or if the vendors will be required to provide their own.
Importance of keeping track of zero waste vendors: Not all vendors will be able to participate. Make sure you keep track of the zero waste vendors for proper waste rotation; letting eco-educators know who is zero waste and who is not.
Vendor communication: Making sure they let you know what type of material they will be using; knowing this beforehand lets you plan ahead in the diversion process, making it easier to train eco-educators. Also marketing the zero waste event, letting vendors know how and where their waste will be disposed. Be sure to communicate to all vendors, zero waste or not, to avoid obvious disposable material such as plastic bags or Styrofoam.
Creating experts in Waste Diversion: Front of House
Zero Waste front-of-house operations are critical! This is essentially where the majority of the waste is being produced. If the flow of waste disposal is done correctly, then there will be less contaminants in each waste stream; meaning that each material can be disposed of correctly. Over 10% contamination may result in compost or recycling to be landfilled.
Eco-Stations
Stations for proper waste stream with legible signage showing type of waste. Bins for landfill, compost, recycling paper, and recycling glass and plastic. Determine the amount and placement of eco-stations depending on the size of your event; placing the ecostations in high-traffic areas.
Signage
Posting clear, legible signs on eco-stations with pictures or examples of different waste streams. (Landfill, compost, recycling, etc). May be provided by Office of Sustainability upon request.
Depending on the size of your event, determine amount of eco-educators needed for engaging attendees in proper waste disposal.
Recruitment
Recruiting eco-educator volunteers can be done through volunteer management, local connections, social media, or the Office of Sustainability.
Shifts
Rotation of shifts to create an overlap, ensuring there is an eco-educator at an ecostation at all times!
Training
Ensuring that each eco-educator is properly trained in determining compostable, recyclable, and landfill material. (Certified compostable cutlery, ties back to vendor engagement.) Eco-Cheat Sheet, available in the full PDF, may be used for proper training.
Also, a useful example of proper eco-education, including training, management, and importance of differentiating disposable material is found in the Good Food Festival Case Study/Sustainability Report in the full PDF.
Set Up
Depending on the size and duration of event, amount of eco-stations, and locations chosen, pre-event set up must be done days or hours before event begins, giving enough time to double check all operations.
Supplies, for Consistent Front and Back of House Operational Purposes
Bins for compost, landfill, and recycling

Signage
CLEAR BAGS for landfill and recycling; clear bags for easy contaminant check. Try to avoid using black bags.
CERTIFIED Compost bags
Nitrile or Latex gloves for waste sorting
Scale for Weighing Waste
Office supplies like Duct tape for signage, Scissors, and Pens

T-shirts for Eco-Educator Volunteers
At the Office of Sustainability, we have a certain amount of equipment and are more than happy to consult and share to obtain such materials. We have zero waste supplies spanning from compost bags, eco-educator t-shirts, to small, blue recycling bins. Supplies are limited, however.
Creating experts in Waste Diversion: Back of House Training
Introducing basics/important goals: Recycling rate and Zero Waste goals, and the 5 streams of waste
Importance of knowledge of Eco-Station locations for pickup/bag replacement routine; determining how each area is monitored.
Determining location of each material; compost, recycling (cardboard vs. glass, metal, and plastic) and landfill: Where does each material go once back of house?
Review contamination: (waste in paper, waste in bottles & cans, paper in bottles and cans, bottles and cans in paper; how to respond) • Determining amount of back of house workers (Forum Building Service Workers) during the event, ensuring everyone has been trained/has had time to review protocol
Challenge: Weighing of the bags and cardboard. Ideas: a person stationed at the dock constantly for weighing; or carts to be filled, taken to the dock when filled and then the streams sorted and weighed.
Recycling and Compost Hauling Partnerships: Where is your waste going?
In order to have your event's composting or recycling taken away, certified haulers must be contacted. Recycle haul can be taken care of by contacting UIC's Recycling Coordinator at sustainability@uic.edu. Also contact the Recycling Coordinator for recommendations on composting.
Planning Your Zero Waste Event: During
Front and Back of House Operations
Eco-Educators
If it is a large event with many eco-educators, be sure to incorporate rotation of eco-educators between the stations, giving them a new view.
Eco-Stations
Rotation of waste; be sure to let Building Service or Back of House workers know when eco-station waste must be emptied, taken in the back for weight tracking purposes, and replaced with a new bag. Volunteer management/designated eco-educator supervisor can take care of these processes.
Vendor Engagement
Always double-check to make sure you, the exhibitors, and the eco-educators are all on the same page, answering any questions.
Planning Your Zero Waste Event: After
Second-Stream Waste Diversion Process
Sorting through any missed contaminants done by eco-educators.
Weight Tracking
Once each bag has been double-checked for any contamination, the bag must be weighed for final waste diversion statistics to see if you reached your 90% diversion goals! Writing down each measurements on the Weight of Waste Tracking Template provided. Make sure to identify the type of waste being weighed.
Weight Diversion Calculations
Adding each of the weights of each waste stream in pounds and ounces; compost, cardboard, glass/metal/plastic, landfill, and paper, for the total of each waste stream. Add all of them together for the total weight of waste over all, and divide the sum of the total of compost + recycling.
Information to include in the Weight of Waste Tracking Form
Date
Time
Name
Material Type (Compost, Recycling, Landfill)
Weight (lbs)
Post-Event Marketing and Documentation of Your Successful Zero Waste Event
Spread the word on sustainability through social media: Assure everyone about your sustainable efforts in helping avert landfill pollution and cleaning the earth! Helping the sustainability community grow and expand, creating interest for future zero waste event holders. Provide a sustainability report on all successes. Example included in the full PDF.