Sustainable Purchasing
Zero Waste begins with smart materials. Purchasing plays a huge role in the efforts to promote sustainability and achieve the four goals of the Climate Commitment. Everything that is purchased to be used in campus departments leaves a foot-print or has the potential to create waste.
To offset the effects of carbon emissions and to eliminate waste, applying strategies from the UIC Climate Action Implementation Plan to the procurement process will contribute to the sustainability initiatives on campus. Purchasing items that are made of recycled material or utilizes green energy are ideal. This guide will provide basic steps for purchasing materials for departmental use.
Does the item already exist?
Before you buy new, check to see if another department is willing to share or donate it! UIC has licensed ​Rheaply's Asset Exchange Manager​, a software that will help UIC make efficient purchasing decisions by alerting users to resources that are already in existence, thereby avoiding double purchasing. Rheaply will help increase internal reuse, utilization rate, and the sharing of valuable assets across departments and within a growing network of institutions and commercial partners now live on the platform. Rheaply will improve the sustainability of research operations and less waste will be generated because excess or unused assets will be reused, including all valuable surplus property – from excess equipment to 1 mL of a chemical.
How to Get Started
You can log in to Rheaply by using your UIC email credentials at ​uic.rheaply.com​.​ Once signed in, select your resource interests to be alerted to items as they are requested or become available. Questions about Rheaply's Asset Exchange Manager? Contact the team at ​info@rheaply.com.
How to Buy Green On iBUY
iBUY is the online marketplace for purchasing goods and services at the University of Illinois. iBUY combines the use of Internet technology with procurement best practices to simplify the purchasing process and reduce costs. The Procurement process can be daunting and can make adhering to the goals of sustainability arduous but with the proper techniques buying sustainable will be a breeze.
iBUY is composed of different vendors that sell different products. The vendors are grouped into categories based off the products they sell (i.e. Dentistry, Office Supplies).
While perusing the catalogs for products of interest be sure to be mindful of what the product is made of and will be its long term effect after use.
Use the advance search feature and set the options to favor words or phrases such as (i.e. natural, recycle, green energy) to narrow the search and make it easy to isolate the products that are desired.
Getting Started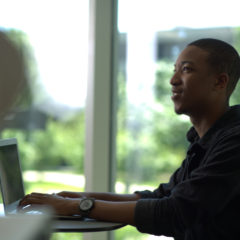 1. Choose a category

2. Choose a vendor

3. Tailor your search
What to Look For
When browsing the catalogs provided by the vendors adhere to the list of sustainable certifications that have been approved by certified scientists, researchers, and state and government agencies. To make the procurement process quicker UIC has compiled a list of acceptable green products for use on campus. These products have certification labels that makes identifying them easy. Please note that this will not apply to every product category. Listed below are the most used certifications.
Third-Party Certifiers
Cleaning Products

Electronics & Equipment

Paper Products

Furniture
Questions to Ask Yourself  
Will this make waste?  Is there a reusable item that could be used instead?  If not, can it be recycled or re-used?  Is it made of plastics that can be recycled (for instance #6 Plastic Polystyrene cannot be recycled at UIC)?  Does it have recycled content? How much energy does this item use?
Best Vendors!
To maximize your search, it is ideal to choose the top rated vendors. A good vendor will provide a updated catalog, search options, suggestions of similar products, search memory, photos of the products and contact numbers. There are hundreds of vendors in iBUY, but for example, Office Max is the best vendor for offices supplies.
Preferences for Vendors
UIC wants all faculty, staff, students, businesses and affiliates to promote and engage in sustainable practices. Vendors are encouraged to offer sustainable products for sale or disclose any methods that they use in their everyday operations that attempts in reducing carbon emissions or conserves energy and eliminates waste.
When purchasing, keep in mind the operational processes that take place to produce products. All aspects of conservation aid in the fight for sustainability whether direct or indirect. Try to shop with vendors who practice sustainable methods in their everyday operations.
Vendors are given preference if the following is outlined on their proposal bid:
Recycled Materials – converted waste materials into new materials and objects.
Recycled Paper – a mixture of used and old paper that has been recycled.
Environmental Preferable Supplies – products and services that have a lesser negative or reduced effect on human health and the environment.
Procurement of Domestic Products – purchasing goods and services that were financed and sold in state.
Illinois Agricultural Products – the use and purchase of agricultural products in state

.