Arthington Mall Plaza
Arthington Mall Plaza is a joint effort between UIC, the National Fish and Wildlife Foundation, and the Metropolitan Water Reclamation District of Greater Chicago to promote the use of green infrastructure as an effective means of stormwater management. This plaza serves as an sustainable, open and common area for students, faculty, staff and visitors of the campus as well as a habitat for urban pollinators.
See a virtual tour of Arthington Mall here and read a in-depth case study of how UIC implemented this green infrastructure project here.
Arthington Mall's Sustainable Features
Historical Site Context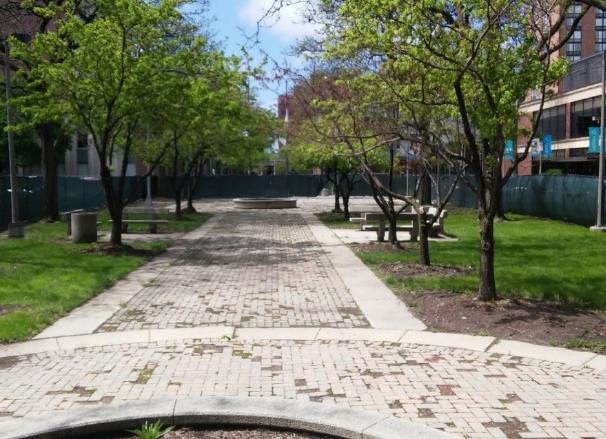 Arthington Mall Plaza is built on infill from previous land uses. In the 1950's, the area was originally housing and parking lots with intact infrastructure. The area was then reconstructed in 1964 as a private university-owned street (Arthington Street) which connected Damen Avenue to Wolcott Street dotted with honey locust trees. As the University built up the medical campus in the 1970's, Arthington Street became Arthington Mall with benches and shrubbery. By 1996, the street was redesigned to be a pedestrian mall with concrete paths, grass, trees, additional shrubbery and benches.
Slowly over time, the plaza's pavers deteriorated due to urban flooding during heavy rains and heavy pedestrian use. For a period of a couple of years in the early 2010's, much of the area was fenced off and not accessible to the community. The pavers were removed in 2015 and replaced with traditional turf and asphalt, retaining the existing honey locust trees.
Sustainable Features of Arthington Mall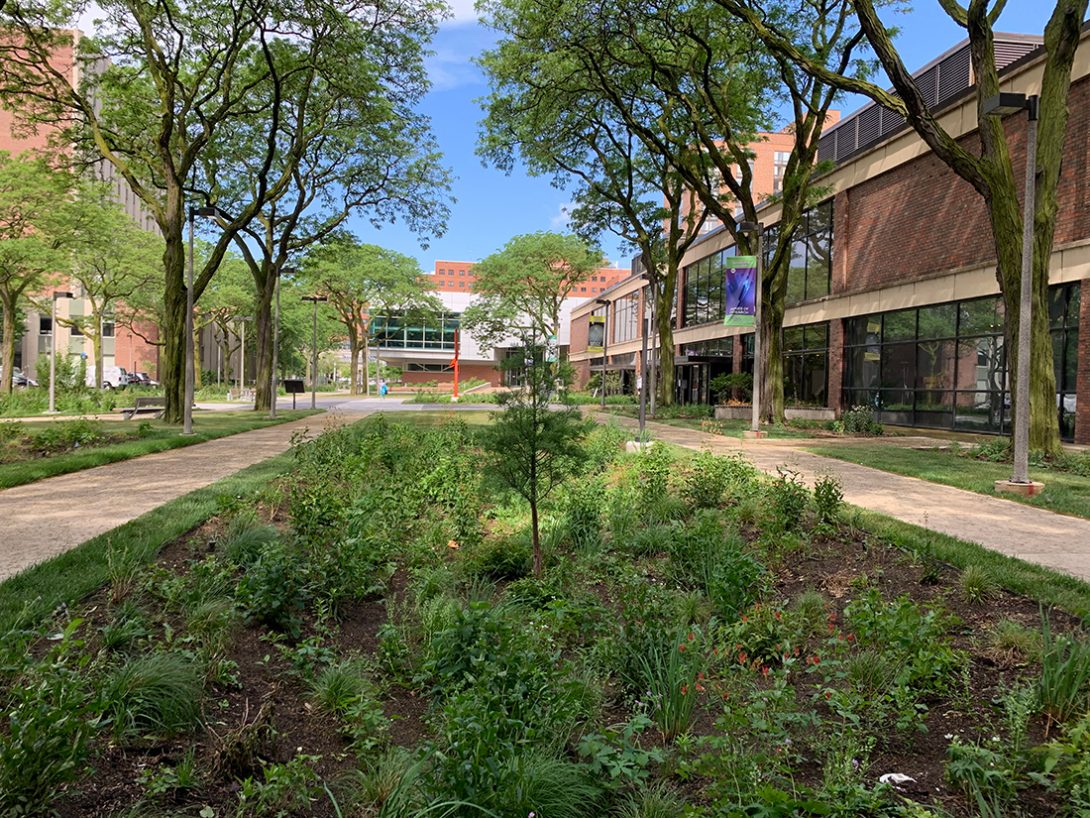 The Arthington Mall Plaza Renovation project looked to the goals of the UIC Climate Commitments, including the recommendations of Urban Transformations 2.0: Green Stormwater Infrastructure Implementation Plan, and the UIC Master Plan to provide a welcoming, hospitable space that retains stormwater on-site, implements energy-efficient and sustainable site design and utility standards, and is part of the larger campus greenspace system of pedestrian streets and promenades.
UIC sought the help of the National Fish and Wildlife Foundation (NFWF)'s Chi-Cal Rivers Fund to redesign the site to address existing stormwater management challenges via stormwater runoff reduction of green infrastructure, increasing infiltration while enhancing the environment for all visitors to the space. UIC also entered into an intergovernmental agreement with the Metropolitan Water Reclamation District of Great Chicago (MWRD) shortly after the NFWF award to further improve the stormwater reduction capabilities of Arthington Mall as well as the renovation of Parking Lot B2 with permeable pavers to mitigate flooding and storm water runoff.
Rain Gardens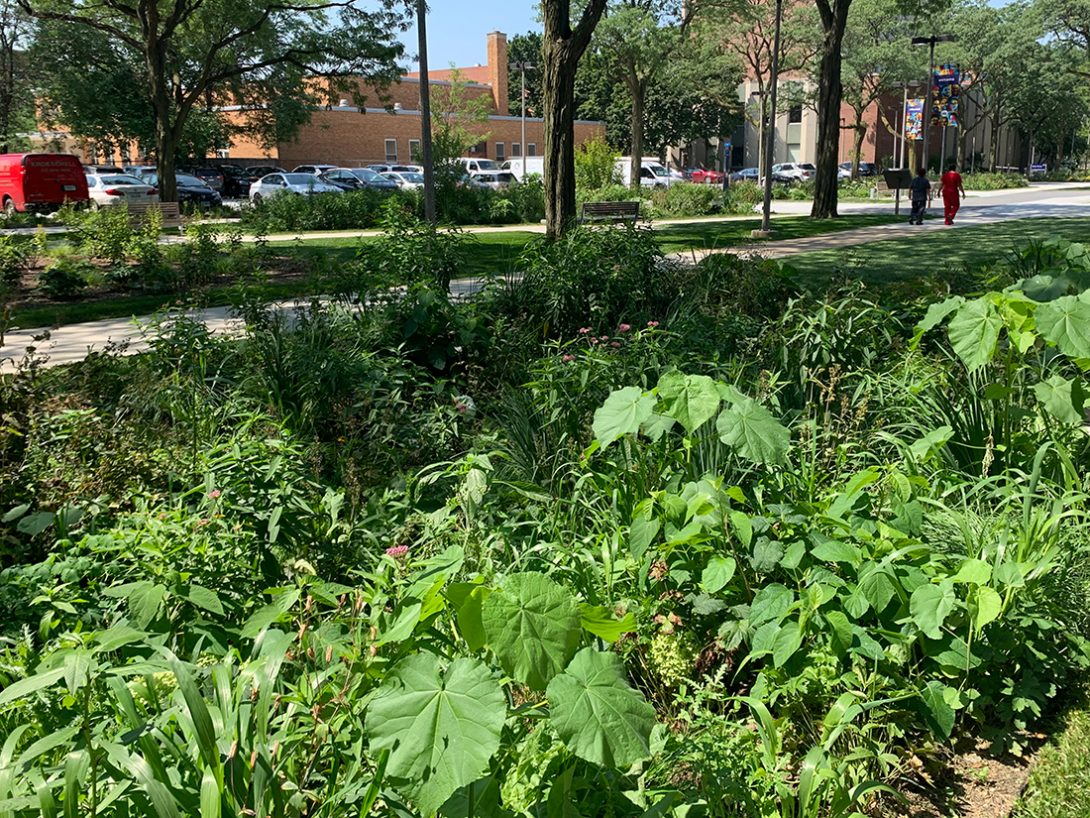 One of the main goals of the renovation of Arthington Mall is to retain stormwater onsite by incorporating green infrastructure components such as native plant rain gardens. This area features over 11,000 square feet of rain gardens.
Oil, detergents, pesticides, and other chemicals picked up by rainwater runoff are a significant contributor to stormwater pollution. These depressed garden beds help to filter pollutants out of stormwater by trapping them in the soil where they break down over time.
The project is able to check the efficacy of the stormwater retention abilities of the rain gardens through a 2-year monitoring and model development program. This program quantifies the water balance for the site that will support the development of a hydrologic model to assess storm water reductions and changes to the water balance generated by the green infrastructure implementations.
The monitoring and modeling program will be used to check these estimates and to quantifying changes over time, which can help in decisions regarding maintenance and future green infrastructure implementations.
Permeable Pavement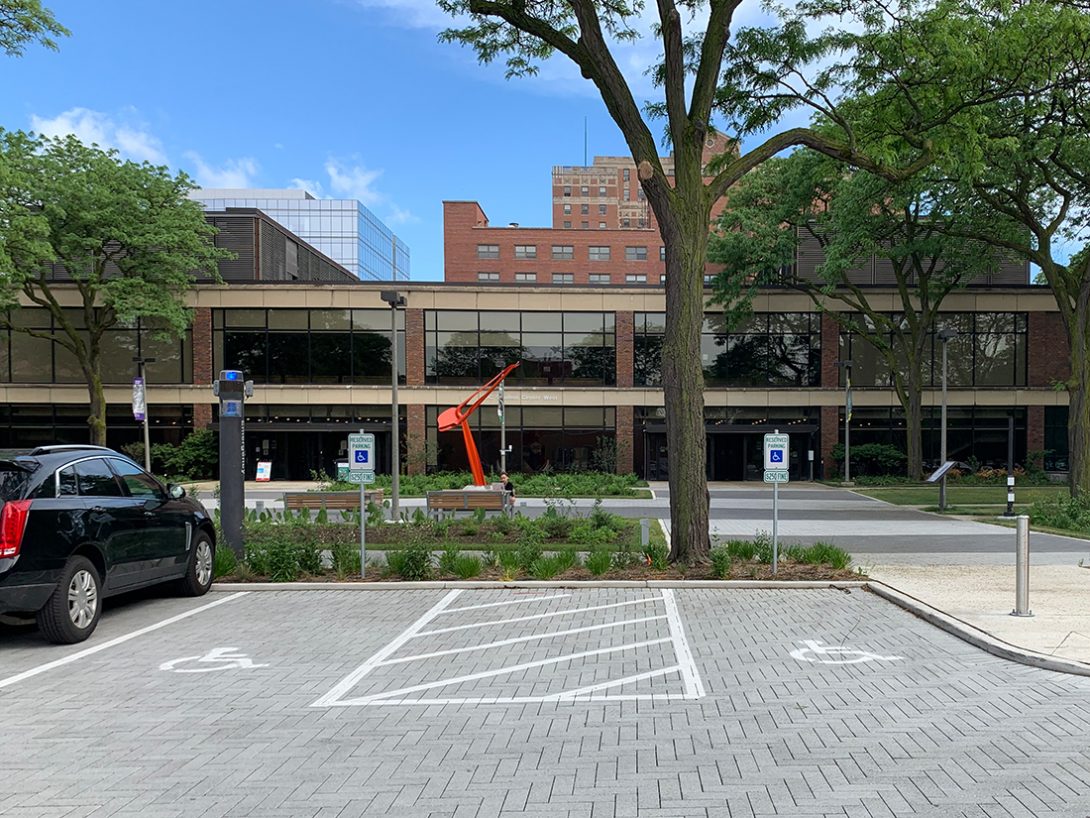 Another effective means of green infrastructure is permeable pavement.  Chicago has one combined system for sewage and rainwater, leading to sewage backups in basements and waterways during heavy rains. But, unlike traditional concrete, the spaces between these pavers allow water to infiltrate the soil, diverting rainwater from storm drains while also reducing urban flooding.
The renovation of Arthington Mall installed 10,350 square feet of permeable pavement while also reduced the square footage of impervious paving onsite by 19,000 square feet. This is predicted to increase the retention of 653,060 gallons of runoff water annually, or 188,709 per rain event.
These preliminary estimates of stormwater reduction were made using the EPA's Storm water Calculator, which suggested a stormwater volume reduction of 55,069 gallons for a 100 year storm event, an overall runoff reduction of 23%, and an increase in infiltration of 24%.
Trees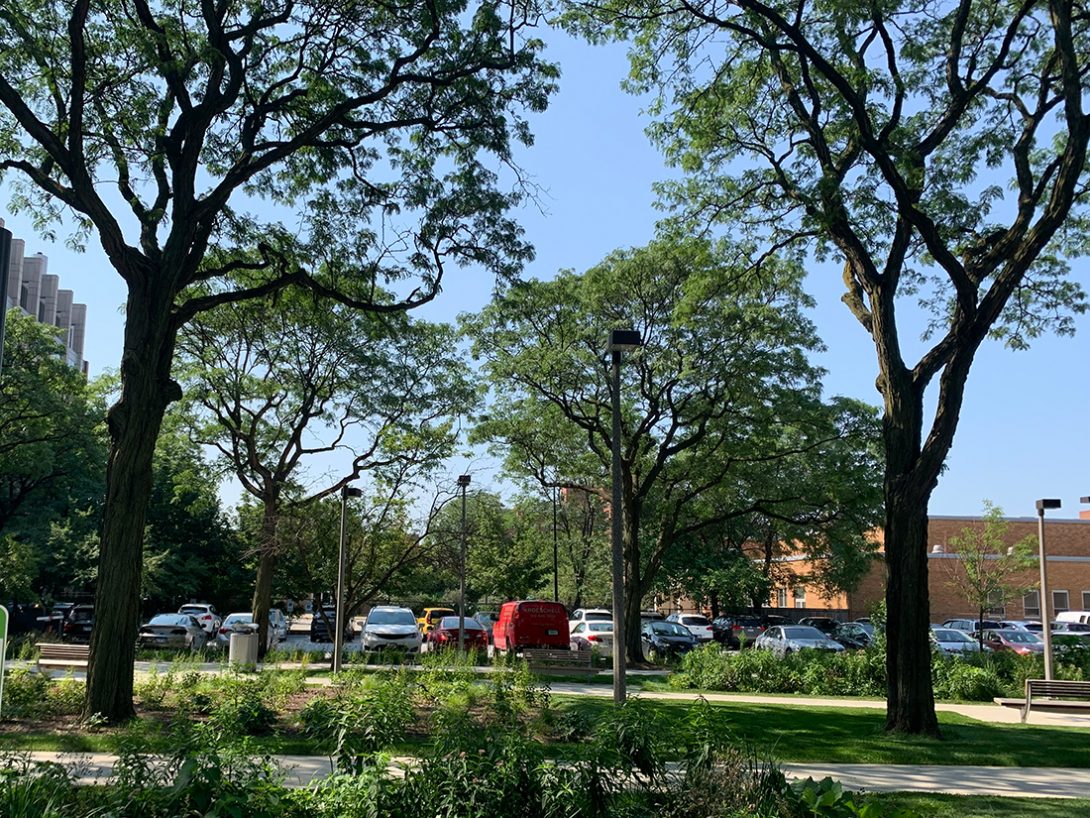 One may argue that the most visible stars of Arthington Mall Plaza are its trees, which include a variety of young flowering ornamentals growing under a broad canopy formed by 24 mature, healthy honey-locust trees. Although honey-locusts are abundant on the UIC campus, these individuals are highly valued residents not only in the Arthington Mall Plaza itself, but the near west side community in general, prized for their aesthetic benefits, for the cooling shade they provide, and for their contributions to controlling water runoff, stabilizing the soil, and sequestering atmospheric carbon.
To properly protect the trees during construction, trees were pruned to remove up to 25% of the canopy, focusing on dead, broken, diseased, and interfering branches.  This diverted the trees' energy from the canopy into root regrowth, helping them become more resilient to storm damage, branch failure and disease.
Investing in the long-term maintenance of UIC's trees will help not only with the aesthetics of the campus but will also help UIC's Climate Commitment of becoming a biodiverse and resilient campus. Maintaining the longevity of UIC's mature tree population will help reduce stormwater runoff, remove air pollution, reduce the urban heat island effect, and create a sense of community.
Pollinator Habitats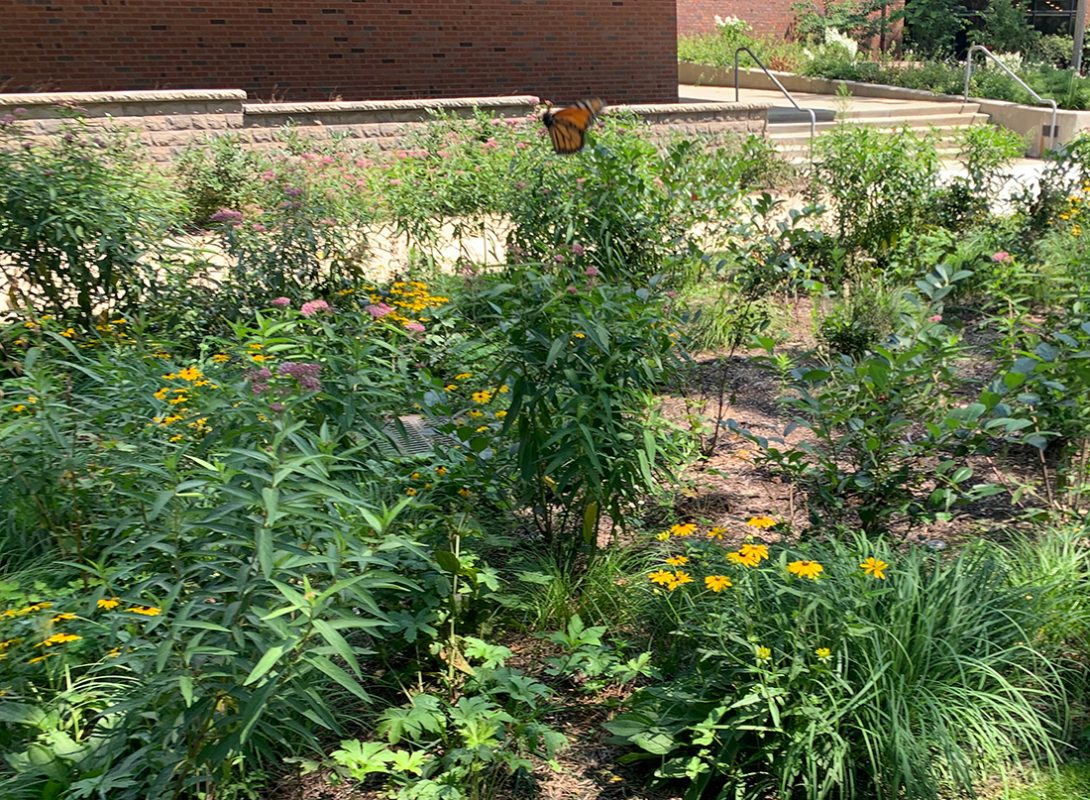 Established native plants are great for urban ecosystems! They do not require any additional water as rainfall is enough to give the plants what they need. They also create a perfect habitat for local pollinators, helping to increase their populations and overall biodiversity.
In Arthington Mall, there is nearly 14,500 square feet of soft landscaping comprised of native plantings like the Eastern Redbud, Common Milkweed, Canada Anemone, Red Columbine, Sugar Shack Buttonbush, Wild Hyacinth, Black-Eyed Susan, Prairie Dock, among others. These plants are visited by urban pollinators including the common eastern bumble bee, green sweat bee, calligrapher fly, and the star of the show, the monarch butterfly.
The project also required UIC to create a comprehensive Operations and Maintenance Plan. Training for appropriate grounds keeping staff is an important component of long-term health of the areas. Green infrastructure is only effective at reducing stormwater runoff when it is properly maintained. UIC invited Horticulturalists from the University of Illinois Extension to teach staff how to maintain a native plant garden.
A Welcoming Outdoor Space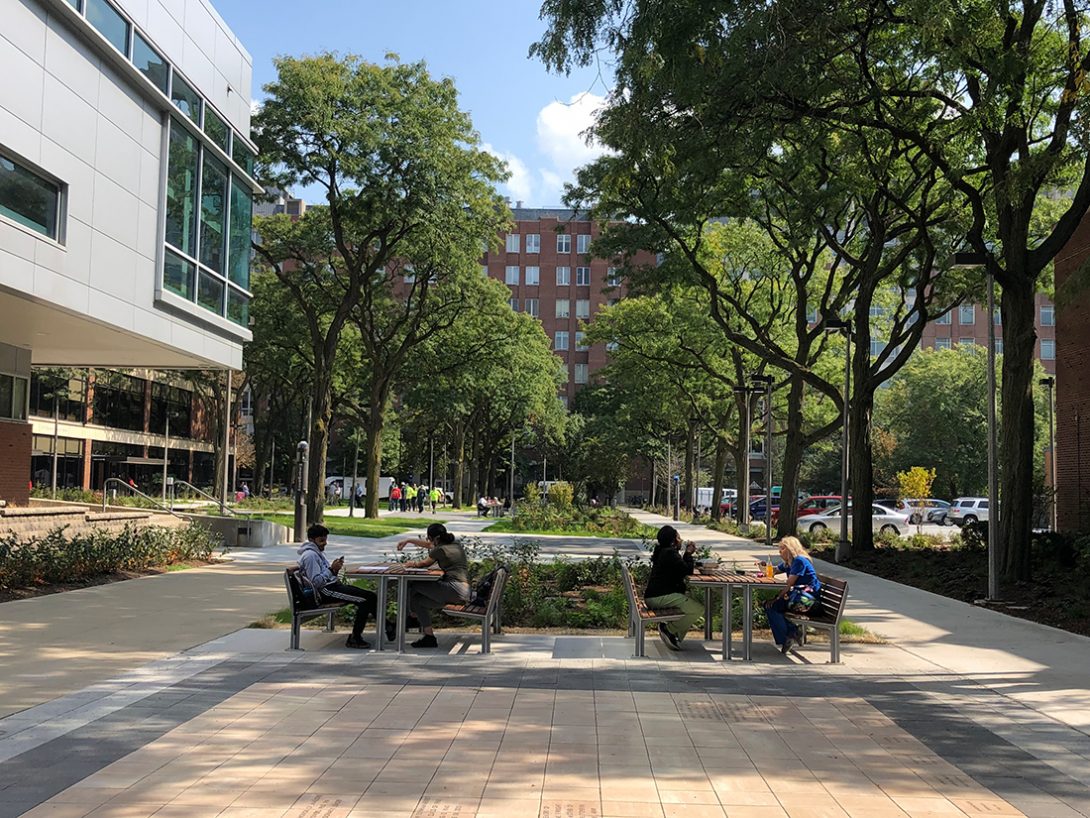 Arthington Mall creates areas for flexible use by students, faculty, and staff.
The 2018 UIC Master Plan Update outlined that Arthington Mall will enhance UIC's identity by creating a welcoming setting that safely connects people across UIC's West Campus and encourages them to linger. Installation of new walkways, seating options, artwork, landscaping and exterior lighting transformed Arthington Mall into a vibrant and open outdoor space. The sculpture "Tussle" by Ted Sitting Crow Garner sits among native plants just outside Student Center West. Read more about the sculpture at today.uic.edu.
Green spaces are a good predictor of human health. They offer a wide range of environmental, health and economic benefits at the individual, community, and social level. These benefits include improved air quality, increased mental and physical activity,  and create a sense of community with and social connections. 
SITES Certification
The Arthington Mall Plaza design team decided to pursue SITES certification after design was complete, but before construction began as everything in the design was already compliant with SITES goals. The Sustainable SITES Initiative (SITES) is a comprehensive land design and development rating system that is being used by both private and public sectors all around the world. SITES certification is given to landscapes, site infrastructure and spaces that demonstrate a high level of environmental and social sustainability. The SITES rating system takes sustainability outside and into our landscapes, open spaces, parks, and natural resources.
This project is looking to achieve Silver level, at minimum. UIC has outlined which credits landscape projects should pursue to align with the UIC Climate Commitments in this SITES® v2 Template. The University has also incorporated requirements for SITES certification for landscaping projects in its grounds-related building standards under Section 32 – Exterior Improvements.
Arthington Mall in the News