Green Labs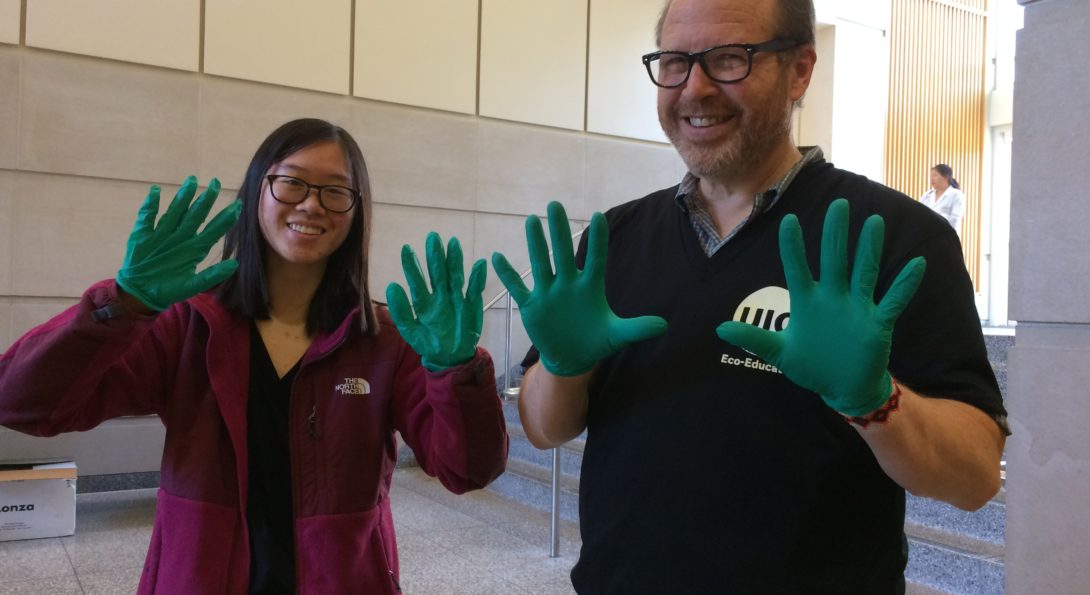 The University of Illinois at Chicago is our city's only public research institution. Together, we can create a more sustainable laboratory environment in which to work and conduct research. Currently, UIC labs dispose 70,000 pounds of hazardous waste and consume 5 times as much energy as a typical household each year. This page will outline small techniques researchers can practice to use less energy and waste.
UIC LabShare Program
The LabShare program accepts donations of unwanted, but usable lab supplies. We can take usable laboratory supplies such as glassware, disposable items, and equipment. Anyone from the UIC community make receive these items for professional use in their laboratory.
Recycle Non-Hazardous Plastic & Glass
Pipette Tip Boxes
Dispose clean, uncontaminated pipette tip boxes, lids, and refillable trays in the "Pipette Tip Box" recycling bin, located on each floor of buildings with laboratories that use pipettes. UIC cannot accept pipette tips because they have the potential to puncture and tear open the bags, but more importantly, there is no guarantee that the tips are clean.
Nitrile Gloves
Place non-hazardous Kimberly Clark nitrile gloves in a special recycling bin in your lab and take the full recycling box to the designated nitrile glove recycling holding area in your building.
Chemical Bottles
Chemical bottles may be recycled along with other glass/metal/plastic as long as it meets the following criteria:
the bottle is empty (nothing will drip when inverted) Do NOT allow voltile liquids to evaporate in the fume hood as a method of disposal!
the bottle is capless (unsealed/ opened)
label is defaced (name of chemical is scratched out with a marker)
the bottle used to contain non-hazardous materials (examples include media, buffer solutions, etc.)
Never recycle a bottle that used to contain flammable*, toxic, oxidizing, explosive, radioactive, water reactive, carcinogenic, biohazardous, or corrosive substances.
Please see the EHSO Lab Safety Plan how to identify a hazardous chemical and dispose of hazardous chemical bottles according to the Lab Safety Plan.*the only acceptable bottle to recycle that contained a flammable substance is ethanol.
Neutralize hazardous chemicals
Some chemicals can be neutralized into non-hazardous components before disposal in order to eliminate unnecessary hazardous waste incineration pollution. Check the EHSO website for complete details about neutralizing chemicals. Common chemicals that can be neutralized in the lab include formaldehyde, and acids and bases, ethidium bromide alternatives are strongly encouraged as that chemical is a well-documented carcinogen and use should be avoided at all costs.
ULT Freezer Rebate
At times, the University offers researchers rebates in order to purchase energy efficient lab equipment like freezers. This website will be updated as soon as the rebates become available again.
Tips for a more sustainable lab