Green Buildings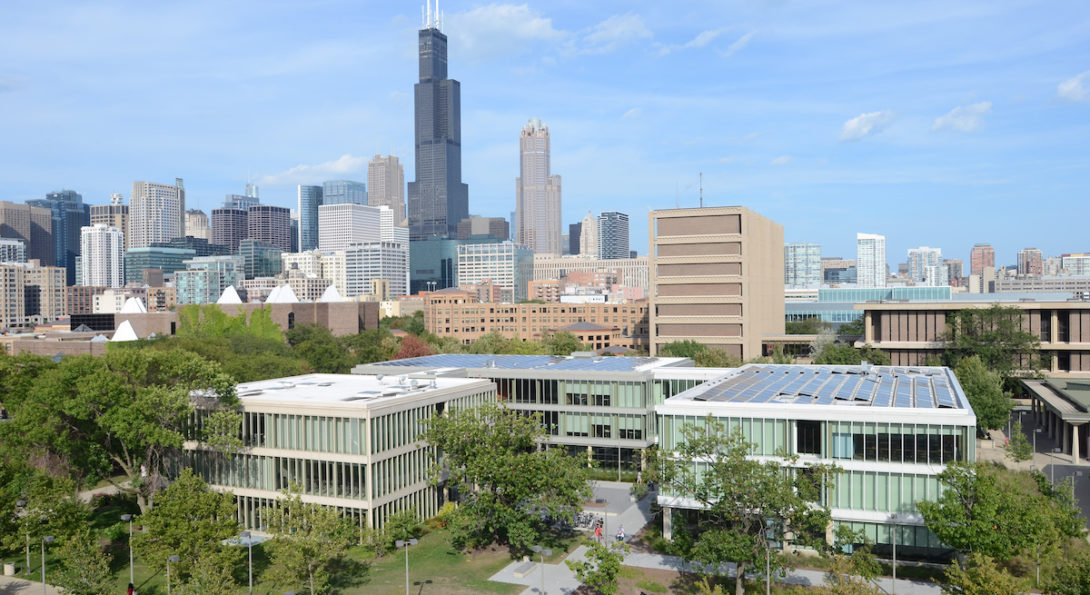 All new construction and major renovations at UIC must be LEED-Gold certified.
The University of Illinois at Chicago has committed that all new construction and major renovations costing $5 million or more to be LEED (Leadership in Energy and Environmental Design) certified at the Gold level by the Green Business Certification Inc.  Projects less than $5 million should comply with the LEED Gold requirements to the greatest extent practical including those credits UIC requires as mandatory, as they appear in the UIC building standards and meet the requirements in Climate Action Implementation Plan checklist. This will ensure new buildings and major renovations will be resource efficient, reduce waste, cost the university less to operate, use sustainable building materials, and have a high level of indoor environmental quality.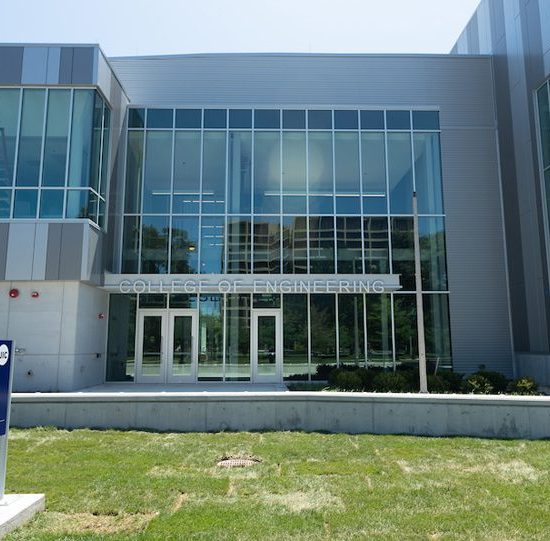 Engineering Innovation Building - LEED Gold certified 2021
The Engineering Innovation Building (EIB) was designed to be sustainable with a goal to achieve LEED® certification.  The building was constructed on top of a parking lot, so no green space was lost. Native landscape design and shading trees not only help our Net Zero Water and Biodiverse Campus goals, but also provide enjoyable views, walks, places to sit and areas to safely store bicycles (with a shower room to accommodate bike commuters.)
The building's exterior façade assembly is designed to help lower the urban heat island effect common in urban areas, allow for great daylighting and views into every office, lab, administration areas, and student lounge.
Read more about the building on the Energy webpage (including a cool video!)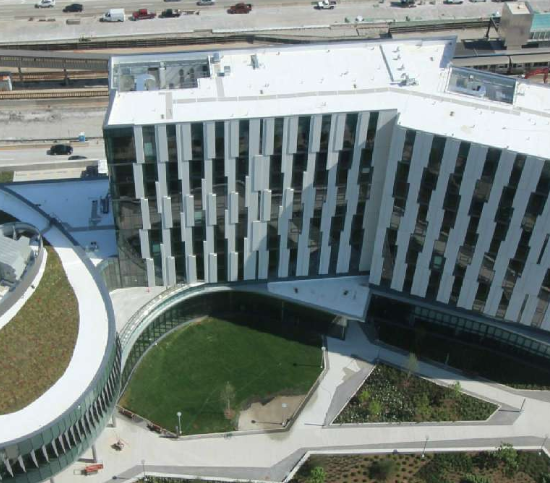 Academic and Residential Complex - LEED Gold certified 2020
The ARC building is both a residence hall and classroom facilities. ARC was designed with the UIC Climate Commitments in mind. ARC's large windows allows for natural daylight, contributing to UIC's Carbon Neutral Campus goal. The classroom side of the building has recycling stations with multiple, flexible collection bins to allow for future waste streams like composting, helping us to achieve our Zero Waste Goal. The native plant rain garden landscaping techniques reduces stormwater and attracts pollinators, helping both our Net Zero Water and Biodiverse Campus goals. ARC was certified LEED Gold in March 2020.
Read more about ARC's building and design.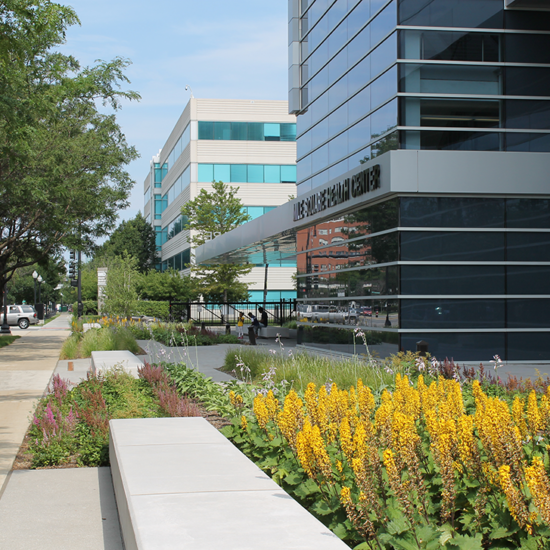 Mile Square Health Center - LEED Gold certified 2014
Mile Square Health Center was designed with improving the community's health and the environment in mind. It is the first entirely new building on campus to receive LEED® Gold certification.  The Center is built on what used to be a badly polluted "brownfield" site. During construction it was cleaned of pollutants, putting back into use over 1½ acres of land that would have remained contaminated.
Light-colored permeable paving is used in the center's parking lots that reflect light, reduce heat-gain and allows rainwater to soak into the ground,reducing stormwater run-off by 20%. It also reduces the need for chemical water treatment and improves water quality in our rivers and lakes, which provide our drinking water.
A portion of the roof on the third level is made with plants that hold rainwater, releasing it slowly into the storm sewers and mitigating floods. The plants also provide food and places for urban birds and insects to live while insulating the building, saving on heating and cooling costs.
View the YouTube video that describes how Mile Square is healthy for you and the environment.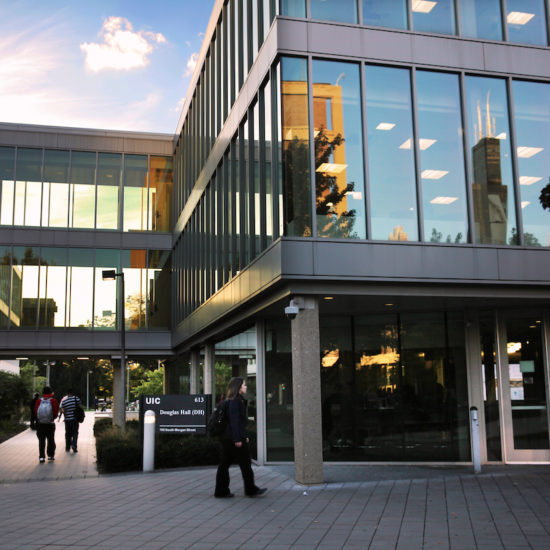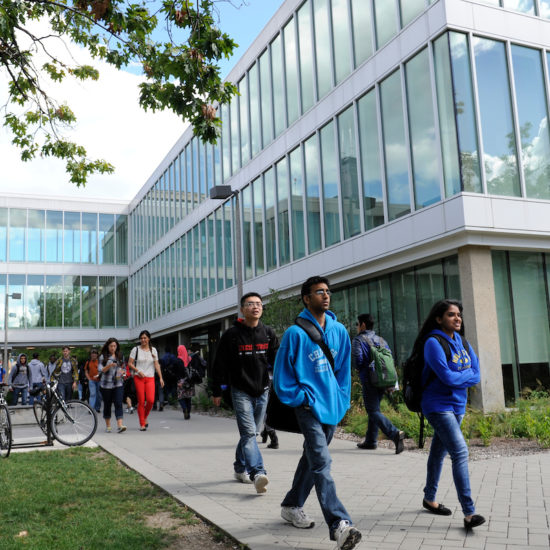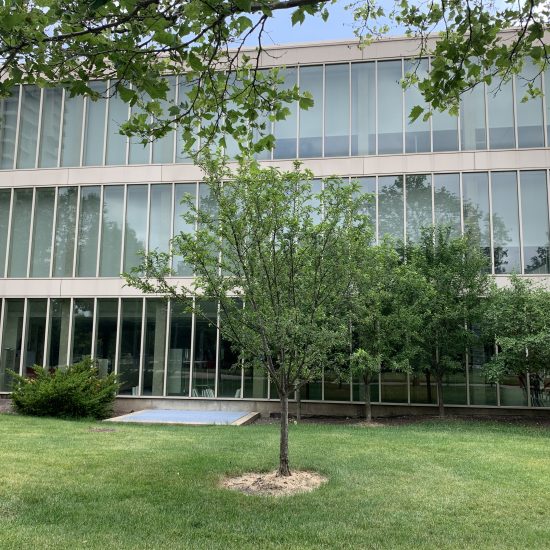 Grant Hall
Home of the UIC Writing Center, Grant Hall is the first building in the University of Illinois system to utilize geothermal heating and cooling, funded by Illinois Clean Energy Community Foundation. The Grant Hall project served as a successful test case to prove the value of sustainable and green building design on the UIC campus. The system provides significant energy cost savings and has been scaled to include Lincoln and Douglas Halls. While this project did not seek official LEED® certification, the renewal demonstrates and utilizes sustainable design strategies beyond structural reuse.
Window upgrades and glazing increase indoor exposure to natural light and exterior views to 99% of regularly occupied spaces. Directional daylight shading management controls light intensity for maximum comfort in the learning environments. Interior materials include low-VOC (Volatile Organic Compound) finishes and high recycled-content furniture. Native or drought-tolerant species used in site landscaping requires no irrigation system.
Learn more about the historical significance of the Grant Hall renovation in the UIC Library's archives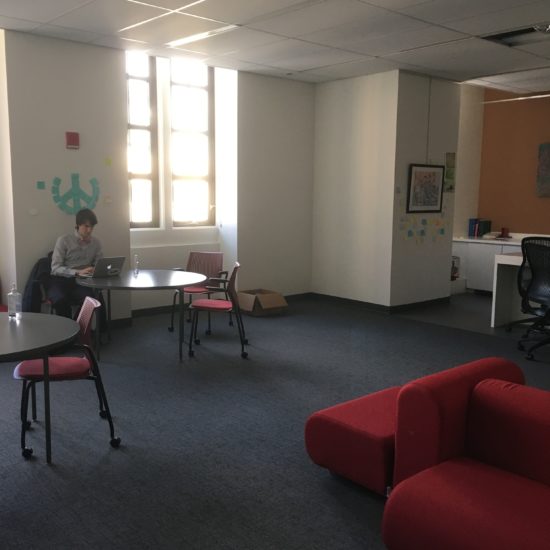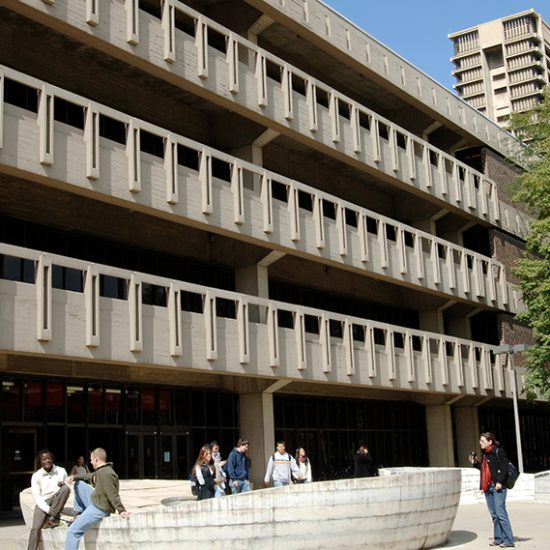 Energy Efficiency in Current Buildings
UIC understands that buildings, in general, account for 80% of greenhouse gas (GHG) emissions. When our campus was constructed in the early and mid twentieth century, energy efficiency was not on the minds of architects and designers, like the 1960's Daley Library pictured here.  Retrofitting our current inventory of buildings that are not major renovations to be as energy efficient as possible is a key strategy in reducing our GHG emissions, electricity and operations cost.
See the deatils of UIC's strategy to make our buildings more energy efficient
Green Buildings in the UIC News
Additional Sustainable Building-Related Resources