Green Buildings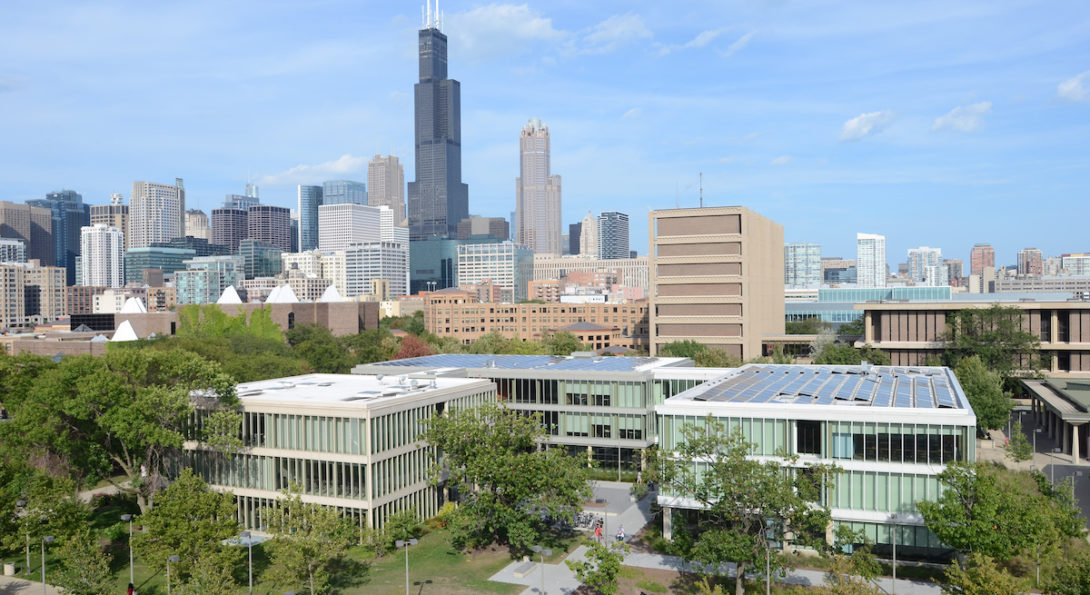 All new construction and major renovations at UIC must be LEED-Gold certified.
The University of Illinois at Chicago has committed that all new construction and major renovations costing $5 million or more to be LEED (Leadership in Energy and Environmental Design) certified at the Gold level by the U.S. Green Building Council. This will ensure new buildings and major renovations will be energy efficient, water efficient, reduce waste, cost the university less to operate, use sustainable building materials, and have a high level of indoor environmental quality. New construction, remodeling, and renovations totaling less than $5 million should comply with the LEED Gold requirements to the greatest extent practicable including those credits UIC requires as mandatory, as they appear in the UIC building standards and coincidence with the Climate Action Implementation Plan.
Grant, Lincoln & Douglas Halls (The GoLD Complex)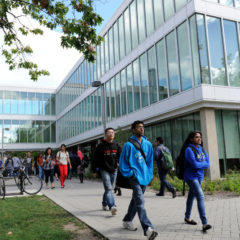 Lincoln Hall

The first of UIC's first LEED®-certified Building in 2010, Lincoln Hall earned enough points to qualify for Gold Certification in LEED for New Construction (LEED-NC) granted by the U.S. Green Building Council.

Energy-saving features include a geothermal system (that uses the earth's constant temperature) to heat and cool the air in the building, double-paned insulated curtain wall covered by a solar film with a high reflective factor help keep the room cool in the warm months and heated in the cold months, and shades for the windows increase energy savings by opening or closing with help from solar sensors and a building automation system. Click here to view the real-time energy data of the photovoltaic (PV) solar power-generating panels.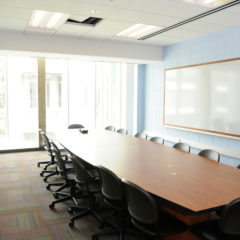 Building materials include whiteboards that contain 50% recycled materials, wood doors certified by the Forest Stewardship Council (FSC), carpet squares made from recycled content and work stations made with FSC-certified wood veneer, and marmoleum. Native landscaping and a bioswale capture rainwater and reduce the need for irrigation. Read in more detail how Lincoln Hall achieved LEED-Gold.
Douglas Hall

Douglas Hall, the home of the College of Business Administration, is the second building on UIC's campus to gain a LEED honor by receiving gold certification.  Douglas Hall shares the geothermal ground source heat pump system that Grant and Lincoln Halls also use. Douglas Hall's solar panel system was partially funded by a generous grant from the Illinois Clean Energy Community Foundation.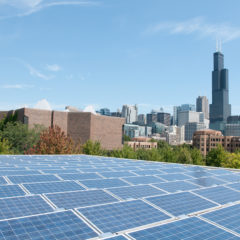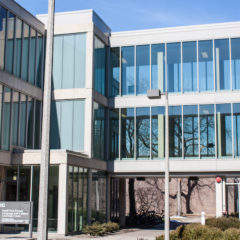 Grant Hall

Home of the UIC Writing Center, Grant Hall is the first building in the University of Illinois system to utilize geothermal heating and cooling. 81% of geothermal well funded by Illinois Clean Energy Community Foundation. The Grant Hall project served as a successful test case to prove the value of sustainable and green building design on the UIC campus. The system provides significant energy cost savings and has been scaled to include Lincoln and Douglas Halls. While this project did not seek official LEED® certification, the renewal demonstrates and utilizes sustainable design strategies beyond structural reuse.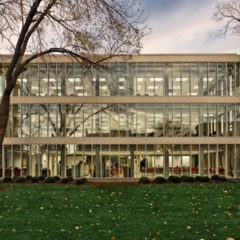 The high-efficiency HVAC (Heating Ventilation and Air Conditioning) system improves indoor air quality and reduced operating costs. Window upgrades and glazing increase indoor exposure to natural light and exterior views to 99% of regularly occupied spaces. Directional daylight shading management controls light intensity for maximum comfort in the learning environments. Interior materials include low-VOC (Volatile Organic Compound) finishes and high recycled-content furniture. Native or drought-tolerant species used in site landscaping requires no irrigation system.
Mile Square Health Center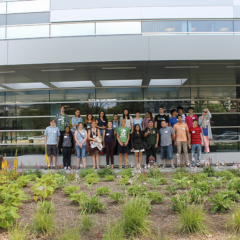 Mile Square Health Center was designed with improving the community's health and the environment in mind. It is the first entirely new building on campus to receive Gold certification in Leadership in Energy and Environmental Design "LEED", by the U.S. Green Building Council.  The Center is built on what used to be a badly polluted "Brownfield" site. During construction it was cleaned of pollutants, putting back into use over 1½ acres of land that would have remained contaminated.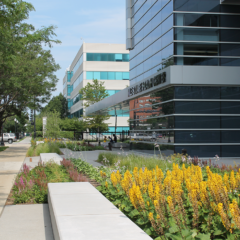 Permeable paving is used in the center's parking lots. These light colored paving blocks reflect light and reduce heat-gain. They also allow rainwater to soak into the ground and travel to nearby rivers and lakes, while being cleaned naturally of pollutants. This process reduces the amount of stormwater run-off by 20%. It also reduces the need for chemical water treatment and improves water quality in our rivers and lakes, which provide our drinking water.

A portion of the roof on the third level is made with plants instead of roofing material. The plants hold rainwater, releasing it slowly into the storm sewers and mitigating floods. The plants also provide food and places for urban birds and insects to live while insulating the building, saving on heating and cooling costs.
Mile Square Health Center Improving Health and the Environment
UI Health's Mile Square Health Center is dedicated to providing for your health needs and to improving our surroundings and community by saving energy, reducing waste, creating green spaces, and providing jobs in the process!
College of Medicine Learning Center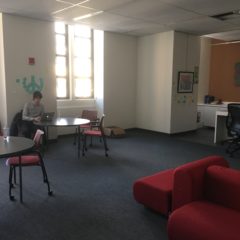 The College of Medicine Learning Center is a renovated space in the College of Medicine West building to accommodate 21st century medical students including naturally-lit classrooms and meeting spaces, collaborative study areas and energy efficient systems. There is little need to turn on the lights. Even on a dreary December day, 75 % the space still enjoys natural sunlight to illuminate your studies. The Office of  the Campus Architect shows photos and details of the space.
Green Buildings in the UIC News
Additional Sustainable Building-Related Resources