Energy
We are SMART energy users.  (System, Meter, Action, Retrofit, Technology)
The University of Illinois at Chicago has a complex energy SYSTEM that is powered by outside sources as well as internally by power plants, and on some buildings, powered by the sun and geothermal energy! UIC has the Smart Grid and uses METERS that report energy use back to the the main computer system every 15 minutes that provide real-time information and track energy consumption and assess energy savings. You can also take ACTION by learning how you can help. (If you do research at UIC, be sure to look at specific tips for becoming energy efficient in the labs). UIC RETROFITS construction projects with more energy efficient equipment. UIC utilizes building automation systems to monitor and control building energy with modernized and more efficient TECHNOLOGY.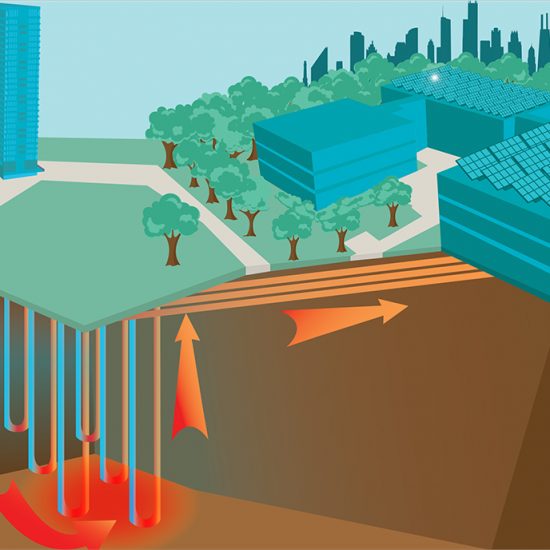 Geothermal Energy
At a depth of 100 meters below the field next to University Hall lies a maze of sensors, heat pumps, and air exchangers to keep Grant, Lincoln, and Douglas Halls at a pleasant 73ºF/ 25ºC year-round. Geothermal heat pumps use the Earth's constant temperature to heat and cool our buildings, eliminating direct greenhouse gas emissions, contributing to our goal to become a Carbon Neutral Campus.
Learn more about Geothermal Energy at UIC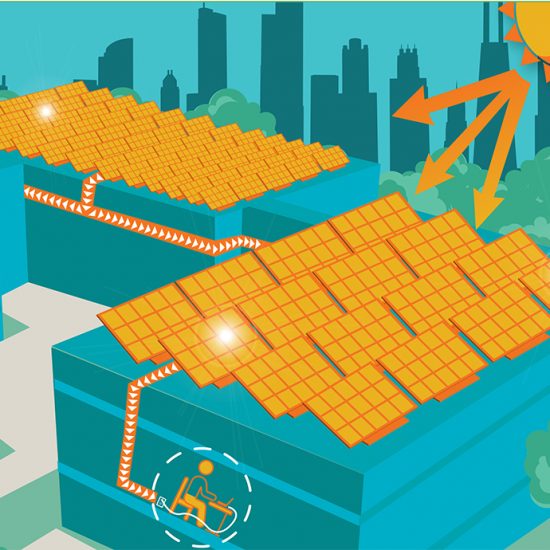 Solar Energy
A total of 469 photovoltaic panels soak up the sun's rays on top of LEED® Gold Lincoln and Douglas Halls. These solar energy-producing grids convert solar radiation into electricity that the building can use to power on lights, computers, and other electronics. Solar power eliminates direct greenhouse gas emissions, contributing our goal to become a Carbon Neutral Campus.
Learn more about Solar Energy at UIC
EIB is Energy Efficient
UIC's Engineering Innovation Building is a sustainable design that is to be admired. Officially opened on July 22, 2019, this building is an eco-friendly, state-of-the-art learning center for UIC's College of Engineering, and is one of the many LEED-certified buildings on UIC's campus, officially earning LEED Gold certification in 2021.
Of the 57,000 square feet of space within the building, many different engineering departments share labs and office spaces to take on exciting projects of many sizes and difficulties. The primary occupants of the Engineering Innovation Building are the Department of Chemical Engineering, the Department of Civil and Materials Engineering, and the Department of Mechanical and Industrial Engineering.
Previously, these departments were spread out between many buildings on and off campus, utilizing lab spaces and classrooms where they could. The construction of the Engineering Innovation Building provides a perfect space for all departments to teach, learn, collaborate, and innovate together.
The Engineering Innovation Building is one of UIC's many LEED-certified buildings. According to the Climate Action Implementation Plan, all new buildings and major renovations over $5 million (10,000 sq ft) added to our campus must be constructed to earn LEED Gold certification.  LEED stands for Leadership in Energy and Environmental Design, and is an internationally recognized green building certification system under the U.S. Green Building Council. In order to qualify for LEED certification, the building design has to consider many different sustainable aspects, from the materials used in building construction, to the building's surrounding landscaping.
EIB now joins Grant Hall, Lincoln Hall, Douglas Hall, the Miles Square Health Center, the College of Medicine Learning Center, and the new Academic Residential complex as one of the most sustainable buildings on UIC's ever-growing campus. 
The Engineering Innovation Building was constructed with many energy-efficient and sustainable details that are easy to miss if you don't know where to look. In fact, most features are built into the functionality of the building so that all energy efficiency features are constantly utilized and energy is always being saved. In terms of personal sustainability, the only thing you have to think about is whether or not you're recycling trash or throwing away recycling. So how do these new technologies work and how are they sustainable? 
Much of the building's efficiency comes from its state-of-the-art research labs. Labs are an important part of the Engineering Innovation Building–in fact, some may say it's the most important. To back up that statement would be the fact that EIB is only equipped with one traditional classroom.  With the exception of office spaces for faculty, the remaining space in the building is dedicated to labs: lab classrooms, theory labs, computer labs, and the High-Bay Structures Lab on the West Side of the building.
A primary energy efficiency feature of the labs in EIB is the automatic fume hoods. For example, most people would not consider how much energy the lab hoods use to pull noxious gases out of the building, and how much energy they waste when accidentally left running, especially when researchers leave the fume hood sliding door—which is commonly called a "sash"–open. But in all labs in this building, the fume hoods do not have to be turned on or off by the professors or students: instead, each lab hood operates on its own. The hood is crafted with built-in sensors that sense when gases are critical levels; when that occurs, they turn on automatically to pull air and fumes out of the building. While they can be manually operated, if you forget to turn it off, they will go off on their own. While the automation of fume hoods helps conserve energy, researchers should still remember to shut the sash whenever they're done working, to help the fume hood remove noxious gases that much more quickly.
 Just like the labs, the classrooms and office spaces within the building are designed with energy-efficient technology as well. All rooms throughout the building are equipped with occupancy sensors and natural light sensors. This prevents wasted energy from lights being left on or, the lights turning on automatically even when they are not needed. This feature is also present in many of the office spaces.
Another sustainable energy feature is the energy-efficient outlets that are located throughout the building. Built into most of the offices are outlets that, like the lights, turn off when they have not been used for a while or are no longer being used. Like any design, it comes with its own challenges. Professors, TAs, and others should remember which outlet type they are using, so they don't leave laptops plugged in and come back to them still not being charged. 
Through the halls, you may notice that the lights are always on due to safety reasons. But these light fixtures are still considered to be sustainable because they are designed to utilize energy-efficient bulbs and save as much energy as possible. You will even find sustainability features in every restroom in the building; if any bathroom is left unoccupied for a long period of time, the occupancy sensors will turn the lights off to save energy as well.  
Yet another energy efficiency feature in EIB is the thermostats throughout the building. In most buildings throughout the UIC campus, the temperature is regulated throughout the building with one thermostat that is adjusted, based on the ever-fluctuating Chicago weather. However, EIB allows its staff some flexibility when it comes to their temperature preferences. Every other office and every other lab provides staff with a thermostat and the ability to change the temperature in the individual rooms by up to 2 degrees. The built-in limit of 2 degrees prevents energy waste by ensuring that nobody increases or decreases the temperature so drastically that it consumes extreme amounts of energy. After every workday, the thermostats will automatically sync and reset to a common pre-set temperature, which is something every building on campus does to prevent a waste of energy when the building is unoccupied. 
It takes more than updated technology and energy efficiency to acquire LEED Gold status. The building's exterior, something often overlooked, contributes to the building's certification with energy efficient windows and a well-insulated envelope. Throughout the pathways leading to the building's entrance are a multitude of native plants and landscaping that promote an eco-friendly environment within the urban area. The building also has a lush courtyard full of native plants and flowers. 
The roof is white instead of black, which ensures that the building will not attract too much heat and thus prevents a heat island effect which would waste energy trying to cool the building down during the summer months. The building's overall design promotes the use of natural light through its abundance of large windows, and it saves water with features like low flow toilets and permeable pavers.
UIC's Engineering Innovation Building features many energy-efficient designs and promotes sustainability throughout the building's architecture and engineering. Whether you are an onlooker, a student, a professor, or a researcher, you can rest assured that just by moving through the building you are interacting with an energy efficient space. Even if you forget to shut the sash of a fume hood or leave a lamp plugged in overnight, EIB has got your back and will keep you and UIC environmentally friendly, energy efficient, and LEED-certified.
What is the Smart Grid?
Learn how the Smart Grid can save you money and energy at home in this fun, 2 minute video. (Directed by UIC undergraduate students/ Smart Grid Interns)