I Bike UIC
UIC is a Bike Friendly University
The University of Illinois at Chicago is well connected to Chicago's on-street bike network, and has bike parking at nearly every campus building.  Several Divvy stations on the UIC campus provide convenient transportation for getting around on campus or commuting from downtown train stations.
Unlock your Divvy membership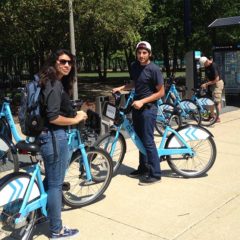 Chicagoland's bike share system, Divvy, offers discounted annual memberships for all UIC students, faculty, and staff.  Sign up for the UIC Membership Plan with your @uic.edu or @uillinois.edu email address and enter Partner Password GoFlames.

Sign up at Divvybikes.com

Talk to a Divvy customer service representative if you are a current member looking to renew at the discounted rate.
Do Not Park in the Bike Lane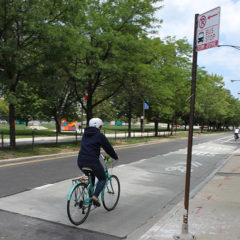 Bicycle lanes are legal street designations intended for bicycle traffic only.  The use of these areas for temporary parking is prohibited and carries a penalty of $150.  Vehicles parked in bicycle lanes force bicycle riders into the lane of traffic, creating a dangerous situation for the rider and other drivers.  All UIC staff, faculty and students are strongly urged and cautioned to refrain from parking vehicles in these unauthorized locations. Those who ride bicycles and all pedestrians are likewise advised to observe traffic control devises and crosswalks, and to be alert at all times to their surroundings.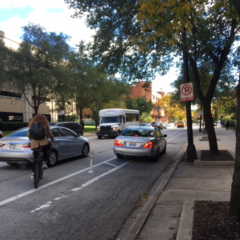 To report a vehicle in a bike lane:

Call the City of Chicago at 311

Call the UIC Police at 312-996-2830

Post a picture to Bike Lane Uprising
Helpful Tips for Commuting by Bike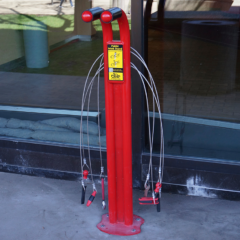 Fix-it Stations

If you need quick maintenance on your bike like more air in your tires, you can stop by one of the student centers to borrow a Bike Pump, Repair Kit, or Use a Fix-It Station. Visit the first floor managers service window rents out a repair kit and bike pump with valid i-Card. Fix-It Stations are located outside SCE near the west and east entrances. There is also a Fix-It Station just outside of the MSB entrance at 835 W Wolcott ave.

If you are a member of Campus Rec, you can rent a bike tool kit after swiping your i-Card. If you are a resident in Campus Housing, check with of the bike repair kits.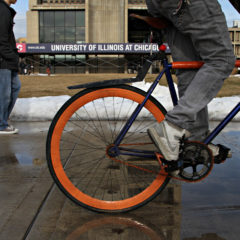 Showers are available

Should you need to shower before going to work or class, simply visit one of the Rec centers on campus and you can use the showers in the locker rooms for up to 30 minutes. (Open to all UIC faculty, students & staff with valid i-Card and bike helmet.)
Get Involved with UIC Biking
Commuting by Bike? Check out these resources.
Abandoned Bicycle Policy & Theft
U-lock it!
Always lock your bike to a secured bike rack with a U-lock around the frame and the wheel. Use a cable to double-down on anti-theft techniques around the other wheel and the U-lock. Trust us!