Earth Day 2020 may be in the past, but UIC is still using the momentum of the day to continue to push for a Plastic-Free UIC!
From the food we eat to the packaging our vendors use, UIC makes strides every day toward minimizing the amount of garbage we send to the landfill.
Though UIC sends almost half of all our trash to recycling or compost, we still have work to do to reach our Zero Waste goal, especially when it comes to the disposable, single-use plastics that are still widely used and distributed on our campus every day.
In honor of the 50th anniversary of Earth Day, we showed support for a Plastic Free UIC by wearing red on April 22, participated in a virtual "clean up," watched the film The Story of Plastic and discussed UIC's role in the plastic problem, and advocated for a plastic free campus both online and out loud!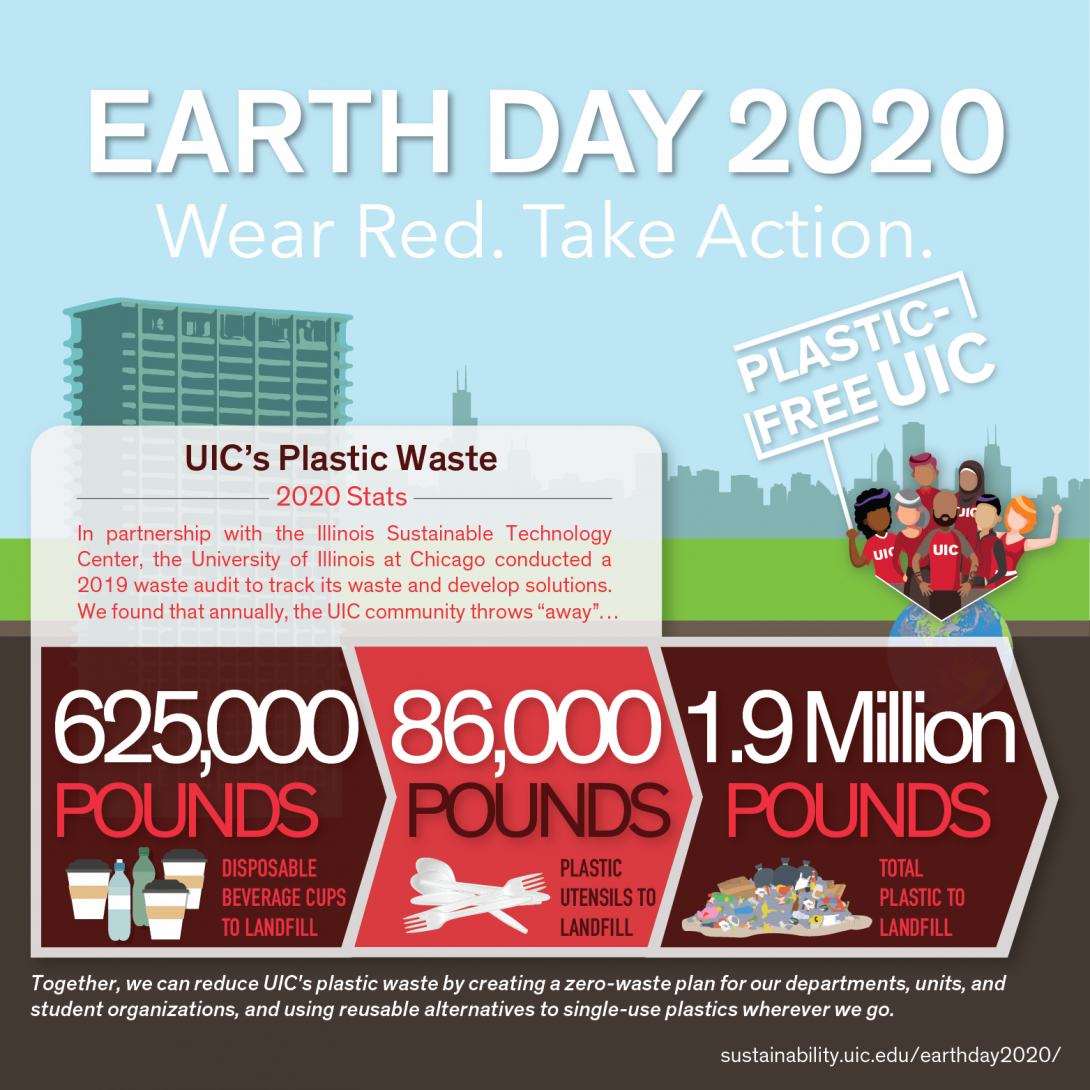 In 2019, we hosted a waste audit conducted by the ISTC and found that there is a lot of single-use plastic thrown out on campus.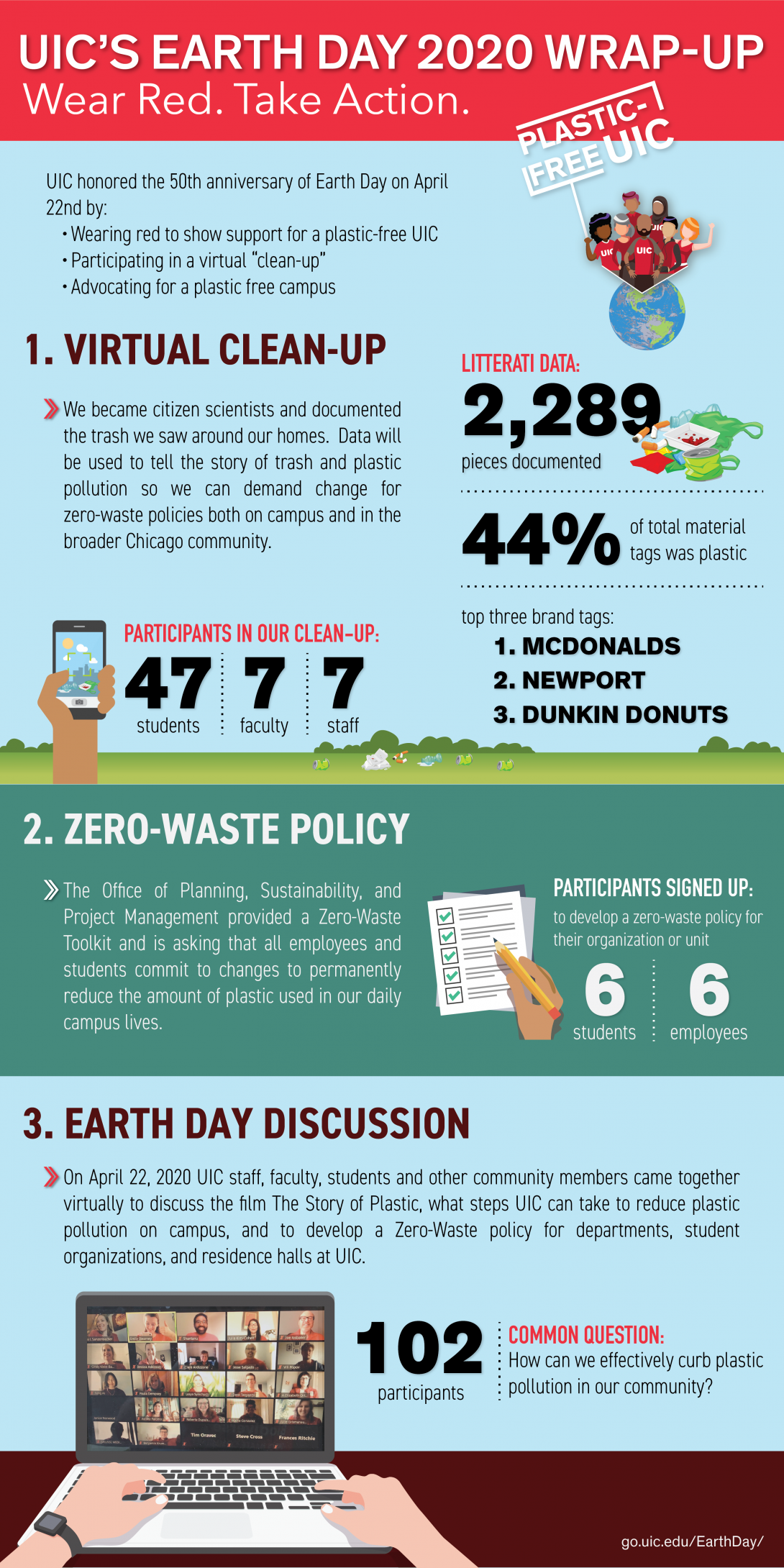 UIC's current waste diversion rate is 47%, which means that 47% of the trash collected from campus goes to a recycling or compost facility. And, while our student enrollment rate continues to rise, our total campus waste continues to decline, thanks to national awareness campaigns on recycling and single use products, as well as the hard work of UIC sustainability champions.
However, while using recyclable plastic is a step in the right direction, plastic is still an oil-based product that never goes away. In fact, most plastics are only recycled one time before they reach the landfill, due to the quality of the plastic getting lower and lower with each recycle.
WEAR RED.
This Earth Day, we encouraged the UIC community – wherever we were –  to wear red instead of green in honor of this year's Earth Day. Besides showing some UIC-colored pride for the Zero Waste accomplishments we've made so far, we're sounding the alarm on the climate crisis. With just under 10 years to make the vital, systemic changes to our culture and our economy outlined by the IPCC, it's imperative that our vendors, our university leadership, and the city of Chicago understands just how important these issues are to the UIC community.
TAKE ACTION.
Earth Day wasn't always simply a day to celebrate the beauty of our planet; in the beginning, Earth Day was designed to be a day of action. In lieu of a physical campus clean up, we became citizen scientists in  a virtual "clean up," watched The Story of Plastic with a panel discussion, and  began to develop a zero-waste policy for UIC departments, units, student organizations, or residence halls.
THANK YOU!
On behalf of the Office of Planning, Sustainability and Project Management and all our UIC sustainability partners, happy Earth Day. We hope you'll join us in advocating for a campus that is sustainable, equitable, and plastic-free.
UIC has pledged to address the challenges and opportunities facing all Great Cities of the 21st century, which includes our generation's plastic problem.
47 % of UIC's trash is diverted from landfill and is instead sent to recycling or compost annually.

7 tons of non-recyclable plastic get thrown out at Student Center East each month on average.

9 % of residential waste is recycled in Chicago (that's one of the worst recycling rates in the country).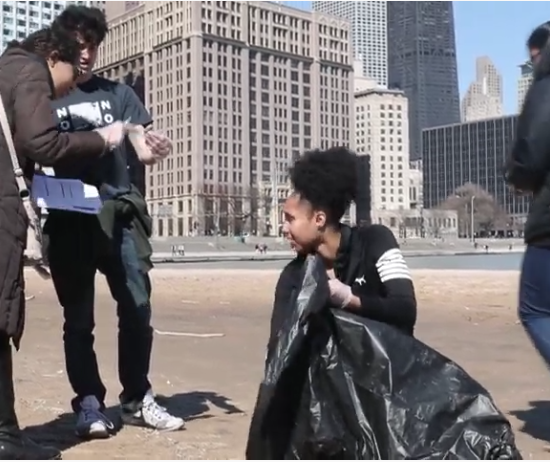 With this year's Earth Day coinciding with a global pandemic, Basmah Nadeem, a sophomore at UIC and a student in the Sustainability Internship Program, writes about the relationship between COVID-19 and the climate crisis. Both crises will require massive participation from individuals, communities, governments, and the private sector in order to avert negative consequences.
Read Basmah's blog post here