Campus Electronic Recycling Collection (CERC)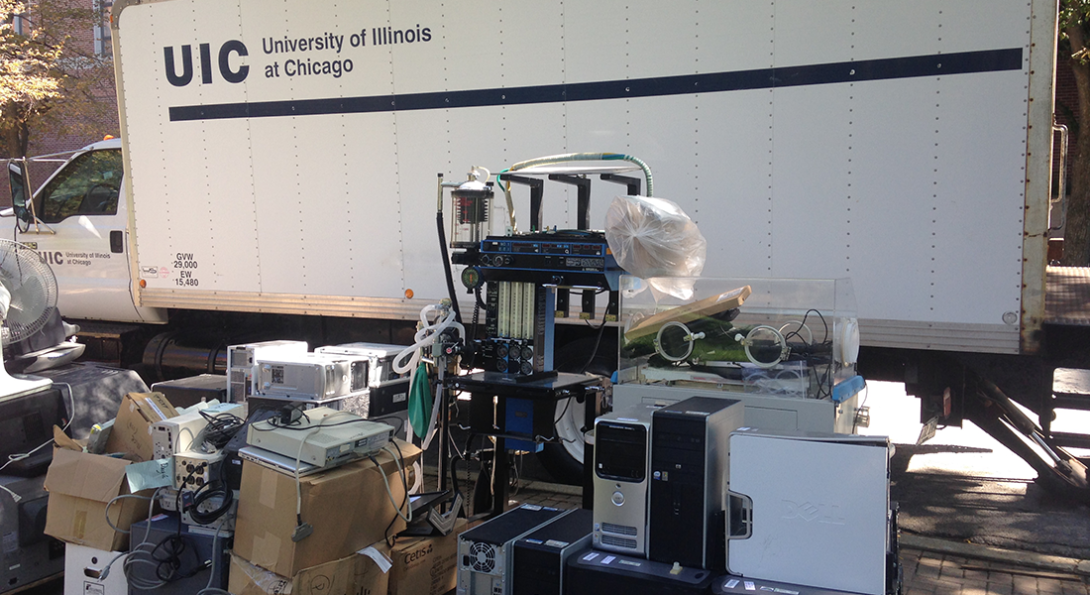 Electronic products are the fastest growing portion of the solid waste stream, contain hazardous materials like lead, and are not allowed in landfills. Electronics also contain valuable metals, plastics, glass and others that can be resold for reuse in other products (Illinois Electronic Products Recycling and Reuse Act).
Therefore, any electronic equipment belonging to the university must be recycled in accordance with the OBFS Equipment Disposal Methods.
The Office of Sustainability organizes the Campus Electronics Recycling Collection (CERC) program that centralizes the collection once a year. All you need to do is bring your OBFS paperwork and your items to the collection location, and we take care of the rest!
Where and when to drop off electroincs
There is a CERC event every year in September, one on the east side of campus and on on the west side of campus. Typically, the two events are set one-week apart in the middle of the month, in the middle of the work day. Start checking in mid-August for updates regarding exact time and location on this website and in the Greenlights newsletter emails.
You must arrange to bring your items to either of the two events. However, email recycling@uic.edu if your department has a large quantity of electronics to be recycled and special request pick-ups can be arranged.
How to submit the paperwork to dispose university electroincs
Login to FABweb at https://apps.obfs.uillinois.edu/fixedassets/index.cfm
To process individual records, choose Scrap/ Surplus under Designation Category and hit submit. To upload your excel file with your scrap inventory, click CHOOSE FILE to upload. Remember to add the equipment's PTag or OTag, Serial Number, and item description.
For pick-up location, enter "N/A". Click Next ( in the middle of the page).
Select Warehouse/ Condition- under Warehouse Chart To, select 2-Chicago.
Receive automatic email, approve disposal request via FABweb (unit approver/ unit head)
 If you do not have access to FABweb, follow these steps to request access
Open a web browser (such as Google Chrome) and go to the following address: https://apps.obfs.uillinois.edu/fixedassets/dsp_AuthInfo.cfm
Type your Enterprise ID and Password in the appropriate fields.
Click the Login button. Result: The FABweb Request Authorization window will display.
Complete all fields of the form, including your six-digit department Organization code. Note that you can fill out a request for yourself or for someone else. The Department COA will always be 2 for UIC departments. You can find your Department Org Code by looking up your department in the UIC Campus Unit Listing website. Your department's Org Code is listed as the Banner Dept number (the 6 digits following the number 2)
Click the Continue button.
If successful, the Request Authorization window will show a message stating that further instructions will be sent to the e-mail address given. Follow the directions in the email. The user will receive notification when access has been completed.
Once you have access to FABweb, you will be able to view and update equipment records for the Chart and Organization code(s) for which you have security access. You will also be able to initiate or approve transfer requests and disposal requests for your Chart and Organization.
Additional notes on equipment
Data-containing devices sent to electronics recycling are sanitized according to NIST 800-88 and Department of Defense standards.
A hard drive and a monitor must be listed separately, in case another department wants one and not the other.
Cords, chargers, cables, keyboards and mice should be boxed together and listed separately from the hard drive or monitor. However, power supplies should remain with laptops.
Data on hard drives must be overwritten or "scrubbed" and all equipment with a hard drive must be labeled with a "scrubbed" sticker.  If not, then someone in Property Accounting will have to degauss.
We recommend that you sanitize your hard disk drive prior to donating your device. If your device is running MS Windows, you can use Active@ ERASER 4.1 which is freely available via the University of Illinois Webstore. If your device is running Mac OS you can use Disk Utility.