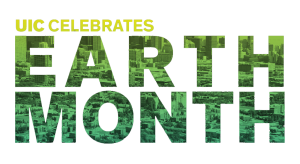 The Office of Planning, Sustainability and Project Management at the University of Illinois Chicago would like to wish you a Happy Earth Month! From now until April 30, we encourage you to support our crowdfunding campaign, "Growing Green for the UIC Heritage Garden Seed Library," which officially launches today.
The UIC Heritage Garden Seed Library is a hands-on learning project and internship program that carries forth the tradition of caring for, collecting, and sharing seeds that have cultural and ancestral ties to Chicago-area communities. Student interns involved with the program coordinate everything from the maintenance of eight satellite gardens on the east side of campus to leading tours, helping to build relationships and positively impact communities.
Each dollar raised toward our $2,775 goal will go toward the purchasing, packaging, and shipping of seeds to local communities, as well as to provide educational material on the seeds and purchase a new, Covid-19-conscious, no-contact seed dispenser. Contributions to this campaign will not only support the cultural preservation of the surrounding community, but will also enrich the educational experience of the Heritage Garden interns during their time with this program.
In addition to supporting the UIC Heritage Garden Seed Library, we also invite you to browse our complete list of Earth Month events taking place on campus.