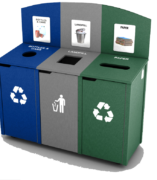 Joe Iosbaker
Recycling Coordinator
Address:
1140 S. Paulina Street
Email:
Office Phone Voice:
(312) 996-2517
About
Joe coordinates the University's recycling program, including: handling requests for recycling pick-ups and equipment; answering questions about what and how to recycle; tracking the weights of all recycling streams, including building level recycling; fostering new recycling collections, including batteries, plastic "film," writing instruments, nitrile gloves, food scraps for compost, office supplies, ink and toner cartridges, electronics, and glassware and other laboratory supplies.
The Recycling Coordinator trouble-shoots the problems of recycling; seeks champions and change agents; and serves as liaison between Building Service Workers, Motorpool drivers, Grounds workers, outside vendors and the growing number of departments and staff supporting our Zero Waste efforts.
Joe is the Office of Sustainability liaison to the Chancellor's Committee on Sustainability and Energy's Sustainable Materials subcommittee.