Tree Campus USA
The University of Illinois at Chicago is among the few universities that participate in the Tree Campus USA program, which promotes effective tree management, campus community involvement, and nature connectivity among faculty members and students through forestry efforts. Tree Campus USA is a national program sponsored by Arbor Day Foundation and Toyota that assists nationwide universities and colleges in establishing and sustaining campus forests. We are proud to be the University FOR Chicago and we are proud to help the City of Chicago live up to its motto, urbs in horto.
Let's be proud of that we are a university in a city in a garden, universitas in urbs in horto.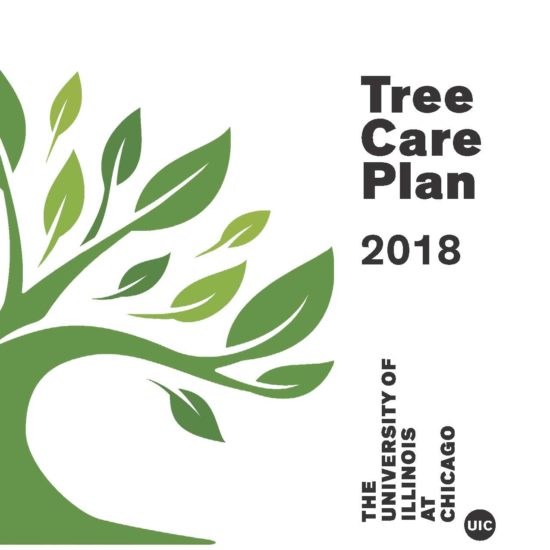 UIC Tree Care Plan
Solution 4.3.2 of the Climate Action Implementation Plan requires the university to follow the Tree Care Plan and implement a full inventory that is essential in effectively allocating the Tree Care Plan expenditures. The purpose of this plan is to both educate the UIC community on the necessity of campus forest maintenance, and to also establish guidelines for future care and protection of our campus forest.
Leaf through Tree Care Plan, 2018 (Accessible)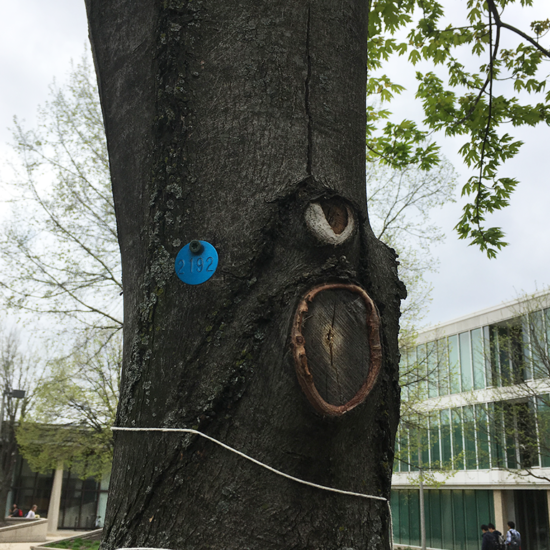 Tree Inventory
It is our goal to document every tree on campus. A few years ago, UIC fostered a partnership with Bartlett Tree Experts, in order to build and maintain our inventory of natural resources. Campus Auxiliary Services paved the way by sponsoring the completion of a full inventory that would document all tree specimens throughout the entire campus. Campus Parking is committed to their trees by not only inventorying every parking lot tree, but also following through with the health recommendations. The current tree metrics have been cataloged by this most recent tree inventory, completed in 2018 that maps and manages data on all trees within UIC property.
Read more about the tree inventory, as well as the benefits of maintaining a tree inventory.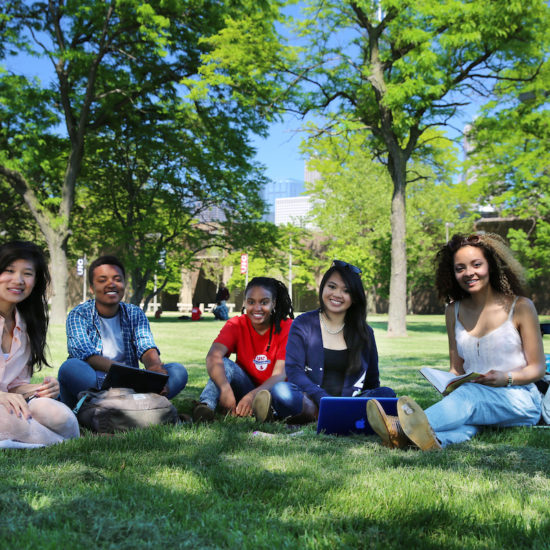 Benefits of Trees
When stepping onto the University of Illinois at Chicago, the average pedestrian might not realize how valuable our green space really is. Every tree is valuable. If you have ever benefited from clean air on campus, or relaxed in the perfect patch of shade, then you have benefitted from our campus forest.
Green spaces and trees are a good predictor of human health. They offer a wide range of environmental, health and economic benefits at the individual, community, and social level. These benefits include improved air quality, increased mental and physical activity,  and create a sense of community with and social connections. 
Access the entire i-tree analysis report of the environmental benefits of our trees (2018)
UIC has been recognized as a Tree Campus USA every year since 2011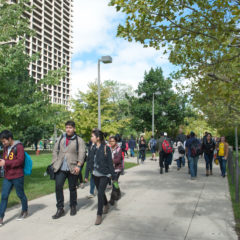 To achieve recognition, UIC must meet five standards outlined on the Arbor Day Foundation's Tree Campus USA page.

Standard 1 – Establish a Tree Advisory Committee. UIC's Tree Advisory Committee meets with the Chancellor's Committee for Sustainability and Energy (CCSE) Grounds subcommittee to discuss the status of UIC Trees on an annual basis. To join the Tree Advisory committee, sign up for the CCSE Grounds subcommittee.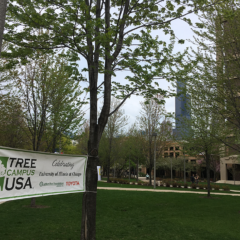 Standard 2 – Create and Adhere to a Campus Tree Care Plan. UIC has a Tree Care Plan that contains recommendations by the Tree Advisory Committee how to best care for UIC's trees.

You can access the current version here: Tree Care Plan (updated 2018, accessible)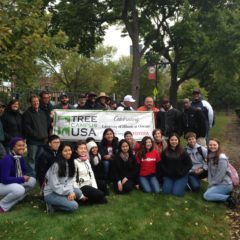 Standard 3 – Dedicate Expenses to the Tree Care Program. UIC is committed to its trees and works with a professional arborist company to inventory all trees on UIC's property.  A large comprehensive inventory  provides our Grounds Department with specific, long-term solutions to tree care. The healthier the tree, the more benefits it can provide. These types of investments are essential in our campus wide ability to thrive and expand sustainably.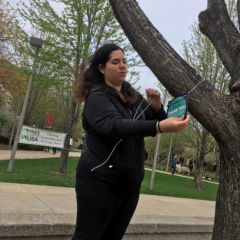 Standards 4 and 5 – Hold Annual Arbor Day Observance Events and Service Learning Projects. We hold Tree Campus USA arbor day observances annually and conduct service learning projects that include tree tagging and tree plantings. These yearly observances are typically held during Earth Month commemorating Arbor Day (the last Friday in April). We also host Tree Campus USA interns through the Sustainability Internship Program that focus on tree-related events, maintaining the Tree Care Plan, and other data collection. Sign up as an Eco-Educator to become involved in future Arbor Day Observances and Service Learning Projects.
UIC students conduct research ("treesearch", if you will)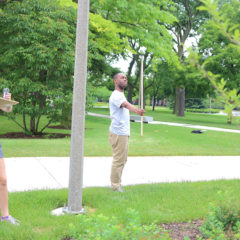 UIC students Alyssa Straits and Hulliams Kamlem managed UIC's tree inventory through measurement, location identification, and species specification. They identified the need for a holistic approach for campus health and wellness, with trees being a determining asset. Kelly Ting, M.S. prepared Alyssa's and Hulliams' report to illustrate the public health implications of maintaining campus tree inventories.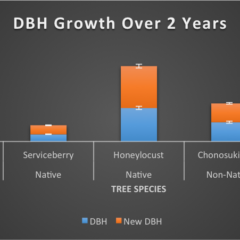 UIC students Neel Thakkar, Karima Patel, Edder Atunez and graduate student advisor RadhikaVenkatraman conducted a study on the growth of the trees on UIC's West Campus. They measured Diameter at Breast Height (DBH) and Tree Height, and compared those results to previous data to understand trends. They took the study one step further by comparing the growth of the trees based on whether or not they were native to the Chicagoland area. The students noted that native tree species like the Red maple, Serviceberry, and Honeylocust exhibited elevated level of growth when contrasted with non-native species like the Chonosuki Crab and Little Leaf linden. This reduction in growth rate could be explained by impact of biotic and abiotic factor affecting realized ecological niche of tree species.