Green Campus Tour
Lecture Center Plaza
The tour begins in the Lecture Center Plaza, also known as the Quad. Here, we can see multiple BIG BELLY SOLAR COMPACTOR RECYCLING BINS. These bins were placed in outdoor areas to accommodate the large number of bottles and cans that are disposed in this Lecture Center Plaza. These Big Bellies help UIC reduce our carbon footprint because they have sensors that tell us when they are full- so we only have to send the garbage/ recycling truck when necessary. They also compact the refuse to make pick-ups very infrequent. (This was funded by the UIC Sustainability Fee!)
The bins can accept almost any material made out of glass, metal, or plastic, really. (Yogurt containers? You bet'cha!) However, UIC does not accept #6 plastic- also known as polystyrene or styrofoam. In fact, nobody accepts #6 plastic: best thing is to avoid it all together. Did you know Solo cups are made from #6 plastic? So when you go shopping, make sure to purchase plastic cups made from #1 PET plastic- at least they can be recycled.
Students can recycle paper in any of the surrounding Lecture Center buildings. In fact all UIC buildings have bins to recycle paper, glass, metals, and plastics.
Did you know that UIC recycles more than 40% of its trash? In fact, we recycled 3,500 tons of paper, plastic, metal, and glass- just last year alone! By separating our recycling, we are able to create better products and ensure the materials are properly handled. Sure, its a little more work, but this way, we are able to save over 40,000 trees each year! Most of our recycled paper will be made into other bond paper and toilet paper! Or that pop can you are about to toss in the recycling bin- that will be made into an Anheuser-Busch can! Check out all about our recycling program here.
Student Center East
Looking to the east, you will see our Student Center East. Inside is one of three of UIC's All-You-Care-To-Eat dining facilities. UIC Dining Services boasts many sustainable features: SUSTAINABLE FOOD such as using antibiotic-free dairy, sustainable seafood, and cage-free eggs, among others.  Our dining facilities are the few places on campus where composting happens.  Last year, UIC collected and composted over 120 tons of food scraps! COMPOSTING is better for the environment because instead of rotting away in the landfill, producing methane, a powerful green house gas and contributor to climate change, the organic food materials decompose quickly into useable fertilizer!
Chicago Memorial Grove
Walter Netsch originally designed this garden with its elliptical asphalt path, low granite benches, and surrounding brick wall in 1968 to match the architecture style of the rest of the campus in the late 1960's. The new Grove design was the outcome of a collaborative process involving the Campus Master Plan implementation committee, students, and the landscape architects.  The Grove is now a friendly and distinguished entry point, inviting people to relax and interact, but still retains many of the landscape features – trees and shrubs, and the circular layout. It is commonly used as an outdoor recreation space boasting many sustainable features. 
There are about 2500 SUSTAINABLE LANDSCAPINGS– perennials, groundcovers and grasses- that are native or hardy in our climate were planted to minimize future maintenance and watering and reduce stormwater runoff, while providing beauty. The plants include Summer Beauty Nodding Onion, October Skies Aster, Black Eyed Susan, Fireworks Goldenrod, Blue Wonder Catmint, and Swtichgrass. Many of these plants attract pollinators enhancing the diversity of insects that visit our campus.
Besides the impressive number of plants and shurbs are the TREES. Here is only a small sample of the over 5,300 trees all over UIC! UIC has a TreeCampus USA designation from the Arbor Day Foundation. All together, UIC's trees help sequester 70,000 pounds of carbon dioxide annually, helping to reduce climate change impacts.
Another sustainable feature you can is by see is the lighting. The old lighting fixtures were retrofitted to be LEDs which will save 12,100 kW/yr in electricity.  The carbon emissions from producing that much energy is equivalent to the amount of carbon sequestered by 6.8 acres of US Forest in one year. That is like an area of forest that is more than double the area of The Memorial Grove (about 3.2 acres)!
Other sustainable features include the 2900 sq. feet of PERMEABLE PAVING, which allows rain water to permeate directly into the ground and keeping it out of our already challenged storm sewers. A BIKE PARKING HUB was installed under SEO, allowing for sheltered parking of 70 bikes. Ten (10) old Granite benches were salvaged and made into new benches (one was cut up for the legs). And what happened to the fence that blocked UIC from the rest surrounding community? 770 linear feet of the old iron fencing was removed and was refurbished for use at Granderson Stadium.
DIVVY Station
UIC is proud to offer many transportation options to, from, and around campus. Besides offering ride-sharing and public transportation options, UIC is proud of our BIKES and happy to report that we have been designated a bronze-level Bike Friendly University offering dedicated bike lanes, shower facilities, fix it stations and, as of 2013, part of the robust Chicago-based DIVVY bike sharing network.
Faculty, staff, and students are offered a discounted rate for the yearly membership and can use these DIVVYs all around town.  With 17 stations dispersed through the campus, you'll be sure to get where you're going quickly!
Some cool facts about Biking at UIC:
Bring your Helmet to any UIC Recreation Center, and they will give you 30 minutes to clean up in the locker room
If you find yourself with low tire pressure, stop by one of the following locations to borrow a Bike Pump, Repair Kit, or Use a Fix-It Station
There are over 800 outdoor bike parking spaces at UIC
IDEA Commons, Daley Library
Sustainability is not just about things that are environmentally friendly, it's also about the people.  Sustainability is all about breaking down silos and getting folks to be more interactive. The IDEA COMMONS is a student centered space designed for collaborative study, technology use and research.  There was a demand for physical change from the students noting that this is what a library should be and look like.
Collaboration is the key to the success of the IDEA Commons, maximizing learning and the social environment. It features moveable furniture, white boards, wireless  computers, and printers (defaulted to black & white and double-sided printing, of course!)
Of course, the newly renovated IDEA Commons was also built with efficient building systems that include LED or fluorescent lighting, air ventilation systems, and light/motion sensors. Notice, too, that the space offers filtered water bottle refilling stations, eliminating the need for 1-time use plastic bottles of water. You can also find other WATER BOTTLE FILL STATIONS in 11 other buildings on the east side of campus (also funded by the Sustainability Fee!)
Geothermal Well Field
Located underground to the east of University Hall, the geothermal well field is composed of 64 wells dug 500 feet into the ground to heat and cool Douglas, Grant, and Lincoln Halls using RENEWABLE ENERGY
Each building uses a closed-loop system with sensors, heat pumps and air exchangers, taking advantage of the relatively constant earth temperatures in the well field to maintain a comfortable indoor air environment year-round.
Lincoln, Grant & Douglas Halls
These three classrooms buildings were recently renovated and obtained LEED certification.  LEED (Leadership in Energy & Environmental Design) is the US Green Building Council's rating system for design, construction and maintenance of high performance, energy efficient, and green interiors, buildings, and communities. In 2010 Lincoln Hall became UIC's first LEED-certified building, earning Gold certification and one year later Douglas Hall  earned LEED Gold certification as well!  Since then, UIC has pledged to follow LEED standards in small projects where possible and to pursue a minimum LEED Silver certification for all large capital projects.
LEED buildings include the full range of sustainability features found in many buildings around campus: efficient building systems that include LED or fluorescent lighting, large windows to maximize natural light; energy from renewable resources (like solar panels); water-efficient systems and landscaping, use of recycled or sustainably harvested materials for flooring and workspaces; and low-VOC (volatile organic compound) paints and glues, improving indoor environmental quality.
The rooftops of Douglas Hall and Lincoln Hall boast a total of 469 solar SOLAR PANELS that use the sun's energy to provide a portion of the buildings' electricity needs. The amount produced annually by both buildings is enough to provide electricity for almost seven average 2-bedroom apartments! Wanna see the energy they are producing? Check out this page.
Douglas Hall's floors are made from RECYCLED RUBBER TIRES on the 2nd and 3rd floors. Both Lincoln and Douglas Halls have AUTOMATED SHADES to manage heat load. The building has a COOLING SENSOR on the roof to detect the heat load inside the buildings. Then ,the system automatically adjusts lights, cooling/heating levels, and heights of window blinds in order to regulate the building temperature.
The south end of Lincoln Hall is especially beautiful during warmer months, when many birds and butterflies spend time in the BIOSWALE, drawn by the blooming of native prairie plants. PERMEABLE PAVERS make up the pathways weaving between Douglas Hall, Grant Hall, and Lincoln Hall, allowing water to pass underground and eventually replenish Lake Michigan. Grant Hall, Lincoln Hall and Douglas Hall also conserve water through LOW-FLOW FIXTURES and DUAL-FLUSH TOILETS in the restrooms.
UIC Heritage Garden
The Heritage Garden is a project of the Centers for Cultural Understanding and Social Change. The gardens serve as an interactive learning space to teach students about environmental and cultural sustainability. Each plant, flower, vegetable and herb has significance and relates to culture and heritage.
For example, planted on the east side of Lecture Center B is the Butterfly Milkweed plant. It is native to Chicago and therefor easy to maintain and does not require extra watering. The Milkweed attracts monarch butterflies. This species of butterfly is the only known butterfly to make 2-way migrations. Each fall, thousands of monarchs travel from northern and eastern portions of North America and make their way to warmer pastures in Mexico, southern California, and Central America. What is visible here, is that butterflies are able to freely cross along lines of latitude, however, certain humans cannot. The Heritage Garden serves as a visualization of these man-made migration restrictions and hopes to emphasize the importance of immigration reform in the United States.
Another plant you will find in the garden are collard greens. This leafy plant can be eaten raw in a salad or as a wrap.  These greens can be steamed, sautéed, or cooked in a broth. There isn't much need to fertilize collard greens when planted correctly. For example, if you plant potatoes and onions along side the greens, they will draw different types of nutrients in the soil, which prevents the need for additional fertilizer.  The dish you are familiar with today was a result of the idea to never waste food. The practice of cooking collard greens stemmed from the time of slavery in the U.S. and the necessity of providing food for their families. Collard greens used to considered kitchen scraps along with turnip greens, when they are in fact extremely nutrient dense foods. Collard greens were cooked with other leftovers – ham hocks and pig's feet, and the remaining juices, called pot likker, was also consumed; a traditional practice from Africa.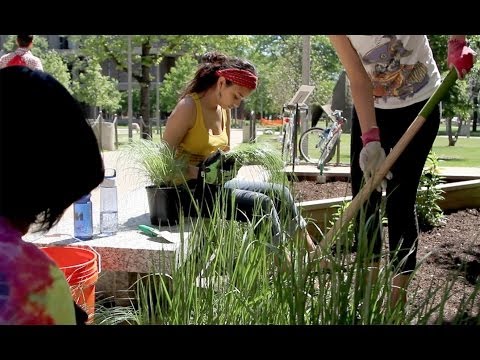 MORE INFORMATION
UIC is rated at the SILVER LEVEL of the Sustainability Tracking, Assessment & Rating System™(STARS) .   STARS is a transparent, self-reporting framework for colleges and universities to measure their sustainability performance. The Association for the Advancement of Sustainability in Higher Education has recognized that we have done very well in various categories that span the breadth of higher education sustainability: Academics, Engagement, Operations, and Planning & Administration.
To read more about Sustainability around UIC, check out ways we are becoming sustainable. You can also get involved with various aspects of sustainability on campus. Like what you saw or have comments for us? Let us know on our contact page!